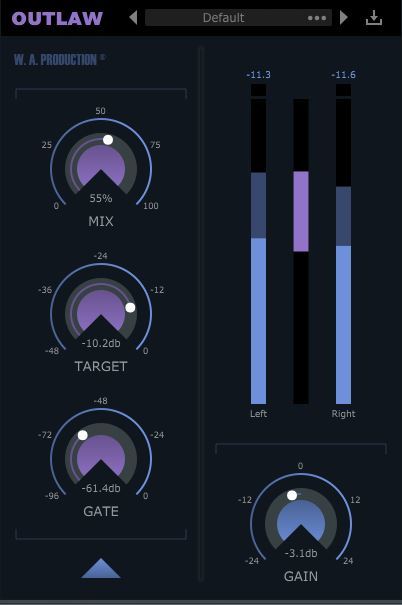 Year of release : 2019
Version : 1.0.0
Developer : WA Production
Developer website : WA Production
Format : VST / AU / AAX
Platform : Intel only
Interface language : English
Tablet : Serial Number
System requirements : Mac OSX 10.7 or higher (32/64 bit)
Description : Regardless of whether you are mixing live sound, smoothing vocals or balancing solo instruments, Outlaw is the profit plugin you were looking for. Outlaw listens to the incoming sound and compensates for changes in volume, simulating the movement of the fader of a real engineer sound mixer. Forget about how to draw complex volume automation tools, and let Outlaw do the hard work for you with smooth gain alignment and lots of features.
These 4 main dials give you flexible control of the basic parameters of Outlaw, which means that you can easily adjust the performance of the plug. Adjust the effect intensity using the MIX dial and set the target RMS level using the TARGET dial. Use the GATE knob to set the relative level so that the gain amplifier ignores softer sounds. The main output is controlled by the GAIN control, which is very convenient for fine tuning levels for accurate comparison of A / B signals.