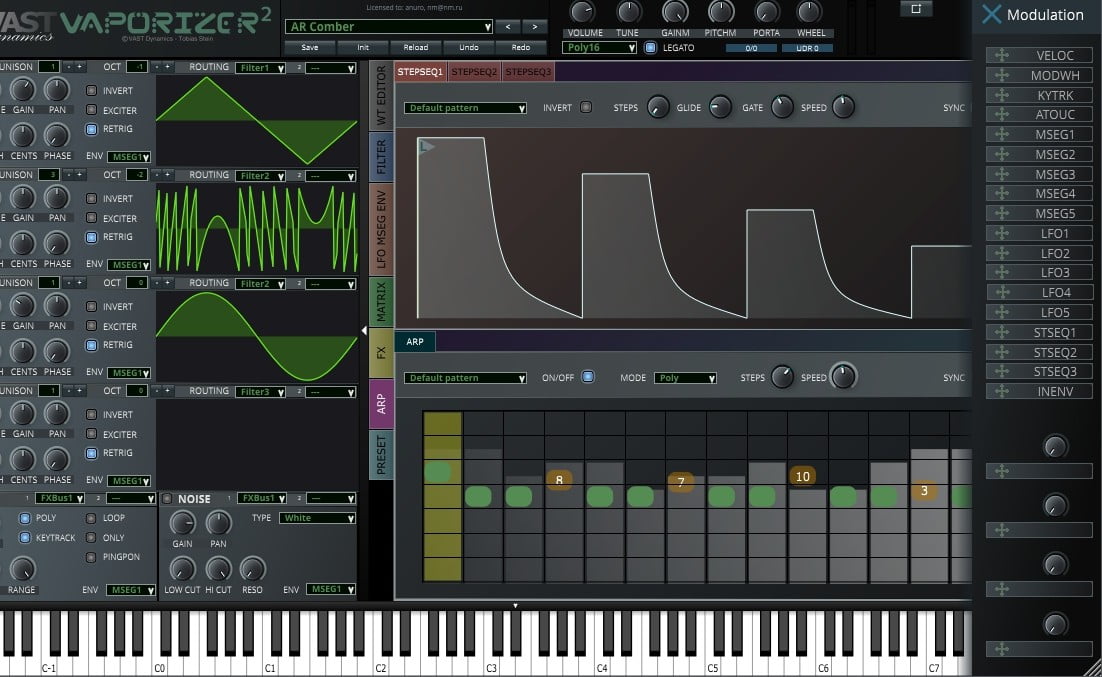 Year / Release Date : 02/22/2019
Version : v2.1.8
Developer : VAST Dynamics
Developer website : vast-dynamics
Format : VSTi, VSTi3, AUi
Digit capacity : 32bit, 64bit
Tabletka : present (On a Mac, a Windows emulator or other type of KeyGen Runner is required)
System requirements : VST, AU host.
Description : Vaporizer2 is our flagship hybrid tabular / subtractive synthesizer-workstation / sampler. The goal of this development is to create a universal high-performance sound engine without intensive use of system resources of the processor.
In distribution 2 installer versions – for processors with support for AVX instructions and for SSE.
State-of-the-art wavetable engine with four independent wavelength oscillator banks with up to 24 oscillator unison.
Low system CPU resource usage – even with more than 1.000 oscillators playing.
If you're watching for wavelengths, you'll be able to make a breakdown of the wavelengths.
Bezier curves and snap to grid function.
Mix-in, amplitude modulate, interpolate or normalize wavetable cycles.
Generate FM, PWM, harmonic morphed / reduced, low pass / high pass / band pass / comb / formant filtering.
Morphing and phase shifting of wavetable cycles.
Import and change standard (Serum, Icarus) format wavetables – also simply via drag and drop.
Additive synthesis section of real-time.
Sampler section (wav / aiff / ogg / mp3) with loop points, loop start modulation and key tracking.
Resample samples to wavetables with pitch detection.
Intelligent polyphonic portamento / glissando (you need to hear it!).
Mono legato mode or polyphonic 4/16 voice modes.
Three effects busses including 4x oversampling and a clean low end.
10+ highly parameterizable effects including reverb, delay, chorus, flanger, bitcrush, eq, compressor, limiter, flanger, phaser, comb filter and more.
All effect times and durations can be synced to DAW.
4x oversampled LPF (state of the art and the variable and diode ladder implementations) plus high pass, all pass, bandwidth, not pass,
Very steep filter curves for punchy basses.
Real-time filter response display.
Innovative audio routing system for all sound generators, filters and effect busses.
Five freely editable MSEG envelopes with loop function.
It has been shown that it's possible to make it clear that it's possible to get it.
Built-in arpeggiator that is freely editable and supports polyphonic modes and hold.
Three step sequencers that can be synced to the DAW.
All parameter knobs / sliders automatable.
With regular daily updates on the website.
It is freely scalable and resizable.
Life-long free update policy.
Plus: the sound is stunning.
Current version: 2.1.8 (Feb 22nd 2019) – change log:
Fixed: LDF filter issues
Fixed: Keyboard input to MIDI keyboard
Fixed: Save preset as FXP, FLS files
Stability improvements eg in Cubase and Reaper
Bug fixes
Tested configurations

:
Standalone / Mac64, Win64
FL Studio / Win32 / 64 / VST2, VST3
Ableton Live / Win32 / 64 / VST2, VST3
Reaper / Win32 / 64 / VST2, VST3
VSTHost / SAVIHost / Win32 / 64 / VST2, VST3
Reaper / Mac64 / VST2, VST3
Cubase 10 Pro / Win64 / VST3
AU Lab / Mac64 / AU
Logic Pro / Mac64 / AU
Garage Band / Mac64 / VST3 / AU
Coming soon:
ProTools / Win64 / AAX
ProTools / Mac64 / AAX