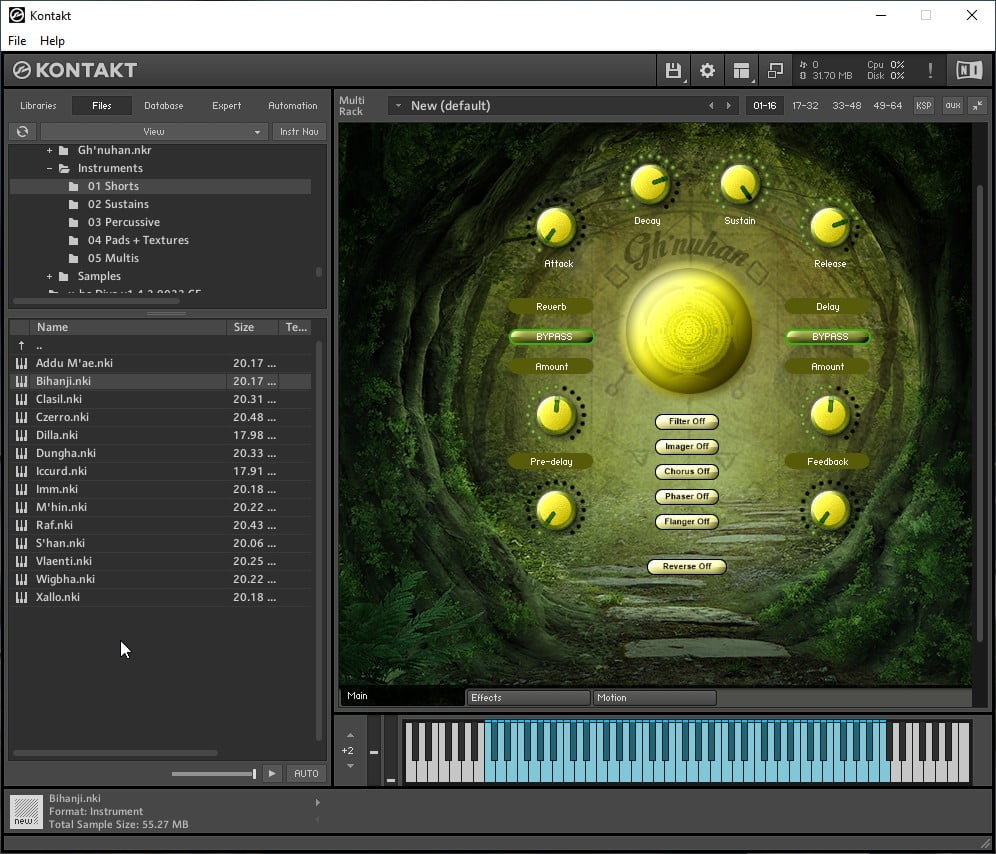 Publisher: Triple Spiral Audio
Website: triplespiralaudio
Format: KONTAKT 5.8.1+ PLAYER
Quality: 24 bit 48 kHz stereo
---
Description: Instruments at Gh'nuhan will take you on an ethnic / fantasy journey with a collection of imaginary instruments, pads and textures. Instruments and sounds in Gh'nuhan are created from a set of woodwind records, a snare drum and strings, hammers and all kinds of percussion instruments, which were processed using various effects and processes to create new sounds.
The library contains 40 tools in the categories Short, Sustain, Percussive, 20 Pads and Textures. In addition, the library has created 15 multi, created from various tools.
On the main page you will find a large controller for filter, stereo, chorus, phaser and flanger. There are settings for ADSR control, reverb (impulse response) and delay, and for all instruments there is a reverse function that you can turn on and off with the button.
On the second page, you can fine-tune the parameters of 5 effects that are assigned to the large controller on the main page.
The third page contains an arpeggiator to add movement to the sounds.
Specifications :
1400+ samples (48khz / 24bit + watermarked)
2.75 GB (NCW compressed – 4.35 GB uncompressed)
60 NKI files (instruments, pads + textures)
15 NKM files (multis)
Reverse function on all the instruments
3x round robins on the short and percussive instruments
5 effects controlled via main controller or seperate control on effects page (Filter, Imager, Chorus, Phaser and Flanger)
ADSR controls (Attack, Decay, Sustain, Release)
Impulse Response Reverb
Delay
Arpeggiator
---