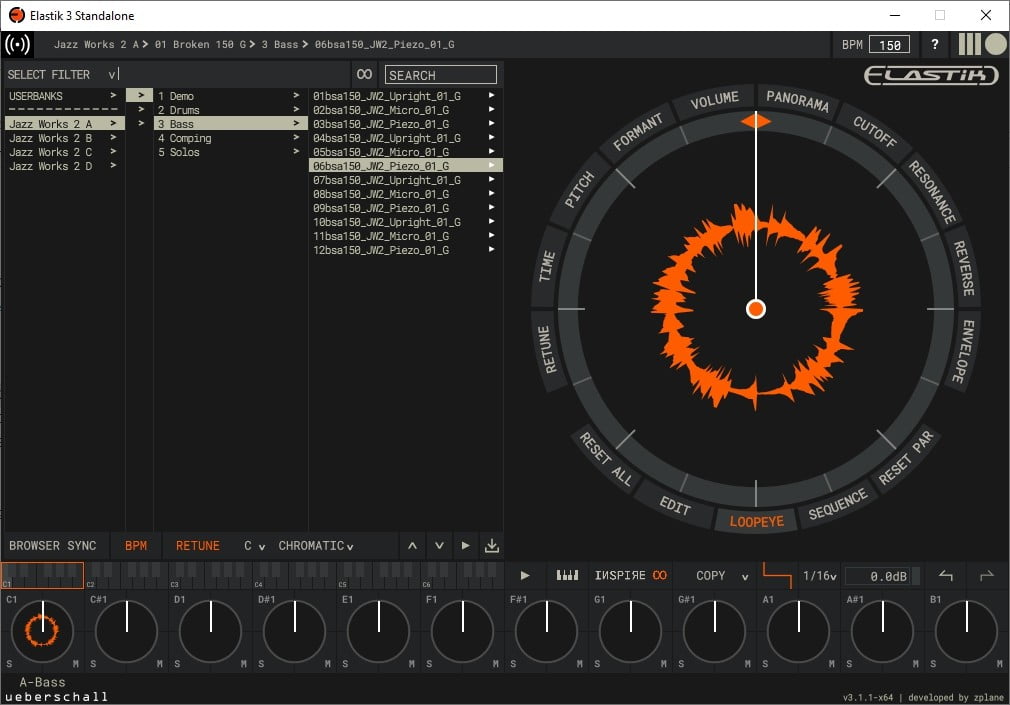 Publisher: Ueberschall
Website: ueberschall
Format: ELASTIK
---
Description: Eternal melodies.
Jazz Works Vol.2 is an impressive collection of top-notch musical performances and infectious grooves.
The second volume of the series focuses on more traditional styles of jazz, including swing, upswing, boogaloo, Latin and Brazilian jazz.
Authentic sounds can allow you to create your own stylish jazz pieces or be used in cross genres such as Easy Listening, Lounge or other electronic styles, as well as to accompany film and television. The Jazz Works series includes acoustic and electric pianos, jazz drums, bass guitar, jazz guitar, baritone and tenor saxophone, flute, flugelhorn and trumpet – pure and authentic jazz ready for your ideas.
Jazz Works Vol. 2 is ideal for those looking to access the sounds of a traditional jazz club performed by an upscale ensemble of musicians. This is a great addition to other volumes from the Jazz Works series. Ideal for songwriters, music producers or composers looking to add completely authentic traditional tunes to their music projects, regardless of genre.
The library is divided into 10 massive sets with over 1300 loops and phrases. Each set offers a collection of advanced drum, bass and sampler instruments (backgrounds), as well as several solo instruments. The range of rates of installation is from 130 to 250 beats per minute. The performances use 16- or 32-bar extended phrases for an authentic live experience. Elastik's powerful sample handling toolkit makes it easy to create shorter or longer loops, and change the tempo, pitch, key or scale to suit your musical project. The material was recorded with top class microphones and an A / D converter and was no longer edited. 100% dynamics – no compression.
In addition to the pre-mixed drum loops, each set also includes some combination of individual loops. These include kick drum (internal and external mics), snare drum (upper and lower mics), hi-hat, and toms, which give you full control over the drum mix in your project. There are at least three different phrase / performance options for the double bass, in each case pre-mixed, microphone recordings are available.
The compositional performances are the main chord progression on an acoustic and electric piano and electric guitar. Each kit includes a minimum of three variations of each instrument, which allows the user to flexibly build arrangements along the length of the song. Included is a PDF file with full chord notes for all kits. All kits also have a combination of several solo instruments. Each set includes up to 44 different solo parts. The sound is clear, authentic and uncompressed throughout. This direct, dynamic sound gives you complete control over your mixing decisions.
The Jazz Works series features an incredibly talented music team made up of newcomers and a number of permanent Ueberschall members. The line-up includes Eike Wolfmeier on piano (who helped launch the project), Jurgen Attig on bass (who previously played on our Electric Bass and other libraries), Matthias Meusel on drums (who previously supplied all drums for the Drum Loop Series) , Kai Reiter on electric guitar (who played our Electric Guitar Moods and others), Gary Winters on trumpet and flugelhorn (who recently played in our Trumpet Solos library), Nico Finke on baritone saxophone (who played in Saxophone 2 library) and Niels Brederlow is a tenor saxophone and flute (also an expert at coordinating remote recording sessions for live performances). The whole group showcases virtuoso performances full of feelings, emotions and self-expression, so we can bring you world-class jazz in the format of a sample library.
The Elastik player can adapt all loops to your own song project in tempo, scale and pitch, while maintaining the highest sound quality. An intuitive browser manages all Elastik libraries for immediate access to all samples. Thus, hinges not only from Jazz Works, but also from all installed Elastik libraries can be combined with each other. Functions such as resample, formant and reverse, as well as an efficient multi-mode filter, can easily modify both samples and phrases.
---