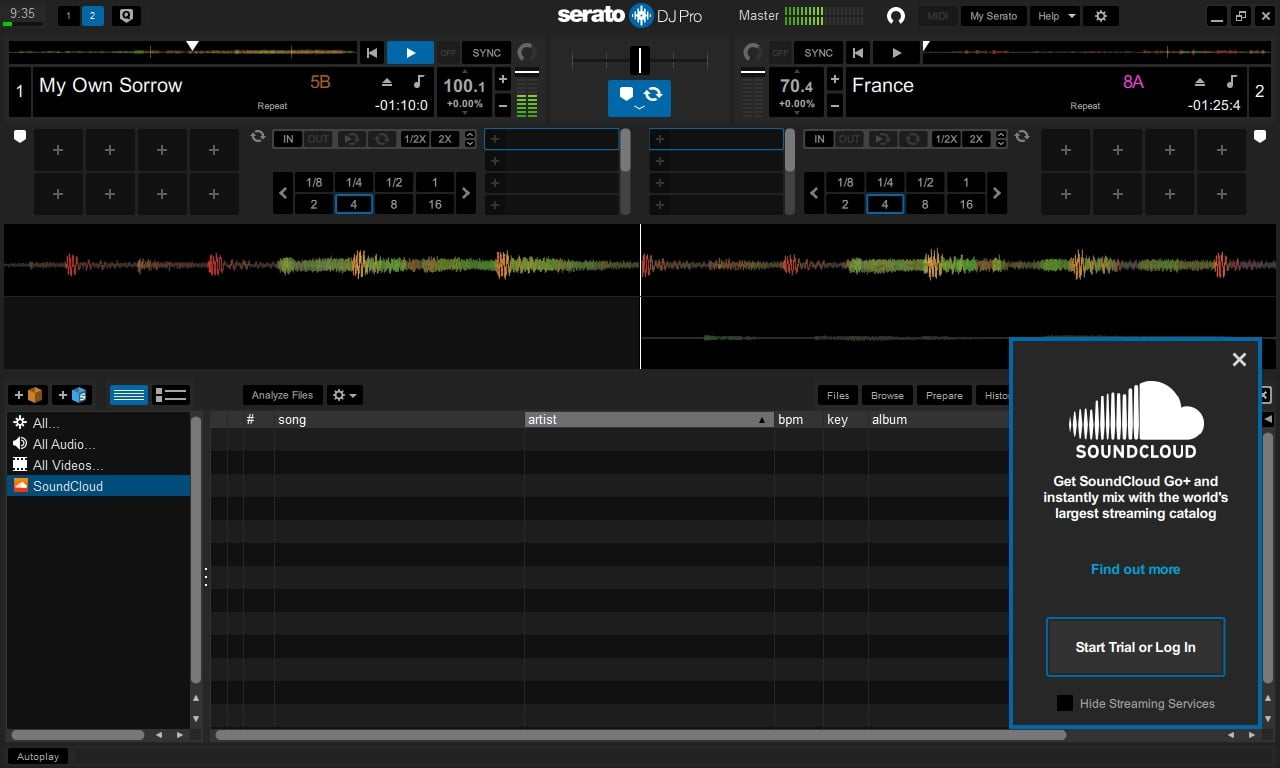 Year / Release Date : 11/12/2018
Version : 2.1.0.797
Developer : Serato
Developer website : Serato
Digit capacity : 64bit
Interface language : multilanguage
Tabletka : present
System requirements : Windows 7+ \ i3,5,7: 1.07GHz \ 4 GB \ Apple QuickTime, Microsoft C ++ 2015 runtime
Description : Serato DJ is a product oriented both to professionals and beginner DJs. The program supports such sound effects as Delay, Reverb, Flanger, Echo, PingPong Delay, Phaser, Distortion, High and Low Pass Filter, as well as their combinations. Full support for MIDI, implemented in the program, provides the ability to adapt the controller and the program for any needs. The graphical interface of the application is simple and easy to use. It allows you to use simultaneously from two to four decks. The Serato DJ program supports an impressive number of CUE points, up to eight.
With the help of Serato DJ you can also record mixes. Loops are represented by three types – manual, auto and Loop Rolls, and support for auto-synchronization and automatic tempo detection will allow for softer transitions. The use of these functions will also shorten the pace adjustment time. The file manager supports normal and smart charts, as well as playlists. The connection is made on the principle of Plug & Play, which entails a significant reduction in setup time. Serato DJ also supports spectacular audio visualization through Waveforms technology. The program integrates support for ITCH, DJ Intro, Scratch Live and iTunes Music libraries. In addition, Serato DJ supports the Serato Video plugin.
The main feature of Serato DJ Pro of the second version is the "Practice Mode" mode, which allows you to mix two tracks together without connecting to the hardware. According to the developers, the mode will help DJs check their set anywhere, even if they don't have a controller. In addition to the new mode, the update Serato DJ 2.0 adds a new "Performance" interface to the program, displaying control points in a more understandable way.
Serato DJ Pro comes as a 64-bit application, and Serato says that now the size of the library is virtually unlimited and depends only on the hard disk capacity of the computer. The program interface is optimized for high-resolution displays, including 4K, UHD and Retina-displays.
The developers also added a new help section to the program with a large number of prompts, keyboard shortcuts, training materials and the ability to contact the technical support team and discuss any questions right in the program window.
New Hardware Support
Added support for the Mixars PRIMO
New features
Added new Serato Play Expansion Pack
Added streaming support for SoundCloud Go +
Added streaming support for TIDAL
Added post-fader effects for Rane Seventy-Two (Firmware update required)
Added fader start for Rane Seventy-Two (Firmware update required)
Added beat jump controls to Rane Seventy-Two screen (Firmware update required)
Added reverse for Rane Twelve (by pressing Cue Mode + Play / Pause)
All 14 day Free Trials have been reset
Other Changes
Library tags are required to be rescanned
Serato Video recording
Fixed an issue
Clipping tracks (red) channel VU meters incorrectly
Adjusted pitch nudge +/- buttons
If you're on or off
Denon DJ SC5000 / Rane Twelve
Denon DJ SC5000 will stop an active recording
If you're a key player and a BPM
Nudge and Range controls missing when MIDI mode was enabled
Missing tracker / artist info on left track
Rane Seventy-Two
Where would the DJ Pro logo be shown incorrectly
Fixed an audio smoothing issue with Rane Twelve when scratching at a slow speed
Fixed an issue with FX paddles incorrectly engaging on Rane Seventy-Two
Where is the sync state?
Fixed an issue of where the AUX channel is not available in the GUI after power cycle on Rane Seventy-Two
Fixed a drawing anomaly in the Setup screen
Fixed a potential hang on exit
Updated tooltips and translations