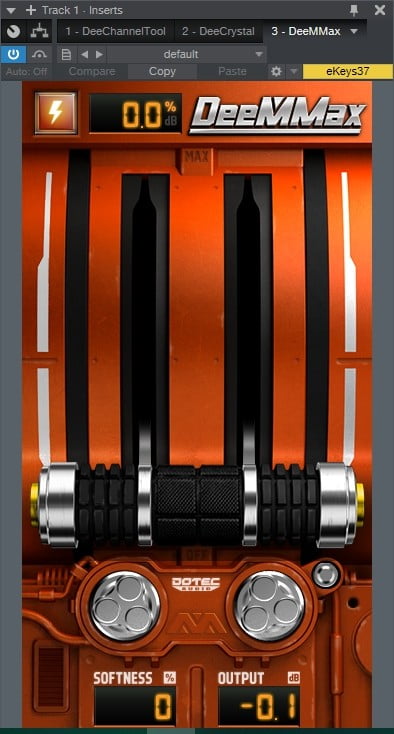 Year / Release Date : 04.2019
Version : 2019.04
Developer : Dotec-Audio
Developer site : Dotec-Audio
Format : VST, AAX * (* mod.)
Digit capacity : 32bit, 64bit
Tabletka : present
System requirements : VST, AAX compatible host
Description : set of plugins:
* DeeChannelTool v1.0.0 – a great tool for monitoring when mixing and mastering. In addition, it can change the mid-side balance and has 2 analog console models that can simulate sound with overload.
* DeeComp v2.5.0 – the ideal software dynamic solution. DeeComp brings you a wide range of sound solutions, including a specific sound, which the famous simulated / emulated VST compressors or even hardware models could never create.
* DeeCrystal v1.0.0 – – this is a mold that gives crystal brightness and clearer outlines to dirty sounds.
* DeeEQ v1.0.3 – You can achieve the best equalization with just two sliders.
* DeeFat v2.5.0 – compressor, creating a "fat sound." Perfectly can be used in live performances, because it works quickly and elegantly …
* DeeFX v1.1.1 – plugin. in which the distortion, filter and delay are integrated. It gives improvisation, which can translate ideas without stopping!
* DeeGain v1.1.0 – insert DeeGain between other effect plugins and it will work as a gain / trim mixer console.
* DeeGate v1.1.1 – DeeGate is a very simple noise gate that will mute sounds less than the stated threshold.
* DeeGraphComp v1.0.0 – Graphic Compressor
* DeeMMax v1.5.2 – Special maximizer volume for mastering! Thanks to the patented technology of processing harmonics, you can get a loud sound, avoiding the clouding of the sound while maintaining the mix balance.
* DeeMax v2.6.0 – Virtual level maximizer
* DeePanpot v2.1.1 – controls the panning of a stereo source.
* DeeSpeaker v1.0.5 – models near-field monitors (placement 45 degrees, 1 meter)
* DeeTrim v2.5.0 – a simple plugin that controls the volume from -12dB to + 3dB. It can keep the output level unchanged from any input level. It helps when you want to keep a certain constant volume level in the tracks (vocals, etc.).
* DeeWider v2.0.0 – plugin that expands the sound, sharing LCR panning.