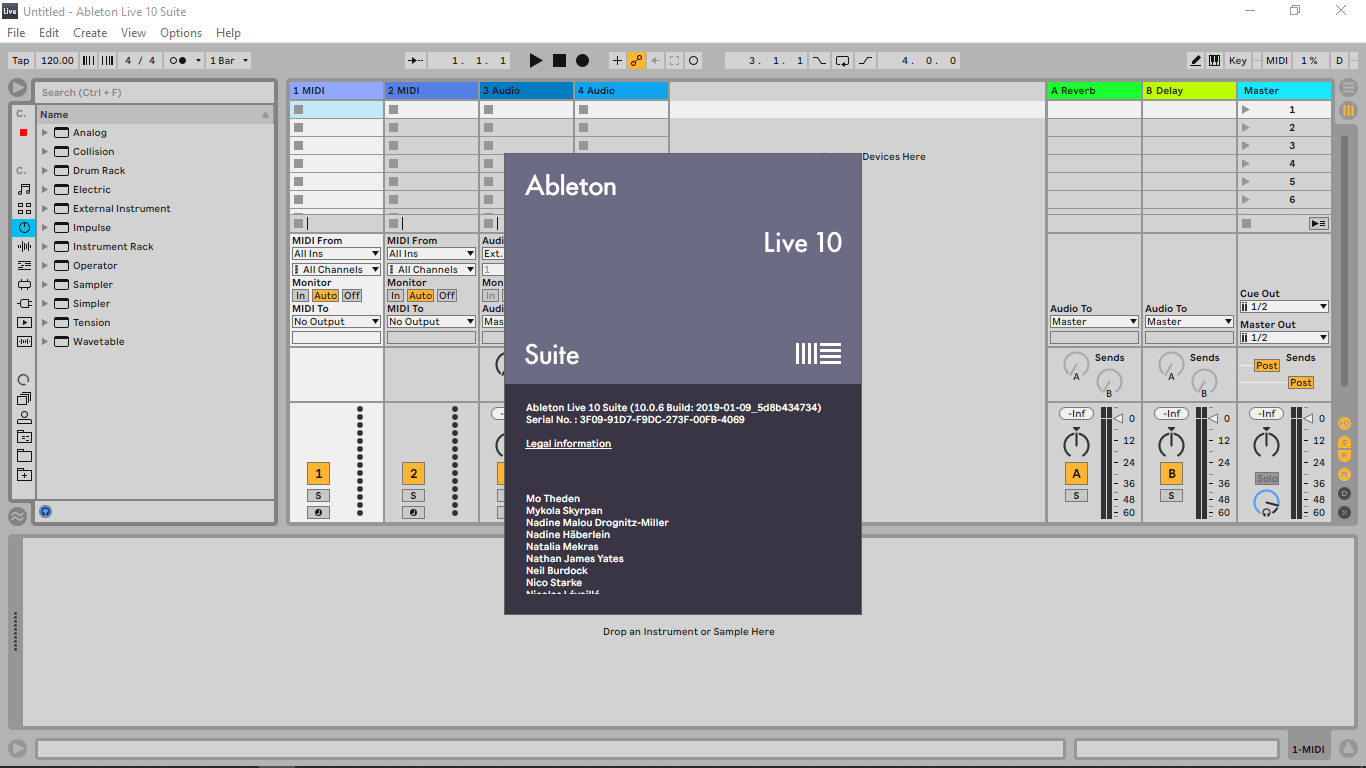 Added version for OS X Distinction from the already available distribution: this is the "official" release from R2R ( 6.2.2019 WIN ) ( 9.2.2019 OS X ) Year / Date of Release : ( 6.2.2019 WIN ) ( 9.2.2019 OS X )

Version : 10.0.6
Developer : Ableton
Developer site : Ableton
Digit capacity : 64bit
Interface Language : English
Tabletka : R2R is present
System Requirements :   Windows 7 (SP1), Windows 8 or Windows 10 (64-bit)
64-bit Intel® Core ™ or AMD multi-core processor (Intel® Core ™ processor or faster recommended)
4 GB RAM (8 GB or more recommended)
1366×768 display resolution
ASIO compatible audio hardware for Link support (also recommended for optimal audio performance)
USB port (USB 2.0 or better) for program installation
Internet connection for authorizing Live
Approximately 3 GB disk space recommended for the basic installation (8 GB free disk space recommended)
Up to 76 GB disk space for additionally available sound content
OS X 10.11.6 or later
Intel® Core ™ 2 Duo Processor (Intel® Core ™ i5 processor or faster recommended)
4 GB RAM (8 GB or more recommended)
1280×800 display resolution
Core Audio compliant audio interface recommended
USB port (USB 2.0 or better) for program installation
Internet connection for authorizing Live
Approximately 3 GB disk space recommended for the basic installation (8 GB free disk space recommended)
Up to 76 GB disk space for additionally available sound content
---
Description Ableton Live Suite is a revolutionary music production solution. First of all, this is a digital sound workstation (DAW) and should be evaluated as such. It allows you to compose, record, remix, improvise and edit your musical ideas in an audio / MIDI environment. Ableton Live connects your acoustic, electronic, and virtual instruments, as well as your digital audio recordings and MIDI sequences, together in one interface with unprecedented ease of use. What distinguishes Ableton Live from the crowded market of software sequencers and recording programs is a simple and innovative interface that uses 2 intuitive workflow modes. Simply put, Ableton allows you to focus on what really matters: your music. Create bolder sounds with new Live devices. Stay in flux with a lot of workflow improvements. Keep away from your computer even more with Push. Create your sound with the help of the curator library. And get the unlimited potential of Max for Live, built in without problems.
---
(Skip scanning plug-ins, every time you start) (Copy, transfer program settings)
Skip scanning plugins every time you start
Create

Options.txt

enter the value without brackets (

-NoVstStartupScan

) if it does not work, then (

-_NoVstStartupScan

) and drop it in

WIN

c: \ Users \ USERNAME \ AppData \ Roaming \ Ableton \ Live xxx \ Preferences \ .
For

OSX

/ Users / [username] / Library / Preferences / Ableton / Live xxx / .
If you need a scan, then before starting the program, you need to remove it from there and return it after completion.
Copying, transferring program settings
To save the settings, manually copy the

Library.cfg

file (where collection labels are stored),

Preferences.cfg

,

Template.als

and

Options.txt

(if used) from the Live 10 settings folder (for example, Live 10.0.1).
) to the Live 10 settings folder (for example, Live 10.0.2) or to another folder.
For example, after reinstalling the system, you can return the files in place.
Note.
Live 10 must be run at least once to create the Settings folder

.
Preferences

folder is here:
Windows
\ Users \ [username] \ AppData \ Roaming \ Ableton \ Live 10.xx \ Preferences \
Mac
/ Users / [username] / Library / Preferences / Ableton / Live 10.xx /
---
Arrangement Editing
Added "Clear All Envelopes"
Automation
When hovering over automation
Modulation envelopes of disabled warper parameter envelopes now appear grayed out.
State state state Lock Lock
It ensures that the track is unfrozen.
Control Surfaces
Users of the "Komplete_Kontrol_A" script no longer need to use wrapper Instruments Racks in order to control Komplete Control plug-in instances.
Also, the last auto-armed track will remain no longer armed against the "Komplete_Kontrol_A" and "SL_MkIII" scripts being disconnected.
When a Komplete Control A device is connected, it is now automatically selected in the Preferences.
Interface Improvements
Improved Live's drawing performance.
Previously for macro-mapped parameters, the modulation envelope would appear grayed out.
Since the modulation has not been reached yet, the automation has not been achieved.
Unbroken guideline and line markers in the Arrangement and Detail View.
HiDPI / Retina screens.
Added minor graphics improvements for device chains.
Replaced "Master / Slave" references:
"ReWire Master / Slave" is now "ReWire Host / Device"
"Tempo Master / Slave" is now "Tempo Leader / Follower"
Analog's Filter 2 "Slave" switch is now called "Follow"
Max for Live
Updated the bundled Max application to Max 8.0.2.
For a complete list of changes, please see:
New Features:
• BEAP: v1.0.2 cosmetic updates for Max 8
• cycle ~: 'reset' message to reset phase (a la phasor ~)
• inlet object: attr to define hot / cold state
• limi ~: lookahead limiter (mc and mcs versions too)
• MC Wrapper: 'setvaluerange' message
• mc.sum ~: alias to mc.op ~ @op sum
• Patching: "Keep Duplicated Objects in View" preference (defaults to off)
• playlist ~ / jit.playlist: append without arguments opens File dialog
• playlist ~ / jit.playlist: reportprogress attribute
• Projects: search bar (by name)
• Projects: viewmode to switch between flat and hierarchical views
• Projects: Duplicate Project functionality
• savebang: new object to bang on save
• Snapshots: importsnapshot / exportsnapshot (Snapshots functionality for Standalones)
• standalone: ​​Added way to specify application icon with standalone object attribute
• Typing: bring object to typing
• VIZZIE: SOLARIZR module (based on jit.fluoride)
• Windows multitouch: multitouch support for multislider
Fixed Bugs:
• amxd ~: dependencies updated after re-save
• amxd ~: files are found in the same directory
• autocomplete: aliased objects have descriptions
• autopattr / pattrstorage: fixed issues with deleting / reinstantiating objects
• atoi: outputs int when there is only one value
• buffer ~: 'write' messages with simple filenames works
• chooser: fixed crash updating with scheduler in overdrive
• chooser: margin is respected
• chooser: updates pattr objects when value changes
• closebang / freebang / savebang: consistently support bang and dblclick
• coll: fixed crash when dumping a large line
• coll: fixed issues with name of object / vignette / doc / etc
• Core Audio: remove constraint on sample rates
• dict: fixed crash with garbage values
• expr: negative inputs to "expr fact ($ i1)" work
• font panel color wheel: changing object text color no longer pollutes undo history
• format palette: "changed attr" bar resizes properly
• gridmeter: outlet to mute
• groove ~: followglobaltempo works with looped groove ~
• Groups: outline of group is not shown in Max For Live devices
• Help patchers: seealsos in question mark tab
• Inspector: fixed "Show in Reference"
• jit.cellblock: improved signalmode responses
• jit.dx.grab: fixed crash when vdevice set but no device present
• jit.gen / jit.pix: min attribute of param works
• jit.gl.handle: auto_rotate works in jit.window / world
• jit.gl.imageunit: fixed
• jit.gl.node: does not grab objects that have explicit drawto set
• jit.matrix: fixed javascript exportimage usage
• jit.playlist: finds referenced media in a standalone
• jit.playlist: viddll engine fixed multi-file drag and drop
• jit.textfile: fixed crash on matrix input
• jit.window: fixed duplicate mouse data output
• jsui: avoid crash when there are too many sketch instances
• live.grid: fixed error when interpolating presets
• Mappings: outlines hidden for non-presentation objects in presentation view
• Mappings: drawing improvements
• Mappings: improved key mapping display for modifiers
• Mappings: rename 'bang' trigger mode to 'retrigger'
• matrixctrl: display disabled cells properly
• Max 7 templates: handle bgfillcolor existence when opened in Max 8
• MC Wrapper: applies attribute values ​​to new channels
• MC Wrapper: wrapper messages in non-leftmost inlets
• MC Wrapper: fixed crash when wrapping with prefixed name
• mc.function: redraws properly after receiving clearchans
• mc.gen ~: fix for all instances
• mc.gen ~: Max patchers
• mcs.groove ~: sync outlet has correct number of channels
• menubar: 'append' message refreshes menus
• mgraphics: fixed image_surface_draw <matrixname> memory leak
• MIDI: fixed crash on windows
• MIDI: fixed crashing on app close
• MIDI: unplugged devices on Windows appropriately disappear from MIDI options
• mute ~: fixed crash when used with MC
• Node For Max: fixed dict access after maxApi.post and maxApi.getDict
• Node For Max: NPM execution status updates properly
• Node For Max: fixed missing restart filePath when using @watch 1
• Node For Max: improved NPM execution status updates
• node.script: fixed crash closing help file on Windows
• node.script: fixed potential hangs on Windows
• node.script: symbol usage optimizations
• Object Browser in Toolbar: internal objects are displayed
• Open GL Status Window: Fixed crash when opening
• Package Manager: OS versions are validated correctly
• Parameters: gestures start ordering
• Parameters: 'assign' messages
• Patcher: "zoomed" patcher window location is saved
• Patching:
• pattrhub: resolves boxes in subpatchers
• pattrstorage: fixed extreme memory leakage when storing value in parameter mode
• pattrstorage: greedy attribute no longer inherited by pattrstorage objects in subpatchers
• playlist ~: cursor no longer disappears after command drag
• playlist ~: fixed single click to deselect
• plugin ~ / plugout ~: can have multiple instances of these objects again
• popup menus: fixed memory leak
• Preferences: all show clues
• Projects: item lists are converted to fast lookup.
• Projects: jxf jitter files are added to 'data'
• Projects: improved nomenclature and display of project items
• receive: fixed crash when clicked on
• Recent Messages: fixed shortcut key (shift + m)
• Save Dialog: Select All Works in File Save Dialog (Mac)
• scope ~: fixed text rendering in automatic mode
• Search: opening gen patchers works
• speedlim: fixed stalling when changing speedlimit time
• Standalones: accommodate unicode in pathnames
• Standalones: folders for live devices when running
• Standalones: does not overwrite Max preferences
• Standalones: fixes for standalone prefs
• Standalones: packages load properly in versioned standalones
• suckah: fixed use on Windows with display scaling enabled
• Toolbar: audio power button aligned with audio level meter
• Tour: fixed error on last slide – jit.gl: invalid extension called (Win)
• Typing: fixed issues with dead characters while typing in a box
• Typing: improved arrow key handling when editing text
• VIZZIE FEEDR: fixed gain dial
• VIZZIE INTERPOL8R: outputs alpha
• VIZZIE RECORDR: real-time / codec parameters (based on engine)
• VIZZIE SNAPPR: Fixed image saving
• vst ~: fixed crash when closing the plug-in window is open
• vst ~: fixed loading of shell plugins
• vst ~: no longer tries to load plugs twice
• vst ~: VST3 snapshots and presets
• Windows: save dialog is sizable
Updated various texts and all references to "Max / MSP" with "Max" for consistency.
New Devices and Device Improvements
Removed a feature which required Shift-click to open an AU plug-in editor.
Setup
Added support for ASIO drivers with a single mono input channel.
Updated the Help View table of contents and various info texts.
Updated some info text translations.
Table 2, Table 2, Contents and Info Texts. Bugfixes Arrangement Editing
Previously, it's not a problem to reflect on the Warp Mode switch.
Fixed a crash that occurred when zooming to a time selection, deleting a track and zooming back.
Previously, the Edit menu's "Cut Time", "Duplicate Time", and "Delete Time"
It was a track during the Arrangement recording, it was a track.
Previously, unwarped samples dragged from the browser, it would be arbitrarily shortened.
Live could crash when selecting the proximity of the Arrangement locator.
Automation
There is no need to take advantage of the selection.
In this case, you'll be able to get in touch with the "+" button.
Fixed broken clip envelopes created by push button.
The context automation menu has been selected, and the line automation has been selected.
Fixed a bug which prevented dragging an automation breakpoint to 1.1.1 under certain circumstances.
Previously, splitting the left to the right line.
Browser
When the Collections label was assigned, it would appear twice in the respective browser collection.
Fixed a bug that has been taken.
Control Surfaces
If you're still not happy, you'll be able to see what you've been using. view.
Fixed a bug where the message "the parameter … is awaiting the pick-up" indefinitely instead of disappearing after a few seconds.
The "Komplete Control A" remote script will now be auto-selected on Windows even when the port name is prepended with a number.
Selecting the master track of the "Komplete_Kontrol_A" script.
Fixed two bugs in the Novation SL MkIII script:
Deleting all return tracks in a "hanging" send / return display on the SL MkIII.
There is no more drum tracks available for the MkIII.
A crash might occur when inserting (eg duplicating) a device that could be locked.
File handling
In the File Manager, an Arrangement clip file should be displayed.
If you're not happy, you've been deleted, you've been deleted, regardless of whether or not you've been deleted.
Previously, there wasn't that you've made it.
Live could crash when using the Manage User Library feature, under certain circumstances.
On Windows, if it fails to overwrite a file during rendering, it will no longer crash. Instead, it will use a different file name.
If you click on the "Selected Tracks Only" button, clicking "Export" doesn't give you any choice. Instead, the "Export" button is now grayed out.
Fixed a crash that occurred when decoding an Ogg Vorbis file with more than two channels. It will make it possible to live it.
The File Manager couldn't be able to display anything.
Interface Improvements
It wouldn't be a custom click away.
Added a plug-in for racks in the Device View.
Fixed truncated text in Wavetable's Modulation Matrix.
Fixed misaligned text at high zoom levels.
On the dial controls, the gap is now the distance value.
Previously, the Envelope Control Chooser in the Clip View was MIDI clip. In addition, a crash would occur when there was a live set.
"HiDPI screen is in use," added:
If will the windows VST windows will resize properly. VST windows.
If there is a screen on the screen, it will be randomly random. This is a screen.
The distance between the windows of the VST windows and the bars is increased.
VST windows are positioned consistently when opening HiDPI and non-HiDPI plug-in windows after one another.
This is a glitch, when using the Zoom Display feature.
Fixed truncated text in the Saturator and Resonators devices.
There is a lot of automation that has been taken into account.
On the macOS, now match.
Live would crash when zooming in on the detail view with the '+' key.
Under some conditions, zooming in on the jump wave.
Max for Live improvements
If you're not happy, you're trying to change your device.
New Devices and Device Improvements
Fixed truncated modulation target names in Wavetable's Modulation Matrix.
AU plug-ins would not recognize the "Multiple Plug-In Windows" preference.
There was no need to make a note of the keyboard.
Live could crash when loading certain Wavetable presets.
Fixed a crash that might occur when the FL Studio VST was running.
ReWire
Updated ReWire libraries to version 1.8.7 build 145. This fixes a problem where you can get a request to access Contacts.
Setup
This is a bug where the list will be lost.
Fixed a crash that occurred after closing the error dialog informing about an unusable ASIO driver clock signal.
On Windows, Live would sometimes crash while shutting down.
Security warnings on macOS (version 10.14).
Fixes a bug which prevented Live from being completely 64-bit compliant.
Live it crash when you clicked the Driver Error Compensation toggle in the Preferences on Windows.
---