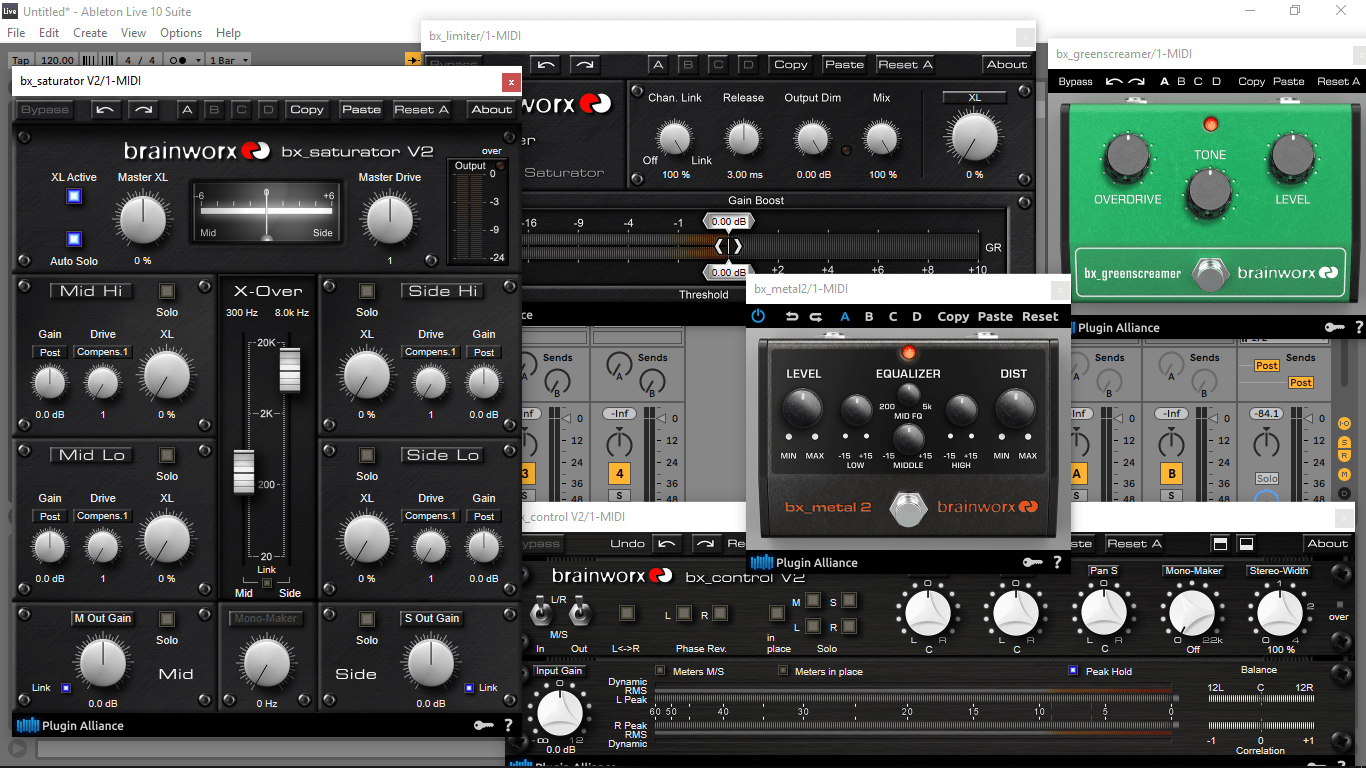 Year / Release Date : May 13, 2019
Version : 2.0.0
Developer : Plugin Alliance & Brainworx
Developer site : Plugin-alliance
Format : VST / VST3 / AAX (MODiFiED)
Digit capacity : 32bit, 64bit
Tabletka : present
System requirements : indows 7 through 10 / Intel-compatible CPU with SSE2 instruction set (Pentium 4 compatible or higher; minimum 2 GHz recommended)
Description : A set of plug-ins
Brainworx

–
bx_2098 EQ

v1.20 – virtual equalizer bx_2098 EQ ($ 249), simulator of hardware model Amek 9098
bx_bassdude

v1.50 – Fender Bassman Virtual Guitar Amp Simulator
bx_blackdist2

v1.30 – by emulating the ProCo Sound RAT 2 ™ pedal, which formed the sound of thousands of iconic recordings
bx_bluechorus2

v1.50 – emulation of a pedal of Boss CE-2 Chorus
bx_boom

v1.11 – allows you to adjust (loosen or amplify) the sound of the bass drum.
bx_cleansweep Pro

v1.40 – low and high pass filter with new technology "Anti Crush Technology"
bx_cleansweep V2
bx_console E
bx_console G
bx_console N

v1.30 – emulation of the famous British N Series console
bx_console SSL 4000 E

v1.10 –

emulate SSL 4000 E

console
bx_console SSL 4000 G

v1.10 –

emulate SSL 4000 G

console
bx_control V2

v2.10 – contains new and improved M / S arrays, stereo amplifier and mono maker.
bx_delay 2500

v1.20 – chorus, delay, ducking and transient shaper.
bx_digital V3

v3.40 is the flagship mid / side equalizer for mixing and mastering.
bx_distorange

v1.50 – emulation of the most popular distortion pedal The Boss DS-1.
bx_dynEQ V2 Mono
bx_dynEQ V2

v2.10 – dynamic equalizer and compressor
bx_greenscreamer

v1.50 –

ibanez

TS808 guitar pedal overdrive simulator
bx_hybrid V2 mix
bx_hybrid V2

v2.70 – mono, multi-mono, stereo 11-band equalizer.
bx_limiter

v1.90 is a simple but effective limiter with excellent sound.
bx_masterdesk

v1.10 – high-performance analog mastering system in one plugin.
bx_megadual

v1.60 – Mesa / Boogie Dual Rectifier guitar amp simulator
bx_megasingle

v1.60 – Mesa / Boogie Single Rectifier Guitar Amp Simulator
bx_metal2

v1.30 – Boss MT-2 ™ Stomp-Pedal Simulator
bx_meter

v1.11 is a measurement tool that shows the peaks and RMS values ​​of your mix.
bx_opto

v1.40 – compressor, combining the best sound, character and tone.
bx_opto Pedal

v1.40 – optical compressor simulator
bx_panEQ

v1.30 is a revolutionary panoramic equalizer that will forever change the way you make stereo tracks.
bx_refinement

v1.60 – allows you to eliminate unpleasant high frequencies from complex signals and mixes.
bx_rockrack V3 Player
bx_rockrack V3

v3.30 – boasts eight well-known models of amplifiers in one plugin + 40 impulse responses
bx_rooMS

v1.30 is a mid-side reverb plugin that was created using TrueSpace technology.
bx_saturator V2

v2.60 – M / S multiband saturator.
bx_shredspread

v1.12 – a tool for panning, stereo widths and timbre of guitar tracks / bands, automatically avoids common problems with phase.
bx_solo
bx_stereomaker

v1.80 – plug-in for converting mono signal to M / S stereo.
bx_subsynth

v1.30 – Holy Grail for bass fans!
The plugin generates subharmonics in three discrete ranges that go right up to the core of the Earth!
bx_subfilter
bx_townhouse Buss Compressor

v1.30 – simulates a tire compressor made by Townhouse engineers from SSL components.
bx_tuner

v1.50 – Virtual Tuner
bx_XL V2

v2.10 – M \ C mastering limiter.
bx_yellowdrive

v1.50 – Boss SD1 Guitar Pedal Overdrive Simulator
Q) Did the plugin alliance change the protection?
A) The first big change happened between All Bundle v3.0 and v3.1.
Before
v3.1, there are no antidebug, antitamper, antirebuild things.
There were
just C & R protection using SHA256 / RSA2048 / RC4 / BASE64.
From v3.1, PA adopted protector which we call PA-Layer.
(To be honest we
do not know the protector.
It looks different from the
popular cross platfrom protectors like VMProtect).
PA-Layer function:
* Packer (Section Encryption)
* Code Obfuscation + Virtualization
* Anti Debugging
* Anti Tampering
We've been developing custom PA-Layer loader and released in short
term (v3.1, last PA full bundle for public till now).
But PA updated
Anti-Anti PA-Layer protection.
Anyway, it is just a
small change.
Maybe they would update the protection again after a while.
————————————————– ————————–
Q) Why did some plugins continue to be cracked?
A) PA-Layer is adopted to the plugins developed by Plugin Alliance
(Brainworx) self.
3rd party plugins like Lindell, Unfiltered are not
protected by PA-Layer.
————————————————– ————————–
Q) What is the bad point of PA-Layer?
Is it removed from R2R release?
A) Slow loading time, performance affection.
If you want to compare the
performance, compare all with the PA All Bundle v3.0.
Load many plugins -> Save Project -> Close DAW -> Reload It!
You can notice the big difference between them.
Unlike our full rebuilt iLok releases, PA-Layer
PA plugins.
Enjoy the unprofessional behavior of the professional plugins!
————————————————– ————————–
Q) Why did the AAX got cracked and appeared beside the VST version?
Is AAX protected weaker than other plugin platform?
A) Yes, AAX is protected much weaker.
While core protection (C & R related
crypto) is still obfuscated / virtualized in AAX.
We guess
AAX needs digital signature by Avid, and some integrations of PA-Layer
conflict with it.
NOTE: AAX Crack by VR will crash randomly due to bad bomb dealing.
It delays the crash but it still crashes
(time64) and working time.
————————————————– ————————–
Q) How long does it take to crack all plugins?
A) Just imagine yourself –
Generate, Test custom loaders for VST2 / VST3 / x86 / x64, for 90 products.
————————————————– ————————–
Q) I thought R2R was paid by the Alliance to stop cracking.
A) We thought you were paid to complain R2R.
---