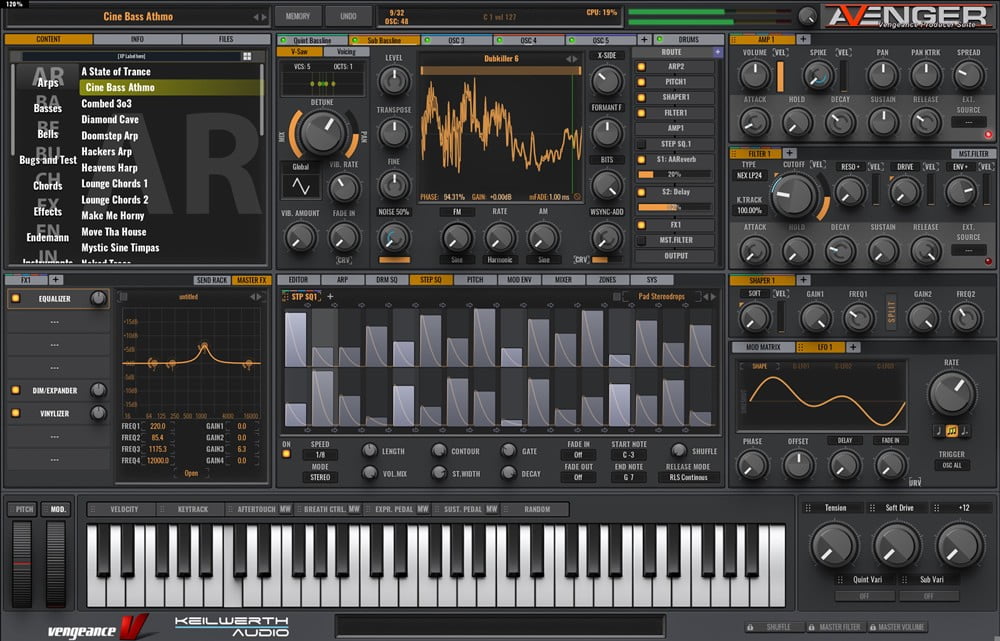 Year / Release Date : 4.8.2019
Version : 1.4.10
Developer : Vengeance
Developer's site : Vengeance
Format : VSTi / VSTi3 / AAX
Bit : 64bit
Tabletka : Not required
Windows 7 + system requirements Description Discover our new Alpha and Omega Synthesis: Vengeance Producer Suite Avenger is here! The most versatile and best-sounding synthesizer you've ever met. VPS Avenger offers you many features and a giant growing library from some of the best sound designers on this planet.

AMBIKA
Bigtone
EDM 1
Euro party
Factory
Funky house
Future chill
Future house
Future pop
Presets
Psy
PT DnB
PW Big House & EDM Avenger
Shocking Deep & Future House For Avenger
Shocking edm
Shocking house for avenger
Shocking Trap For Avenger
The stand
Top edm genres
Top sounds
Trap moombah
Tropical house
XP dance
1.4.10 changelog
– fixed hang during loading in ProTools DAW
– fixed issue with wrong routing of FX busses after loading a preset in specific circumstances
– fixed issue with granular envelope global first trigger
– fixed issue with retriggering ARP notes when legato is being used and the chorder voices are being turned on and off
– fixed mouse wheel +12 steps for OSC transpose dial
– fixed issue with hanging ARP when sustain pedal is used
– fixed issue with playing ARP notes that were too long / too short after changing the ARP speed
1.4.9 changelog
– added / fixed: Avenger reports a latency to your DAW now for correct auto compensation.
You can set this up on the SYS Page "Off" (regular / default behavior with zero live play latency – "Dynamic" (latency rises depending on the number of Limiters or Comps being used in the preset) and "Fixed" 5.10 or 15ms "(one Limiter or Compressor needs 2.5ms lookahead, so 15ms can compensate 6 of these effect types)
– added: "set global" button for the latency mode: updates all Avengers in your current song project to the desired setting with one click
– added new stereo compensated mode for the VSAW with even voice-counts (2voices, 4voices and 6voices are now equally divided in the stereo field)
– added a new button: ARP "Auto-Follow" – the ARP view will follow your pattern changes if active
– VMAN only logs into the account when opening VMAN.
this should speedup loading time alot
– general improvement of loading times
– fixed: loading a new drumkit and having locked drumslots will now lock all the parameters (vol / pitch etc) of the locked slots, too
– fixed: correct snapping steps to the FM Rate dial when moving it with the mousewheel
– fixed: DC offset in shaper with mode "polynom"
– fixed: bug with triggering mod env if the triggering OSC has a different keyrange
– fixed: issue with appearing "PITCH8" route in the drums after removing MasterFX from a selected range of drumslots
– fixed: pitch envelope in loop mode was not correctly synced to your DAW's BPM after loading a preset in certain circumstances
– Avenger will update the init preset to a new version, because of important changes due to recently added new features.
A backup of your customized init-presets will be created
– many minor improvements and fixes
1.4.8 changelog
– added new SYNC MIX modes 100%, 75%, 50%, 25% to specify the intensity of the sync effect (can be found in the context menu)
– included ARP Poly mode to the LATCH modes
– fixed an issue in drum sequencer reverse sample end sync
– fixed an issue with modulation assignent for OSC-Sample stacker slot when another slot was removed
– fixed a note hang when switching to endless sub while a note is active
– fixed a issue with wrong display of enldess sub mode when it is modulated byn the modmatrix
– fixed an issue with note hang when bypassing the plugin
– fixed a crash when using the search function in the soundbrowser and then navigating with the arrows in the browser
– fixed some minor issues in the chord detection
1.4.7 changelog
– fixed a problem with ARP fixed note / Chord Detection
– fixed issue with too much CPU usage on idle in specific circumstances
– fixed an optical issue with switching off the Endless-Sub-Switch mode
1.4.6 changelog
– fixed APR / DRUM-SQ playback issue when not using a LATCH-Sync mode
1.4.5 changelog
GENERAL:
– massively improved chord detection modes
– VST3 fixed an issue where Avenger received MIDI-CC Data even if there was none
– fixed a GUI crash when double clicking the OK button in a pop-up message (i.e. Initialize Preset)
– fixed a rare crash when cross FM was not set correct
SYS-TAB:
– added Arp / DrumSQ-trigger option LATCH to SYS-page
GUI:
– improved MIDI data readout.
Its 2 rows now for better readability
MODMATRIX:
– fixed a issue with OSC-target names were wrong after removing OSCs
– added new source that triggers if a MIN or a MAJ chord was detected
– added OSC-StartKey / EndKey mod target
– added OSC Keyzone as mod-target
DRUM-SQ:
– fixed odd scroll behavior in Drumkit browser when saving a drumkit preset.
– fixed a issue with pre-delaying samples timing was not correct if SQ Speed ​​was other than 1/16
OSC:
– new endless sub Menu
– new endless sub mode: endless sub switch
– added octave and note offset to endless sub modes
OSC-SOUNDBROWSER:
– improved search: Now it is possible to search in a specific expansion for a search string
– sound preview plays always note "C" now
VMAN:
– fixed an issue where the expansion list was not updated after activationg a new expansion in VMAN
1.4.2 hotfix
– fixed a problem with arp notes did irgnore legato
– fixed a problem with poly legato split zone load / save
1.4.1 – minor fixes
– minor internal changes to fix the crash on preset save.
– sorting folder list for multisample import
– fixed a small issue with multisample-conversion for sample-stacker
– fixed a issue with changing chorder-arp presets would stop arp playback
– fixed note-hang issue
– adjusted font-brightness in the fx-section for the vintage skin
1.4.0 – Chord – ARP update
ARP:
– added new Arpeggiator module: Chord Mode
– added Per-Note strumming for ARP Chord and Poly mode
– added ARP cotave shift-button (or chord intervall / variation shift in chord mode)
– added selection capabilities to the ARP (hold shift to draw a box and select multiple items)
– added copy / paste 1st or 2nd half of an ARP pattern
– added ARP Humanize function (randomly shifts notes positive AND negative in time)
– ARP: added chord detection as "fixed note mode" where only the base note of a pressed chord is played.
Perfect for bass adds to pads or SQs.
– fixed an issue with ARP patternmode poly fixed note
– fixed an issue with ARP fixed note octaves parameter not working properly
– fixed an issue with displaying arp pattern modulation in negative direction
Others:
– added a new free skin: Vintage Skin for Avenger by SatYa Tunes
– added new FX type: Clipper (Distortion)
– added new FX type: VMS Stereo Expander
– added new FX type: VMS Stereo Shifter
– improved UNDO for removing a FX from a send slot, which could affect OSC / Drums routing
– changed OSC-soundbrowser preview.
its playing 1sec with a single click, if the file is longer, hold the mouse button to preview longer than 1sec
– added scrolling target texts in the mod matrix when the text is longer than the textbox
– fixed a issue with noise-phase lock when using a lower noise-sample rate.
– fixed an issue with tempo-update in the Trancegate
– fixed an issue with PitchBend and value mapping.
– fixed some memory leaks related to VMAN
– fixed a crash when GUI vanished after initializing the preset (very rare)
– OSC Transpose dial has a improved scale when using the mouse-wheel.
Now changes 12 semitones or 1 semitone when using shift mouse-wheel
– GRANULAR: added "Convert To Granular" to context on the Granular-Sample display.
Rightclick to open the context.
File will be loaded automaticaly to the OSC after conversion.
This is only available on User-Samples, when the source-file is available.
– the minigame "MIDIWARS", which was exclusively in the 8 / 16Bit XPs is now available for everyone
also updated Factory Content to R5!
hundreds of new presets for ARP (chord mode), FX chains, Mod Env, FX, etc …
1.3.5
– added new function for DRUM-SQ: "REVERSE SAMPLE".
You can access it in the ROLL-MODE context.
That will playback the sample reverse.
The tempo anchor point is the Step next to, where the arrow will point at
– added Shape for a MOD entry / slot in the MOD MATRIX.
With that function you can additionaly shape the modulation value before if modifies the target.
– added new LFO Parameter: "Synced Mod."
When this is turned on, rate changes via modulation will be synced to your Song BPM, meant it will switch the Rate only at full cycle values ​​to stay in sync.
So a 32th to 8th wobble will always sound tight in your mix.
– added "CLEAR" button to DrumSQ.
Clears all notes
– added UNDO for preset load.
If you accidentially load a preset, you can un-do this.
– added COPY / PASTE for FX settings, now you can copy FX specific settings from one instance of an insert FX to another instance
– added ENDLESS BASS Mode playing the octaves from the ARP.
Endless Bass Mode also only takes 1/1 voice now in the Voices page / global voice limit.
– added ARP shuffle is now working correct on pattern lenghts that are not related to 4/4 (esp. odd pattern lengths, i.e. length 9 or length 7)
– added KEYTRACK to insert FX: Filter.
Good if you want to use the new Comb filter for example on the master sum or an effect bus.
– added visual feedback for inner dials (i.e. OSC PAN, Noise color etc …)
– added visual feedback for the OSC's HP / LP Filter bar
– added phase-lock for OSC Noise, very handy for static attack-noises (Drum sound design)
– added OSC-endless bass mode as mod target
– added: quick assign drum slots to aux or specific FX bus.
Now you can route all AUX Outputs with 1 click
– changed: loading a ModEnv preset does not chagne the trigger-mode anymore
– changed: preset search-> added VARIOUS folder to author context where authors with less than 10 presets are listed
– fixed issue with solo-ed sample stacker after loading a new sample to a stacker slot where all slots were audible again
– fixed DrumSQ.
leftClick CNTRL to move the event free from the bpm-grid.
Was working before but the note had to be selected first – now its easier to use.
Great for Humanized Drum patterns
– fixed drum kit route gain-slider
– fixed a issue in AAX format where not all AUX outputs were processed correct.
– fixed an issue with resample / wavetable beat selector which was working only for OSC1
– fixed wandering crossFM attack sound
– fixed StepSQ clicks in stereo mode when stereo width is not 100%
– fixed an issue where granular-env position-dot did display the position of OSC1 even if OSC2 was selected
– fixed an issue where custom-samples was not stored correct in the sample-stacker
– fixed an issue with insert FX Filter "inertia".
Now the insert FX: Filter is much faster for modulations.
– fixed an issue with Arp clock mode "first note" and play with multiple patterns where the arp did start at pattern A but B should have been already reached.
– fixed an issue in the mod matrix.
modulating the strength of an slot using a per-voice-source where the target of the modulated slot is not per-voice
– fixed: changing StepSQ state and stepSQ module on multiple-selected drumSlots does not work
– fixed: mod-matrix slot strength modulation "bar" showed wrong value if mod add was used to modulate the strength
– fixed: granular-envelope speed mode wsa not saved / loaded correct
– fixed: crash when removing ARP1 after ARP2 was created.
– fixed a scrolling issue, when adding a new target / source to a quite full modmatrix
– fixed retriggering voices on chorder on / off and active legato
– VMAN: fixed: expansion not visible after downloading and importing it via VMAN
– VMAN: fixed: wrong folder for VMAN bitmap cache on MAC OS
– tons of minor bugfixes and imporovements
1.3.4
– added VMANAGER (beta) to manage the expansions in your account.
– added snap for ARP Pattern length
– improved preset search startup (loading a index list from harddrive so that it must not be created each time the plugin is started)
– fixed a issue for OSX GUI implementation that caused a very highg CPU usage
– fixed a crash caused by the COMB KEY filter
– fixed a tuning error for C-3 … D # -3
– fixed some memory leaks
– fixed a issue where arp pattern length 16 could result in length 17
– fixed a issue that caused the routing display to show "#ERROR" after initalizing a OSC and disabling a filter-route
– fixed a problem with pitch-steps-parameter calulation
– fixed a click-noise at sample loops points (introduced with 1.3.0)
– fixed a issue where removing a module could cause a routing into a module of the same type for two times.
(ie 2x shaper1 when removing shaper 2)
– fixed a issue with DelayFX-Kill Feedback if it is pressed manualy and is modified via the mod matrix could cause a CPU spike
1.3.3 – hotfix
– fixed a crash starting a sound from the drum kit
1.3.2
– fixed a issue where it may occour that not all expansions were visible.
– fixed a issue with recursive cross FM (OSC3-> OSC2 -> OSC 1) where OSC3 was not handled correct
1.3.1 – Hotfix
– removed a memory leak that was intorduced with 1.3.0
– fixed a small issue with deleting a FM-Source OSC.
it does not get stuck in source mode anymore
1.3.0
– added REAL-FM.
a OSC can be used as FM Shape.
– small cpu improvements on pitch module
– SYSTEM ID is displayed on the SYSTEM-Tab.
– improved sfz code.
! Not all SFZ files will be handled correct.
Avenger does not support layering (multiple samples for same note velocity), also "#include" opcode will be ignored.
– added MIDI-CC Learn for PREV / NEXT preset
– added MIDI-CC Learn for Macro-buttons
– fixed: Preset Browser Category sorting for OSX High Sierra with APFS
– fixed: FX Chorus, created "phased" sound on disable / enable fx.
– fixed: problem reading skin-zip files that were created on OSX
– fixed a issue where the SteqSQ enabled parameter was always set ON after loading a project
– fixed a crash that may occur after removing a OSC between 2 oscillators that are using samples.
1.2.6
– added new filter model: "COMB KEY".
This one is perfectly tuned (keytrack).
Use it on waveforms or attack clicks
– added favorite rating system (star) for presets.
You can tag your favorite presets and search for them in the search page
– added new roll / flam modes pattern to drum kit sequencer.
Fade ins / outs and many more new rolls!
– added new OSC formant mode "x-fade", very smooth and handy for wavetables where the waveform does not start with a zero-crossing
– added line draw mode for FFT-Harmonic & FFT Bin (use ALT key% mouse click)
– added audio preview for shapes, freeform & wavetables in the OSC sound browser
– added new modsource: osc-pitch-keytrack.
Try this on formant / x-cite for example to get smooth transitions when using portamento legato
– added current BPM is shown now in the top bar display
– added more voice-limit intervals
– added more master gain intervals
– added own format for user-skin files, so developers are not forced to release their source-images
– added multisample converter for SFZ files.
(WAV and AIF samples are supported) Just rightclick on a sfz file in Avengers' browser and convert
– added the OSC browser sound preview now correctly use the loop points in the sample
– added more modulation display in numeric / text box views.
(for example OSC gain, Arp Speed ​​etc …)
– added tool-tip for Granular start / end locators
– fixed a crash on NPOINT envelope if loop-end is too close to its left neighbor
– fixed: "loop enable" button was always "ON" after loading a preset that contains a user-sample
– fixed: WaveTable / Granular Sample overlay logic issue
– fixed: Drum Slot Lock state will be resetted on initialize / preset load
– fixed: Zones Page ModMatrix KEYTRACK Slot label was not visible in other zoom modes than 100%
– fixed: issue with loading "Sustain Release Jump" Envelope mode when loading a preset.
– fixed: issue with "Default Settings" on Mod envelope browser did not load a customized "Default Preset"
– fixed: npoint envelope sustain jump mode could have caused strange behavior on specific circumstances
– fixed: fixed a problem with drum kits and locked slots where the locked samples was replaced on save / reload
– fixed: adjusted size for the "X" on Dial-Mod controller.
It was too tiny
– fixed: adjusted font size of ie ModEnvelope Trigger Mode context for labels "GLOBAL" & "PER VOICE".
These were too tiny
– fixed a issue with sample stacker and exclude start offset for a slot
1.2.5
– added: progress bar for function "publish expansion"
– fixed: ARP muting itself on touching notes
– fixed: minor issue on loading NPoint Envelopes
– fixed: aliasing chorder oscs when VSAW num oct parameter = 1
– fixed: rare click sounds that were audible on voice start while send-fx strength was modulated
– fixed: renaming a preset and using prev / next arrows did load the wrong preset
– fixed: sample name for user samples in the stacker is displayed correct
– fixed: midi CC import did not update GUI, import did append the list instead of replacing it
1.2.4
– fixed wrong inital values ​​for mixer volumes after preset load.
this caused some "pop" sound in specific circumstances
– fixed a issue with AM-FM filter in the filter module wich have been very slow
– implemented cursor key support for the preset view in the content search
– fixed: using right-arrow in the new sound browser did accidently load a new preset instead of the selected sound
– fixed: missing drum-sequencer notes
– improved Avenger loading time
1.2.3
– added system-ID locked licenses
– included: new Avenger skin: Chrono_Jade by SatYa!
– fixed: high CPU usage on some filter models while no audio was playing
– new mode: if you right-click on the Drumkit lock buttons, they will lock all exept the clicked button
– fixed a crash that occurs while loading a sample while playing notes.
– fixed a crash in the new sound browser
– fixed a crash on loading VPS Avenger
– WIN: fixed importing expansions from folders that containing UTF8 chars
– fixed Drumkit browser lock-state is was not remembered when reopening the GUI
– fixed a rare problem with double drum sequencer notes on loop
– fixed Minichain FX "Drum SQ BD" Triggermode
– fixed a logic-problem when OSC voice limit was set to 1, ARP was active for a OSC and Wavetable trigger was set to "FIRST"
– under certain environments preset loading time is faster now
– dozens of small improvements and minor bugfixes
– preparations under the hood for the next synthesis module