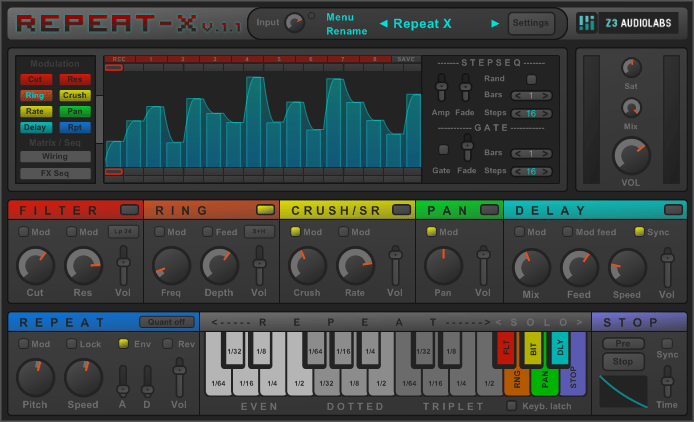 Year / Release Date : 12.2018
Version : 1.1
Developer : Z3 Audiolabs
Developer's site : z3-audiolabs
Format : VST
Bit : 32bit
Tabletka : Ne required
System Requirements : Windows 7 +
Description : Multi-effect plug-in \ stuttering effect designed to control sound in real time and offers you 9 effect algorithms. Effect parameters can be modulated and synchronized with the main program.
All parameters can be assigned to your MIDI controller. Each effect can be located in the signal chain using a system known as Signalflow.
The key part of Repeat X is step sequencers for each FX. Sequencers are synchronized with the host and are very flexible in their synchronization capabilities and can be stored in 8 snapshots for each preset or to disk. In addition to sequencers, there is also a gate that can be used for each effect.
Repeat-X is simple and intuitive to use and was designed for live performances, but can also be used in your studio projects.

FEATURES

:
Easy connect with your MIDI controller: Every FX parameter offers you a MIDI learn function – just right click on the parameter you want to set on your MIDI controller and move the controller of your choice – done!
Signalflow: Drag & drop FXRepeat X provides an ultraflexible wiring system – just drag the FX to the preferred position in the signal chain and choose between five different wirings – you have 3600 possibilities!
Stepsequencers and gates: Stepsequencer For each FX you can enable very flexible stepsequencers and gates – each with separate speed control and always synchronized to your host program.
FX Sequencer: FX SequencerDraw your own FX sequences.
EFFECTS

:
Filter: Provides 12 different high quality filter types
Ringmod: 4 different waveforms to modulate the signal
Crusher: Steplessly variable bitcrusher and samplerate reducer
Pan: Modulateable panner
Delay: Delaytime from 1 sample up to 999 milliseconds – modulate feedback or delaytime
Repeat: Grainbuffer live repeater – playable with keyboard – pitch it and speed it up or down – play reverse – set attack and decay
Tapestop: Oneshot tapestop with variable time and curve setting – you can set the tapestop pre or post FX
Saturation: Masterchannel saturation