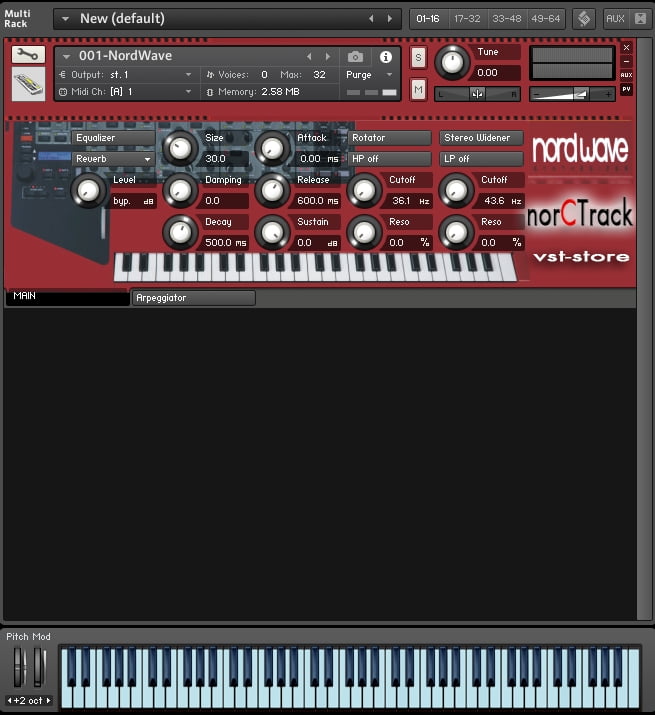 norCtrack – Clavia NORD WAVE NKI is a library of sounds of the most powerful analog synth NORD WAVE .
Here are included ALL presets NORD WAVE in format NKI (Bank01, Bank02, Bank03, Bank04, Bank05, Bank06, Bank07 and USER BANK ) from hardware model NORD WAVE their most popular workstations.
The given library allows to have sounds of this synth at you on a computer. Now you can save approximately $2000. The kontakt nki liberys sampled in profesional quality!

Included ALL BANKS (1-7) + USER BANK
NEW Interface
Velocity
Looped (just long sounds)
All 88 key
Effects (reverb , deley)
Equalizer
Attack, Realnse, Sustain
Ratator
Stereo Widener
HP, LP
ARPEGGIATOR
Manufacturer: norCtrack Studio | vst-store.com
Compatibility: PC OS Windows & Mac OS
Software requirements: Native Instruments Kontakt 4.1 and high versions
Language of the interface: English
Size: 8.17Gb (2DVD Disc) OVER 950 NKI FILES
Format & Quality: Kontakt Instrument NKI /stereo/48.000Hz; 24 Bit / High Quality sounds