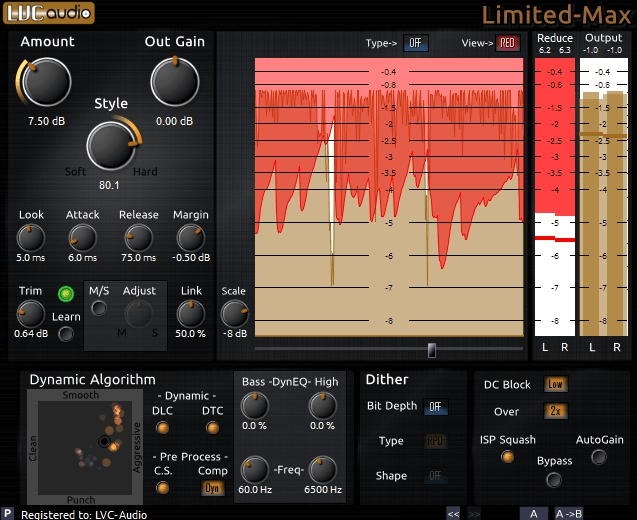 Year / Release Date : 10/22/2019
Version : 1.1.0
Developer : LVC-Audio
Developer's site : LVC-Audio
Format : VST / VST3 / AAX (MODiFiED)
Bit : 32bit, 64bit
Tabletka : present
System Requirements : Windows 7 or later
---
Description : Limited-MAX is a specialized limiter based on being a capable predictive brick wall limiter, suitable for final mixing or mastering. Limited-MAX dynamically combines several unique restriction algorithms to provide a transparent restriction for all audio sources. Limited-MAX is capable of significant levels of compression / limitation without inadvertently creating an excessive amount of audible distortion.
Limited-MAX is highly customizable and suitable for a wide range of music sources. Limited-MAX reveals all aspects of a multiprocessor restriction algorithm. This allows the user to constantly tune and find the best sound from a huge number of options, and not from several algorithms. Other features include standard attack and release controls, customizable look-ahead controls, adjustable stereo linking, and a variable control style that changes the sound and shape of the limiter compression curve. In addition, Limited-MAX includes a selectable DC filter and complete dithering controls, with a choice of dithering and psychoacoustic filtering.
Limited-MAX also builds on many standard LVC-Audio features. The visual output meter and the display of the waveform history can be switched between the normal view and the K-Metering parameters (K-20, K-14 and K-12). The selectable secondary meter can be modified to display standard attenuation of the limiter gain, input measurement, inter-sample peaks (ISP), or estimated distortion levels. Limited-MAX also has a choice of 2x, 4x or 8x linear oversampling for maximum accuracy.
---