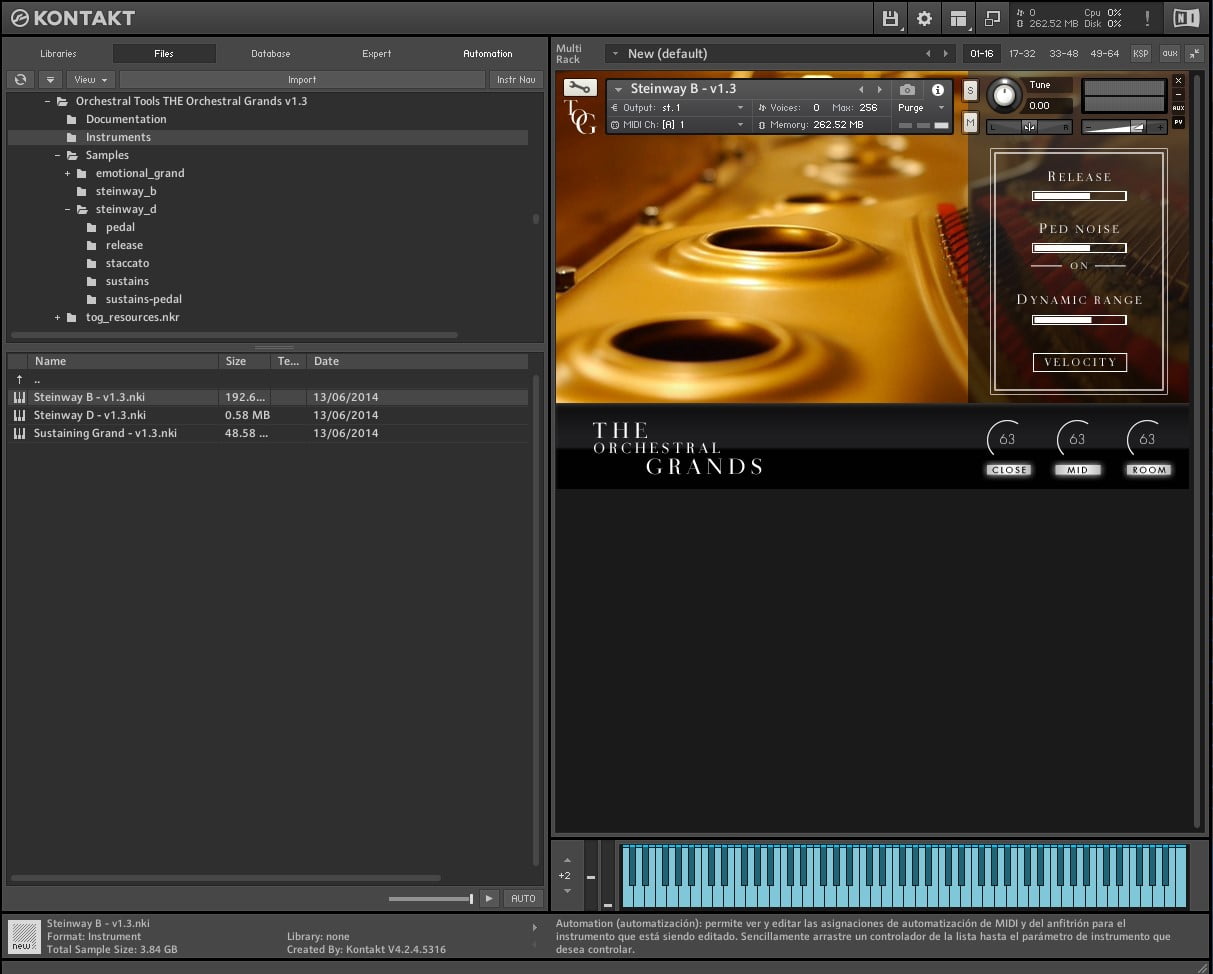 Publisher : Orchestral Tools
Website : Orchestral Tools
Format : KONTAKT
Quality : 24 bit 48 kHz stereo
---
---
Description : The Orchestral Grands offers you two masterpieces of Grand Pianos, Steinway D and Steinway B. Both are designed for orchestral use and were recorded at one of the best sounding stages – on the Teldex Scoring stage in Berlin. These great pianos are ready to bring wonderful complementary colors to your symphonic compositions.
You need full Kontakt 4.2.1 or later to run this library
---
---
We took great care about the placement of these instruments, capturing the marvelous acoustics of the stage in its wonderful depths and shimmering heights.
Many round robins on sustains and staccatos will help you create more realistic results on rhythmic, percussive and repetitive passages.
THE SUSTAINING GRAND
For more intimate and emotional situations, we are offering a processed emotional soloist grand.
Carefully edited through a very special analogue chain (Chandler Zener Limiter, A-Design´s Hammer EQ, Electrodyn 501 preamps), the Sustaining Grand complements The Orchestral Grands collection in a very delicate way.
3 MIC POSITIONS
Choose between the room mics (a Decca Tree with M50s), mid mics and very intimate close mics to fit The Orchestral Grands perfectly into your orchestral setting.
The Sustaining Grand provides a single close mic position.
DYNAMICS
The Orchestral Grands offers a huge range of different dynamic layers.
4 recorded dynamic layers + additional transition dynamics enable flexible and smooth dynamic performances.
– Recorded at the Teldex Scoring Stage (with orchestral positioning)
– Steinway D
– Steinway B
– Sustaining Grand
– Up to 4 round robins on sustains
– Staccatos with 6 round robins on Steinway D
– 4 velocity layers
– Specifically designed for orchestral usage
– 24.9 GB of samples (14.4 GB compressed)
– 24Bit / 48KHz Patches