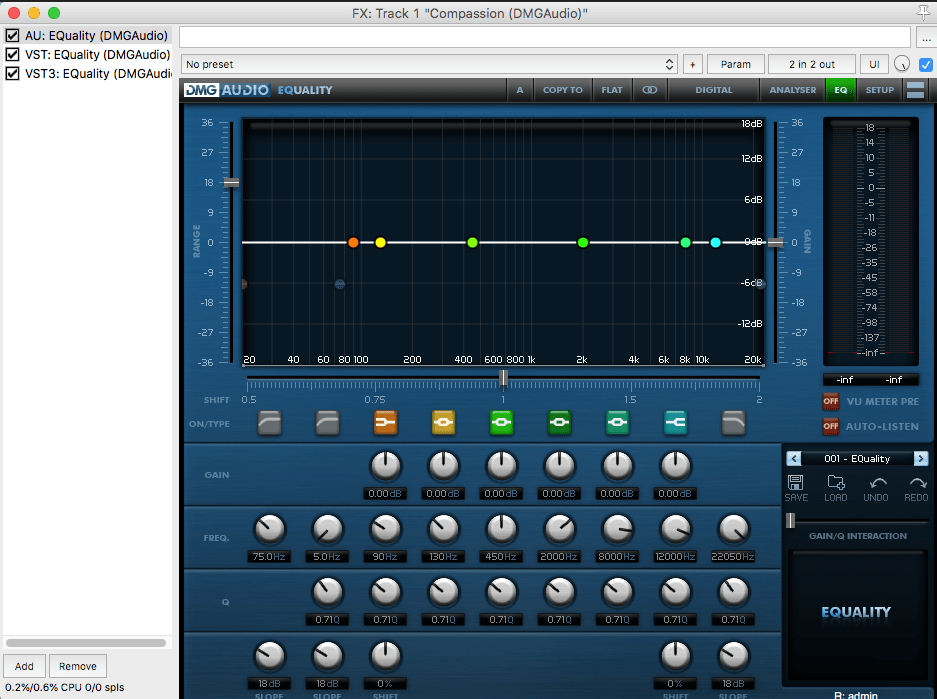 Year of release : 2018
Version : 11.2018
Developer : DMG Audio
Developer website : DMG Audio
Platform : iNTEL
Format : AU, VST, VST3, RTAS
Interface language : English
Tablet : Keigen (requires Windows emulator)
System requirements : OS X 10.5 or newer, including High Sierra (10.13)
Intel mac
Description : A set of plugins:
DMG Audio Compassion 1.17 is a full-featured processor for the dynamic processing of any audio material. Behind this interface is probably the most flexible dynamic engine ever created.
DMG Audio Dualism 1.07 is a powerful tool for working with a stereo signal, including a comprehensive audio visualization system. Used as a final step in mixing and mastering. Dualism provides absolute mastery in stereo space.
DMG Audio EQuality 1.31 – the highest quality EQ. Optimized for low CPU usage. Line, Analog and Minimum Phase Modes for the master channel and the rest of the mixer buses. Unique Digital + mode for incredible results.
DMG Audio EQuick 1.13 is an upgraded, state-of-the-art equalizer with low CPU usage and high sound quality.
DMG Audio EQuilibrium 1.56 – Flexible EQ suitable for all professional needs. Audio engine with very low CPU consumption. Precise digital curves. Fully customizable interface. Advanced routing and grouping. High precision analyzer. Up to 32 lanes. Q up to 36dB. And many other fitch.
DMG Audio Essence 1.05 – the most powerful and transparent De-Esser in the world! It is much more than just a vocal de-esser; This is a flexible sub-group processor that can reach and discreetly control any element in the mix. For the first time in the audio history of software, Essence provides the power of a full mix de-esser with all the adaptability and intricacies of the equipment.
DMG Audio Expurgate 1.03 – Expurgate Virtual Gate / Expander.
DMG Audio Limitless 1.06 – Multi-Band-Compressor-Limiter-Clipper
DMG Audio PitchFunk 1.12 – effects processor. The basis of PitchFunk is a feedback system with a pitch shifter, a filter, a fade line and a gain stage. All this can be modulated and directed in various ways. PitchFunk provides full control over a powerful arsenal of insane effects.