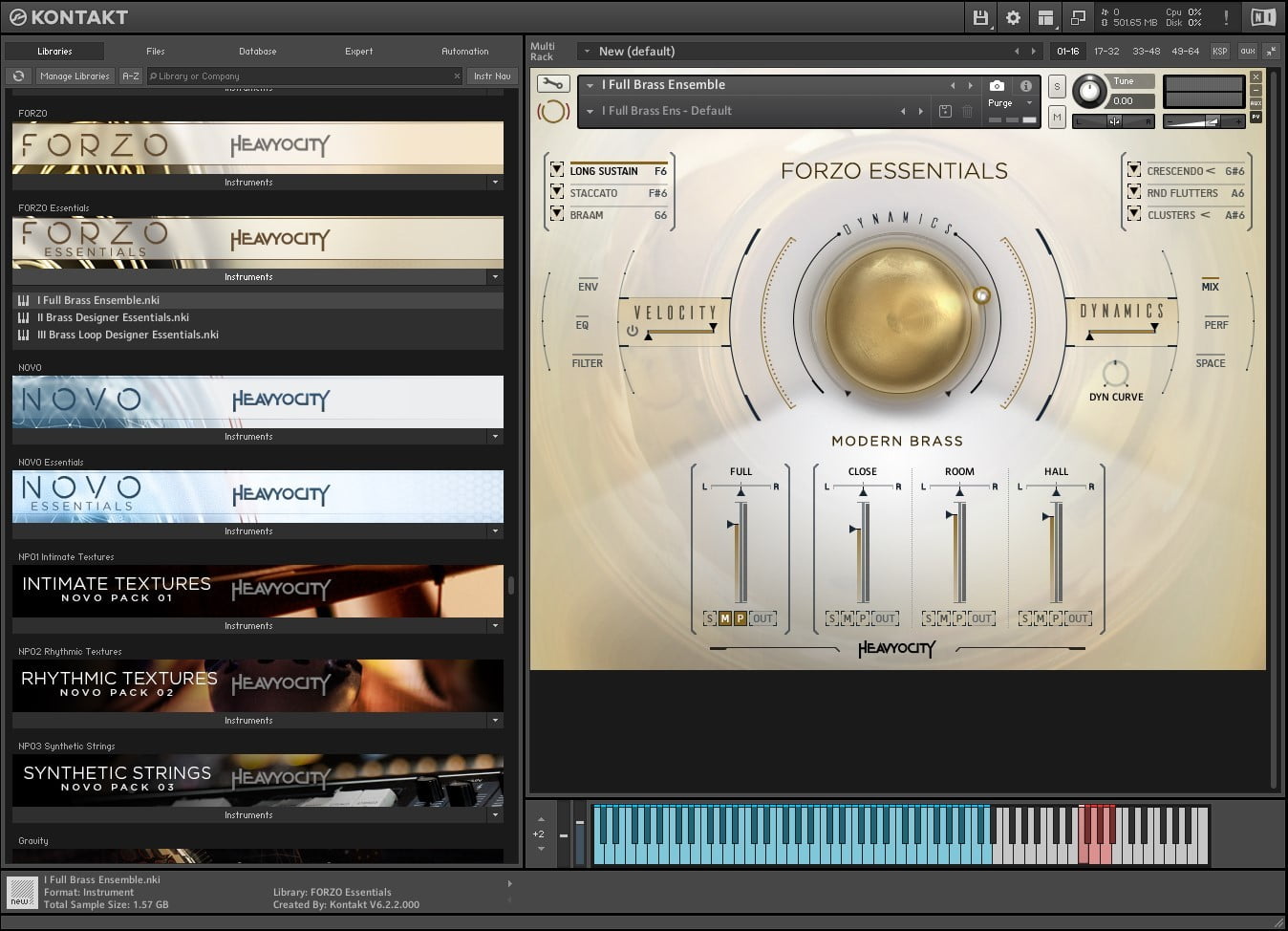 Publisher: Heavyocity
Website: Heavyocity
Format: KONTAKT
Quality: 24 bit 48 kHz stereo
---
Description: Introducing FORZO Essentials, a collection of essential elements from our flagship FORZO cinematic brand: Modern Brass. Recorded at the acclaimed Skywalker Sound in California, FORZO Essentials captures the full orchestral brass power of the complete FORZO instrument: explosive traditional brass, dynamic hybrid brass, and inspirational brass loops, but with a more streamlined set of content for composers of all budgets and experience levels.
Traditional
Whether you're a pro on a deadline, or a composer looking for an intro to production-ready cinematic brass, FORZO Essentials delivers the bombastic sound of 26 Hollywood brass players, performing at the same time in the same legendary room. That's the sound of the FORZO Essentials Full Ensemble preset: 12 french horns, four trumpets, eight trombones, and two tubas performing six key articulations (Sustains, Staccatos, Crescendos, Braams, Random Flutters, Cluster Crescendos) at one of the world's premier scoring stages.
Evolved
FORZO Essentials is the beyond-ordinary brass of FORZO, with an additional dose of Heavyocity's signature sound design. Our award-winning creative team has effected, tweaked, and treated these pristine brass samples into an all-new crop of hybrid cinematic elements: with 25 unique Hybrid snapshots and 36 Loops. Add in the full functionalities of the innovative FORZO engine, and composers of all budgets and styles now have access to this new benchmark in orchestral brass.
What's included in FORZO Essentials
– A Collection of Core Elements from FORZO: Modern Brass
– Powerful traditional brass for quick composition
– Cinematic hybrid brass for dynamic sound design
– Inspiring rhythmic loops
– Full Content Breakdown
Tech Specs
– 2.9 GB uncompressed (1.5 GB on Disk with NI lossless compression)
– Available as direct download only
– 2,382 Samples
– 54 All-New Snapshot Presets
– 36 Rhythmic Loops
– 3 NKIs
+ One Full Ensemble Preset featuring 6 Core Articulations (Sustain, Staccato, Crescendo, Braam, Random Flutter, Cluster Crescendo)
+ Brass Designer
+ Brass Loop Designer
– Intuitive Sample Browser
– CYCLE page for advanced granular & rhythmic playback
– MACRO knob for dynamic multi-parameter control
– Stand-alone, VST, AU, AAX
Minimum System Requirements
– Mac: macOS 10.12, 10.13, 10.14, or 10.15 (latest update), i5, 4 GB Ram
– PC: Windows 7, Windows 8, or Windows 10 (latest Service Pack), Intel Core i5 or equivalent CPU, 2 GB RAM
Works with the FREE version of Kontakt 6.2.2 and above.
---