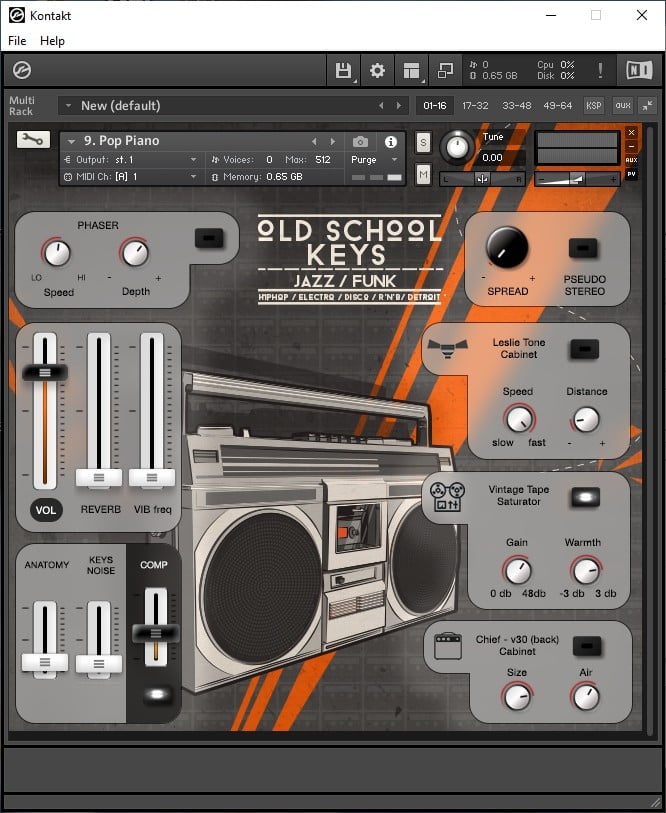 Publisher: Splash Sound
Website: kontakthub
Format: KONTAKT 5.6.8+
Quality: 24 bit 44.1 kHz stereo
---
Description: OLD SCHOOL KEYS library is 5 keyboards whose sound is checked by time. Classical electric piano, FM electric piano, Hammond jazz organ, Kawai Funk organ and acoustic piano.
This library is not intended to replace the classical pianos and organs of the last century. But this is a simple and affordable solution for those who need a compact old-school instrument in a home studio or at a concert.
If you cannot imagine your music without retro sounds, funk solo and jazz harmonies or just like to experiment with sound, this library is created just for you!
5 keyboards, 8 classic effects are included in the interface. There are also 9 patches for quick access to the desired sound, more than 3000 recorded samples for comfortable playback.
Content :
Samples:
2143 WAV format samples
44.1kHz / 24bit, stereo
Total samples size: 2.174 mb
The library includes 5 instruments:
Classic EP – sampled by 1974 Fender Rhodes Stage Electric Piano
FM Ep – sampled by 1996 Korg Trinity synthesizer
HJ Organ – sound like Hammond B3 Organ
KF Organ – sound like KAWAI E-150 Organ
Pop Piano – Yamaha U1J PM with Casio AP-700 layering
9 Patches:
Classic EP
Classic EP MIX
FM EP
FM EP MIX
Hj organ
HJ Organ Mix
KF Organ
KF Organ Mix
Pop piano
Effects included in the library interface:
Leslie tonone cabinet
Vintage tape saturator
Chief v30 Cabinet
Phaser
Stereo generator
Reverb (dry / wet only)
Compressor (dry / wet only)
Freq vibrato
---