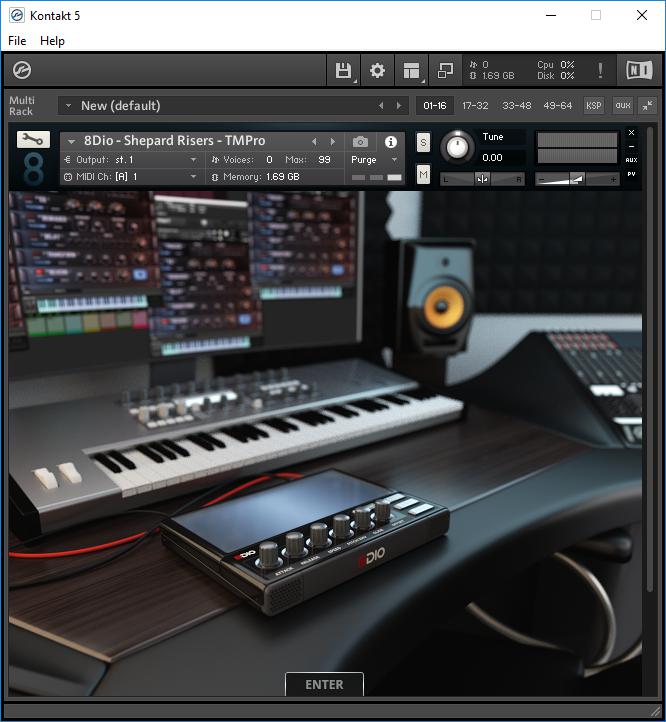 Publisher: 8Dio
Website: 8Dio
Format: KONTAKT 5.6+
Quality: 24 bit 44.1 kHz stereo
---
Description: 8Dio Shepard Tones is a sample library dedicated to Shepard's tone.
The Shepard Tones library is divided into different categories. Categories include both primaries and textured tones, and synth-based clean variations. We've also created slow, medium and fast moving sounds so you can find exactly the ones that match the mood, texture and tempo of your composition.
8Dio Shepard Tones also contains unique fade tones that sound over 6 octaves. In addition, we have created unique categories containing both processed and raw tones.
The 3D user interface is a great addition to tones. One click and your Shepard reverses – this gives the opposite effect of falling elements. Another click and the tempo-sync gate is activated, offering you BPM sync and arpeggiated options.
8Dio Shepard Tones also contains an extensive section of additional effects, including filters, filter-modulation, bit-crusher, distortion and dual convolution reverb.
All kinds of tones: Contains a large selection of both natural and synthetic tones. The organic material is sourced from our custom sample catalog and many are created from orchestral elements. The textures are lush, lively and varied. The synthetic material has been created with synthesizers, offering you clean, harsh synthetic variations. In addition, hundreds of sounds cover both low-frequency and mid-range, high-frequency and ultra-high frequency ranges.
For all kinds of music: The use of Shepard's tone has become widespread in both soundtracks (like Hans Zimmer), EDM (like Swedish House Mafia), video games (like Mario Cart), rock music (like Pink Floyd) and etc. It is a powerful tool because it is not tied to any particular form of music, but complements and enhances everything where it is used.
Parameters: Comes with a variety of one-click effects. One click and your tone will be reversed or spiral. Another click and the Gate-Synced Gate function is activated. Layering in 8Dio Shepard Tones offers you access to multiple tones at once. One click on the Stack feature and you can layer hundreds of Shepards together in real time. We've created sounds in all frequency spectra from bass to ultra-high, so you can choose the one that matches your composition. It's great!
Shepard's Tone: Contains hundreds of different variations: Natural / Orchestral or Synthetic, Slow, Mid or Fast Fading, Bass, Mid, Treble or Microwave, Processed / Unprocessed with our new Reverb Pulses. 8Dio Shepard Tones is the ultimate high-end instrument for this beautiful sound illusion. The journey ends here, but begins in eternity.
"… Shepard's tone is the latest psychoacoustic phenomena in modern cinematography. This tone creates a completely new emotional atmosphere in your composition. What's so beautiful about them is that they create the illusion of elements rising or falling, but without conflicting with the rest of your music. This sound illusion is the finest and most comprehensive toolkit for anyone interested in contemporary composing. "(Troels Folmann)
Articulations :
Shepard tones
Organic
Synthetic
Slow
Medium
Fast
Shepard Risers
Slow
Medium
Fast
Shepard tones dry
Slow
Medium
Fast
---