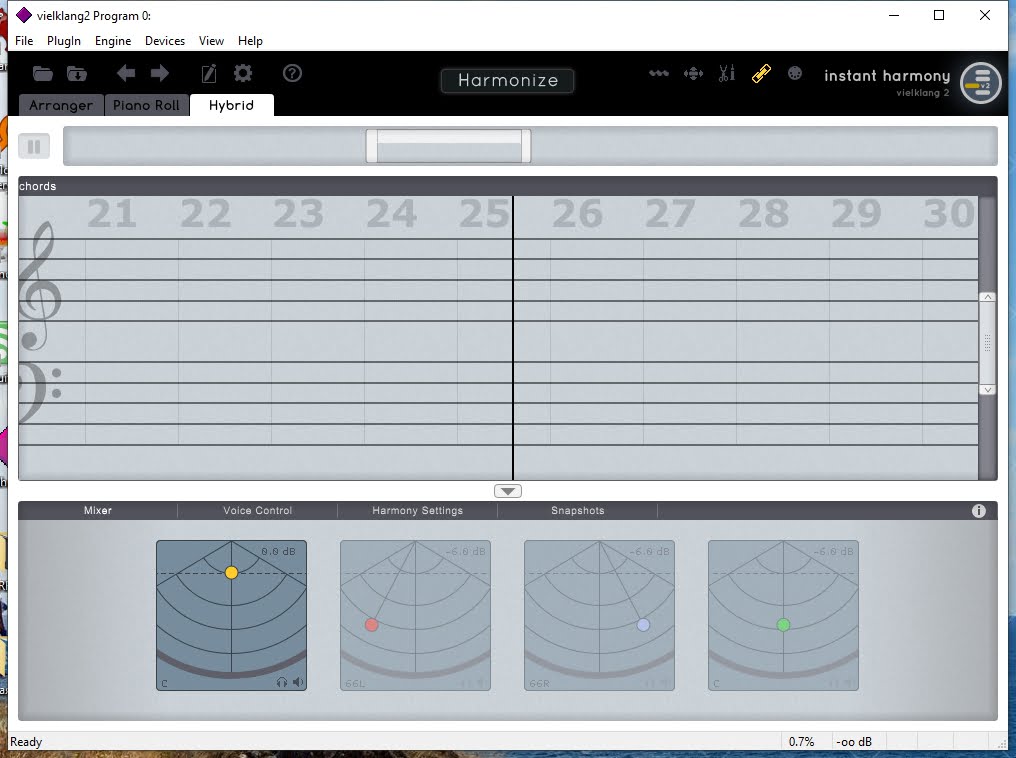 Year / Release Date : 05.2019
Version : 2.4.3
Developer : zplane
Developer's site : zplane
Form : VSTi, VSTi3, AAX * (MOD.)
Bit : 32bit, 64bit
Tabletka : cured
System requirements : Windows 7+ \ CPU: 2GHz
---
Description : Instant 4-voice harmonization with one click – download a one-voice audio file and create a natural accommodating sound of the choir and brass! Vielklang allows you to completely focus on musical issues, and not on technical or theoretical ones, since vielklang is not only a harmonizer. It is equipped with musical intelligence and the basics of music theory: therefore, it automatically detects the optimal harmony for each individual melody, and automatically synthesizes up to four voices, not just sounding in parallel, but also considering their singularity, selecting them automatically, ensuring the most natural sound (voice recognition). Do not bother with terms such as tonicity, tonality, frequency tuning, harmonization, voice control, etc.
Main functions: instant 4-voice harmonization of any one-voice melody, integrated theoretical theory of voice guidance, providing natural automatic harmony, automatic detection of harmony depending on the melody, one-click modification of modal settings (for example, from major to minor)
Plugin functions: instant copying system that allows the application of several harmonizations per melody, audio-to-MIDI support, automatic synchronization with the host tempo
Functions Undo and Redo recording in a common stereo mix of harmonization as well as individual voices, automatic detection of pitch, note length, tonality, high-quality tonal shift with preservation of formant properties and time-stretching function (+ lastique engine)
Editing functions: one-click modification of harmony, easy-to-manage interaction with parameters such as harmonization such as range or distribution of voices, full control of each individual note of all voices in the Edit mode, setting up tonal equalization, delay, timbre, volume, and pan for each voice individually
Functions of the Graphical Interface: Virtual keyboard of an audio file with parameters of time and scaling, additional display of the frequency curve, tonal grid and grid of beats, Control of scanning / convolution of the graphical interface.
(all) fixed: crash when original audio file couldn't be loaded
(all) fixed: chords couldn't be changed or reverted unexpectedly
---