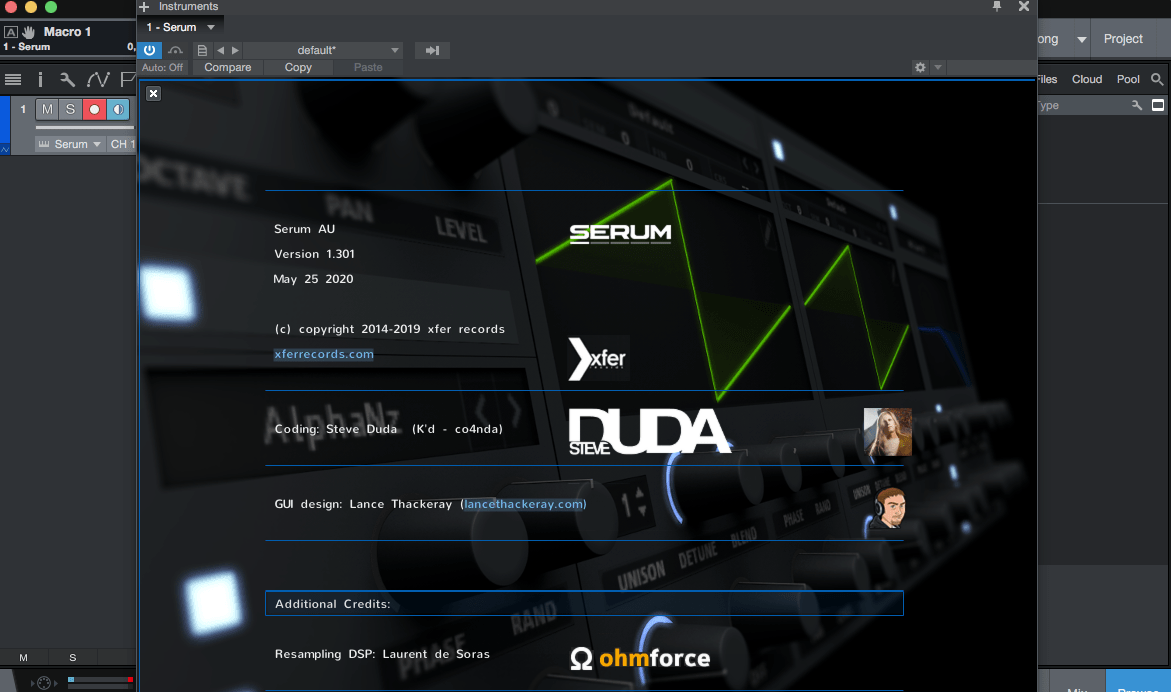 Year of release: 05/25/2020
Version: 1.301
Developer: Xfer Records
Developer site: xferrecords
Platform: iNTEL
Format: VSTi, AUi
Interface language: English
Tablet: present (patched files for replacement + serial)
System requirements: CPU with SSE2 \ Mac OS X 10.8 or greater
---
Description: Serum is a dream table-wave synthesizer, with really high quality sound, visual and creatively oriented interface, has a built-in wavetable editor so that creating music is not a tedious process. The synthesizer has a huge number of wave tables, and of course the ability to create your own. A unison generator that gives up to 16 voices and allows you to flexibly adjust the volume-to-child ratio between them. The sound is very lively, and most importantly modern.
• Ability to import or create your own Wavetables.
• Ultra – pure oscillators – in short, the developers assure that the sound in Serum will be clean and almost transparent.
• Advanced modulation capabilities
• Ability to work with a wavetable in real time
• Large number of filters
• Lots of effects and the ability to modulate each of them.
• Extended Unison – up to 16 voices per oscillator. Several unison modes and other features.
• Serum includes 450 presets, 144 wave tables.
New in version :
1.30b1 (May 25 2020)
Fix: preference: Limit Polyphony to one of any note number was causing a filter click on new / stolen note
Fix: SerumFX was latching on stop which could cause LFOs to become offset
Fix: Some on-screen help tooltips were displaying the wrong tip information
Fix: Flip Vertical was moving LFO Bus modulation assignments
Fix: Remove Modulations context menu item was not removing LFO Points on Windows
Fix: Alt key was not reacting on AAX Windows
Fix: In 1.29b9, graph curve handles were not drawing on X-Shaper / Remap graphs
Fix: Adjusting LFO 5-8 rate with notes playing was not reacting until new note
Fix: Updated Mix / Level image artwork
---