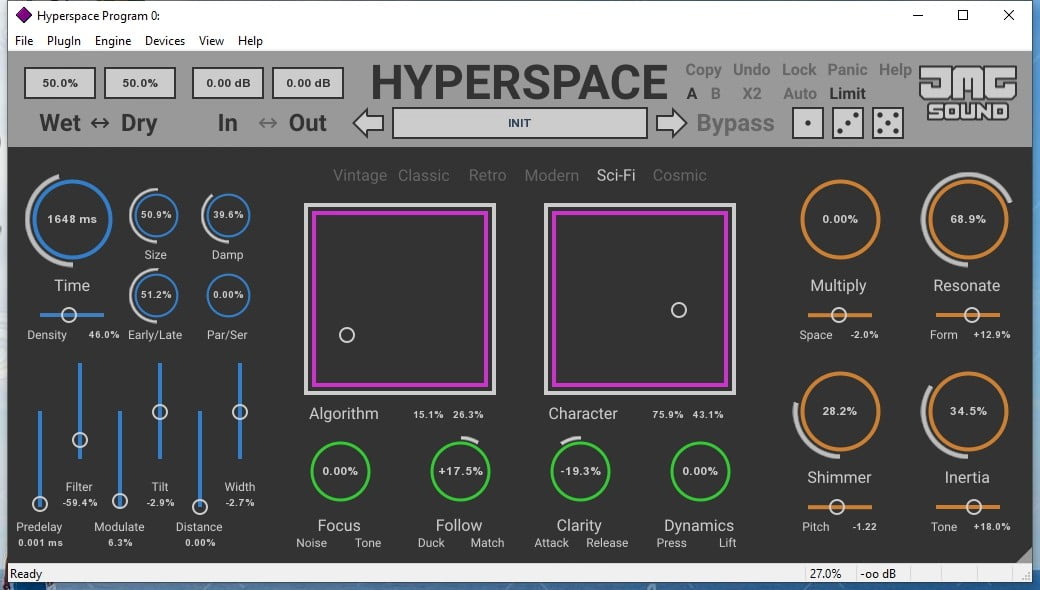 Year / Release Date : 06.2019
Version : 1.0
Developer : United Plugins & JMG Sound
Developer site : unitedplugins
Format : VST, VST3, AAX
Digit capacity : 64bit
Tabletka : cured
System requirements : VST, AAX compatible host
Description : HyperSpace is an algorithmic reverb that allows the user to create algorithms consisting of different processors. Modes "Vintage", "Classic", "Retro", "Modern", "Sci-Fi" and "Cosmic" allow you to combine various algorithms with endless possibilities. HyperSpace will enrich your tracks with a variety of colors.
Custom algorithms – Hyperspace allows you to easily create your own algorithms in a fast and intuitive way. From vintage and classic equipment to super-realistic spaces or the world of ethereal textures. All you need to do is just use the pads to get a great sounding reverb unique to you.
Perfectly seated – Too often reverb can flush out your sounds and push them back into the mix, losing focus and clarity. Hyperspace gives you 4 extremely useful mixing tools that manipulate your reverb to blend in perfectly with your mix. Including spectral separation, ducking, transient recovery, and more, these unique processors give you complete control over the shape of your reverb.
Intelligent Randomization – Dice symbols are smart randomizers that use useful settings to give you great sounding reverb with just one click of the mouse. Having 3 levels of randomness, you can use them to subtly change the character of an existing sound or free up chaos to surprise and inspire you.
Intuitive Interface – Hyperspace gives you amazing control over reverb thanks to an easy-to-use interface. The ultra-clear background disappears, allowing your eyes to focus on meaningful controls with color-coded zones to help you quickly master the plugin. The GUI also has resizable and HDPI-compatible, so it is ideal for any screen.
Smart Control – Parameters in Hyperspace offer extreme value ranges to provide maximum flexibility when setting useful values ​​in the center of the controls, allowing you to quickly find them. Individual Wet & Dry controls give you maximum control over the reverb balance, with the link option. Time-based parameters can be synchronized with the host tempo to get pre-delay and dike to the beat.