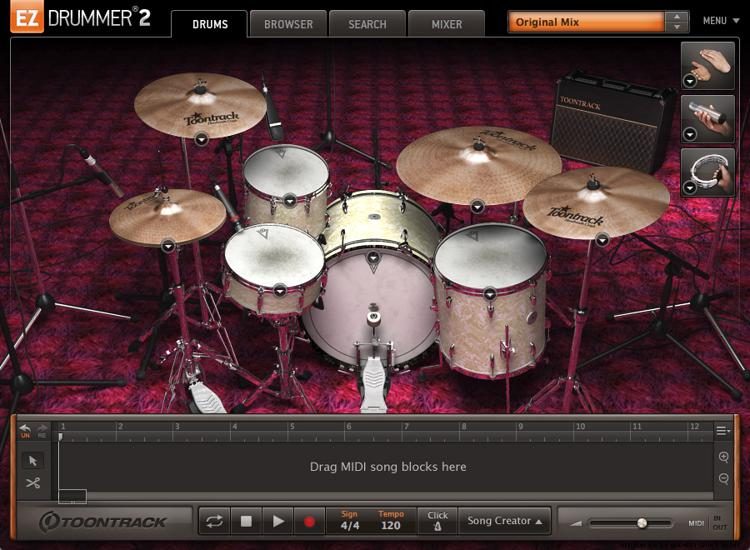 Publisher: Toontrack
Website: Toontrack
Format: SOUNDBANK
Quality: 24 bit 44.1 kHz stereo
---
Description: The Vintage Rock EZX is based on one of the most classic, timeless and famous drum kits in the world, the legendary Ludwig * Keystone. Since the mid-1960s, this classic and timeless drum kit has been immortalized by a long version of influential artists and drummers such as The Beatles' Ringo Starr and John Bonham of Led Zeppelin.
Works with EZdrummer v1.4 or Superior Drummer v2.3 and higher!
Additional Information :
It was recorded in London's noted 2 Khz Studio by engineer Peter Henderson and drummer Chris Whitten. Peter started his career training exclusively with legend Geoff Emerick (The Beatles), worked alongside producer Sir George Martin for numerous sessions, went on to record multiple million-selling albums and won a Grammy for Supertramp's "Breakfast in America". Chris Whitten is an acclaimed drummer that has recorded and toured with some of the biggest artists of all time, such as Dire Straits and Paul MacCartney.
Aside from the main kit, that was sampled with both sticks and brushes, the Vintage Rock EZX includes an additional Ludwig * Black Beauty and Slingerland * Radio King snare as well as a number of extra cymbals. The included MIDI was performed by drummer Morgan Ågren.
FEATURE SPOTLIGHT :
– A classic Ludwig Keystone kit with additional instrument choices
– Recorded by Peter Henderson (Supertramp, Paul McCartney) and Chris Whitten (Dire Straits, The Waterboys)
– Recorded at 2 Khz Studio, London, England
– Includes samples recorded with both sticks and brushes
– MIDI library included
---