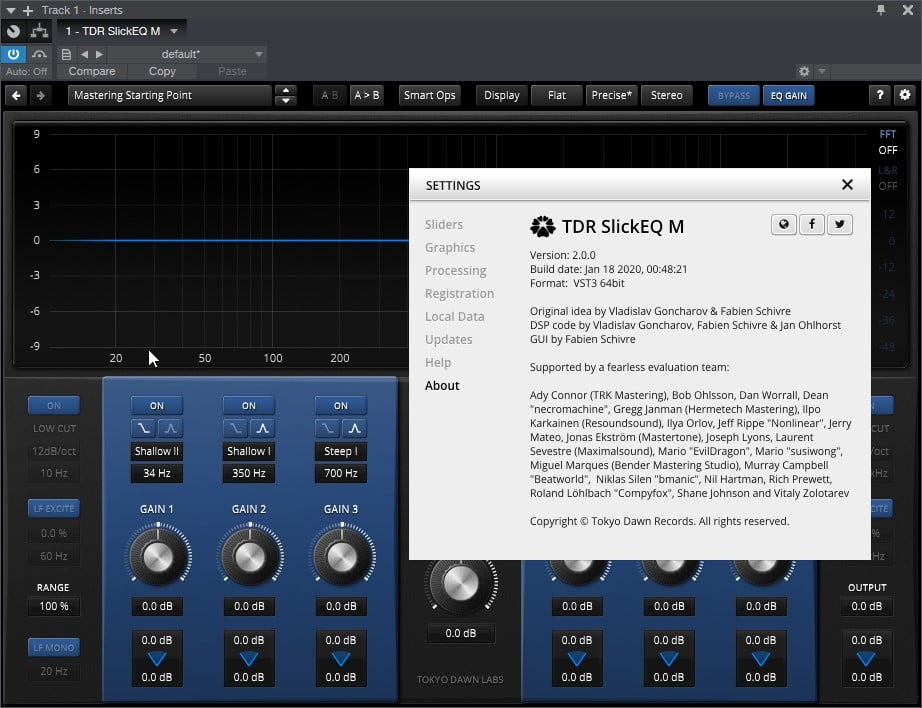 Year / Release Date: 04.2020
Version: 2.0.0
Developer: Tokyo Dawn Records
Developer's site: tokyodawn
Format: VST, VST3, AAX * (* MODiFiED)
Bit: 32bit, 64bit
Tabletka: present | R2R
System requirements: VST, Audio-Unit or AAX compatible plugin host.
Win XP SP2 or above
---

Description: TDR SlickEQ M (Mastering Edition) extends the proven SlickEQ concept to a full stereo equalizer. Specially designed for engineers of audio mastering, no compromises were made in the plug-in, and it provides exceptional musical flexibility and sound accuracy.
Behind the intuitive user interface is a stunning set of features: a set of musical high-pass and low-pass filter music, including a center section for low-frequency stereo, detailed control over the signal bandwidth. Six powerful parametric filters provide precise access to tone, timbre and stereo field, and a comprehensive meta-filter provides direct and intuitive access to the curve of brightness, density or equal volume of the audio signal.
All filters except HP and LP operate in a parallel equalizer configuration. An effective auto-amplification mechanism automatically compensates for changes in perceived volume during the operation of the equalizer, and the intelligent signal analysis options allow you to compare the spectrum of the input signal with the standard; automatically detect static resonances; or automatically adjust the HP and LP filters according to the width of the audible signal bandwidth.
As in the case of SlickEQ Standard and SlickEQ – Gentleman's Edition, the processing scheme (for example, "internal resampling") in combination with sophisticated signal processing methods ensures its highest indestructible completeness throughout the entire processing.

Characteristics :
Intuitive user interface with a focus on musical flexibility
State of the art audio processing algorithms in a parallel EQ structure
Six full parametric EQ bands offer spectral control over stereo width and balance
Advanced low frequency and high frequency exciters
Powerful HP and LP filters. Each with four distinctly musical slopes
Dedicated Low frequency mono filter
A Meta Filter with direct control over brightness, hardness or equal loudness contours
Smart Operations panel assist the operator at matching the input spectrum against external references, finding and removing static resonances and more
Highly effective loudness compensated auto gain control
Expandable EQ display including a realtime spectrum analyzer
A comprehensive documentation, toolbar with undo / redo, A / B, advanced preset management and much more

New in Version :
# Added VST3 support
# Added compatiblity for macOS Catalina
# Added 100%, 125% and 150% UI scale options.
# Added advanced mixed phase modes for stereo width and balance filters.
# Added "SumDiff" stereo mode offering operation similar to traditional M / S EQing.
# Added "Mono" and exclusive channel modes "Sum", "Diff", "Left", Right ".
# Added ECO and LIVE (zero latency) processing modes.
# Replaced LF and HF nonlinearity options with LF and HF exciters (legacy mode still accessible and recallable).
# Added Smart Operations panel (incl. Control over stereo width and panning).
# Added source selector for the analyser: Off, Input, Output.
# Added options for Stereo Analysis (stereo width and balance vs frequency).
# EQ autogain no longer affected by HP or LP (projects recall as before, though).
# Analyzer precision and reaction time improved.
# UI performance improved.
# Fixed bug in stereo width loudness correction (old projects recall as before, though).
# Several little improvements.
---