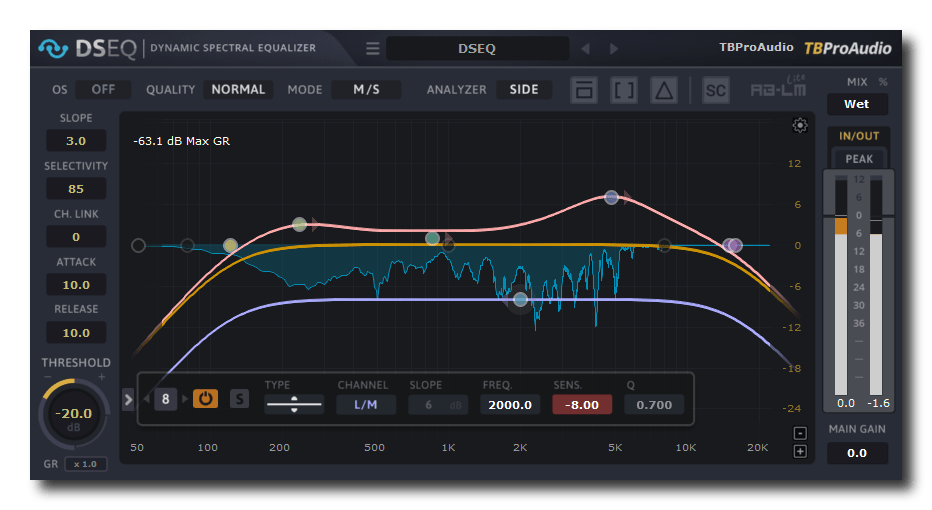 Year / Release Date: 05.2020
Version: 1.2.0
Developer: TBProAudio
Developer's site: tb-software
Format: VST, VST3, RTAS, AAX * (* MODiFiED)
Bit: 32bit, 64bit
Tabletka: present | R2R
System Requirements: Windows 7 +
---
Description: DSEQ is a dynamic processor operating in the frequency domain.
DSEQ fully operates in the frequency domain, providing very high frequency selectivity thanks to self-regulating dynamic equalizers. DSEQ does its job with maximum transparency, even persistently. This avoids distortion, phasing, and artifacts even with very critical sound material. And DSEQ offers several high-quality modes of taming even single frequencies.
DSEQ provides a very easy to use interface. With just a few parameters (threshold, selectivity, and attack / release), a wide range of settings can be covered. Even the original set of parameters can make your mix more transparent. Just select the threshold parameter and lower it step by step. Now you can start focusing on specific frequency areas using pre-filters.
DSEQ comes with AB-LM Lite for matching perceived volume.
It can be used in all situations of mixing and mastering:
– vocal deessing
– removal of resonances, for example, drum, guitar, vocal recordings
– elimination of digital sharpness
– mix balancing
– frequency domain unmasking
– pink noise support for mixing / mastering
Characteristics :
smooth linear phase dynamic filter
full frequency range processing, 10Hz – 22kHz
4 different quality modes: eco, normal, high and ultra
left / right and mid / side processing
global slope for detector signal (e.g. pink noise mixing / mastering)
12 independent pre-filter bands
side-chain support
multiple signal monitoring modes (pre-filter, delta, side chain)
multiple spectrum analyzing modes (stereo, left, right, mid, side)
perceptual loudness matching (powered by AB-LM Lite)
extended input / output meter, Peak / RMS / EBU / VU
narrow-band sweeping mode
sample exact A / B toggle for all processing modes
sample rates min. up to 192 kHz
"real" over sampling, up to 4x
EQ cheat sheets
precise parameter input
easy to use GUI
GUI resize up to 2x
preset management
full DAW automation support
64-bit internal processing
very efficient CPU usage design
---
New version :
CRACKED: Since software is made to accept pre-generated keyfile, we bypassed
it. All encryption part (incl. RSA key) is working as it is – which does not
have random GUI crash like other cracked release.
1.2.0:
– NEW: quality mode Ultra 2
– NEW: Link quality to srate
– NEW: offline quality / OS modes (experimental, see manual)
– NEW: more pre-filter types with slope setting
– UPDATE: new presets (EGuitar, Vocals)
– UPDATE: improved calibration of quality / OS modes
1.1.0:
– NEW: Max GR limit
– NEW: Parameter A / B
– FIX: improved Ableton compatibility
1.0.9:
– FIX: GR spectrum spikes if AB-LM is active
– FIX: Ableton AU PDC crash
– FIX: disappearing active pre-filter with freq. 50Hz
1.0.8:
– FIX: possible crash after plugin removal and adding again
---