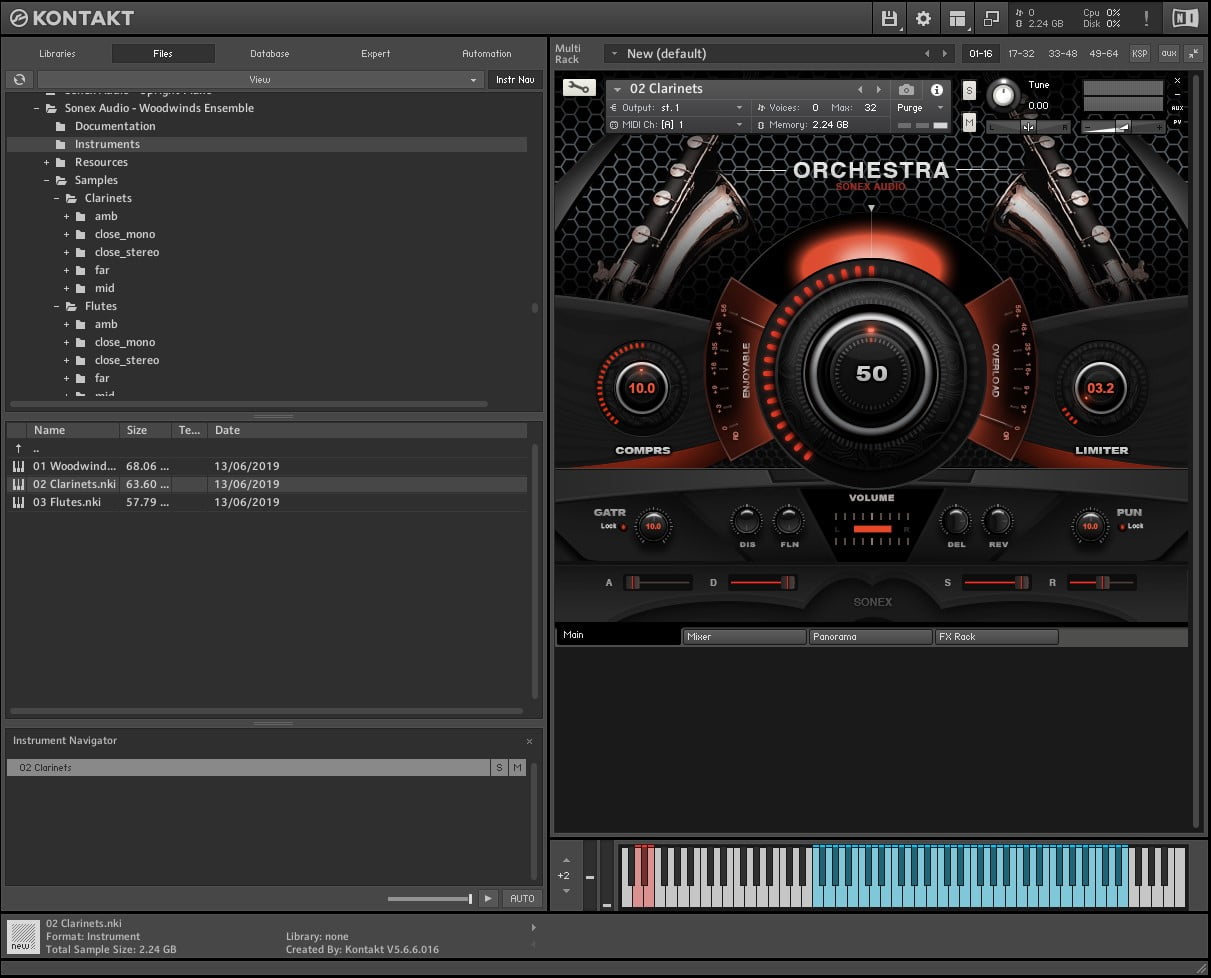 Publisher : Sonex Audio
Website : Sonex Audio
Format : KONTAKT
Quality : 24 bit 44.1 kHz stereo
---
---
Description : An ensemble of woodwind instruments and 2 separate instruments: clarinets and flutes.

Full Retail Version of NI Contact 5.6 or later required
---
---
– Up to 3 articulations (key switching) per instrument: Sustains, Staccato and Crescendo
– 4 separate mic positions: close (stereo and mono), middle, far, and ambience (room)
– Up to 6 velocity layers and 3 round robins
– Nearly 12GB of uncompressed sample content (compressed to 8.55 GB)
– 3.726 Samples (Kontakt Lossless Sample Compression format)
– Dozens of ready-to-use presets for creative starting points
– Built-in Effects: 3-Band Equalizer, Compressor, Saturation, Distortion, Chorus, Reverb, Delay, Stereo Width, Limiter and more
– Full set of effects in the Kontakt settings for further customization
– Unique and intuitive GUI has been designed to give you full control over a huge amount of options and effects without slowing down the creative process
– Lossless sample compression for better disk streaming
INSTRUMENTS:
– Woodwinds Ensemble – Sustained / Staccato
– Clarinets – Sustained / Staccato / Crescendo
– Flutes – Sustained / Staccato / Crescendo
INTERFACE:
– Main Page offers global controls over volume, pan, a / d / s / r, reverb, delay, distortion and more.
– Mixer Page includes controls for all 4 mic positions: close, mid, far and room (ambience), as well as a full mix (out) option.
– Panorama Page includes controls over Stereo Width (mics and mix), Phaser, Chorus, Flanger.
– Effects Page includes controls over EQ, Flanger, Compressor, Delay, and Reverb.
---