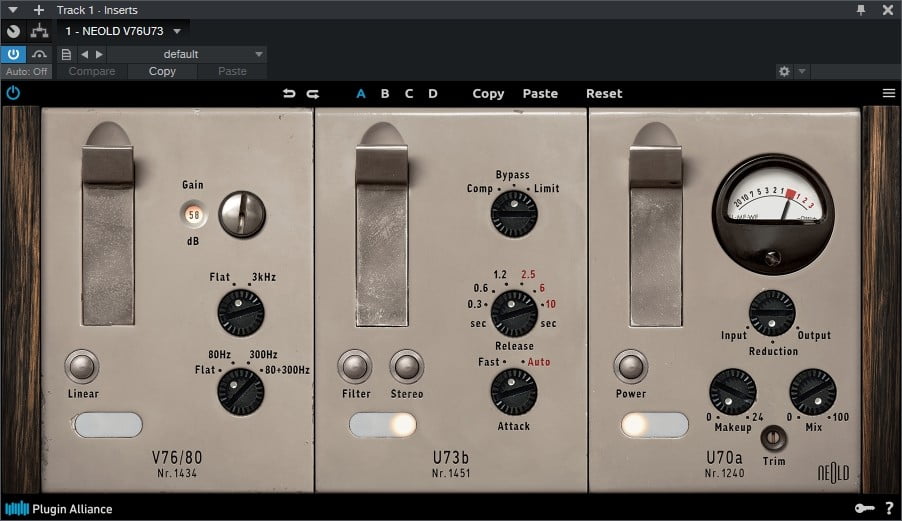 Year / Date of Issue: 08.2020
Version: v1.0.0
Developer: Plugin Alliance
Developer site: plugin-alliance
Format: VST, VST3, AAX
Bit depth: 32bit, 64bit
Tabletka: present
System requirements: Windows 7 through 10
---
Description: Get the old school vibe of one of the richest tube preamps and compressors in audio history.
Ever dreamed of owning your own sixties tube mixing console? Just try a few V76U73 on your tools and tires for a convincing old-school vibe.
Telefunken V76 is a legendary piece of audio history. These legendary tube preamps were developed with virtually unlimited funding from the German government and have improved countless musical creations from the 1950s to the present day.
Unsurprisingly, the original V76 preamps, with their rich, charming low range and some of the smoothest highs, were bought for high money by high-end studios and collectors around the world.
By simply passing a signal through these devices without moving a single knob, you can breathe new life into any signal. But the V76 isn't the only source of a tone shaper from this family of modules. The U73's compressor / limiter builds on this tone, adding an exceptionally smooth sounding dynamic control that earned this instrument the nickname "German Fairchild".
The V76U73 is a painstaking emulation of the real analog circuitry of both devices with all their great components, bringing together the great tube sound of this classic vintage preamp and compressor in one easy-to-use plug-in.
While the plugin carries the simplicity of the original modules, it also provides some features and optimizations that are only possible in plugin form.
With the V76U73, you can enhance your vocals, guitars, bass, drums and synths with the unique tone and dynamic control of these rare and sought after studio icons.
---