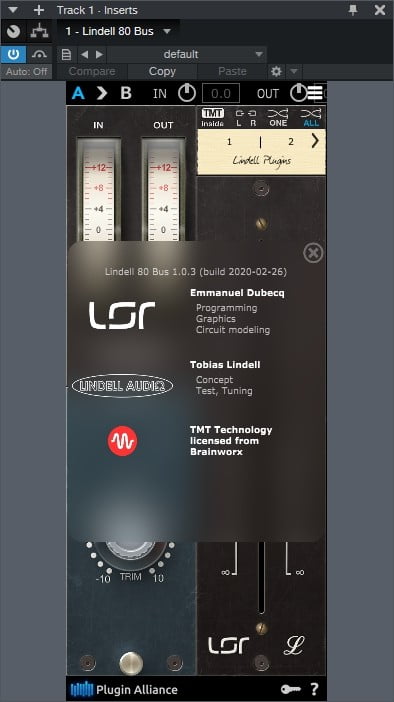 Year / Release Date: 03/11/2020
Version: 1.0.3
Developer: Plugin Alliance & Lindell Audio
Developer site: plugin-alliance
Format: VST, VST3, AAX
Bit depth: 32bit, 64bit
Tabletka: present
System requirements: Windows 7 through 10
Pro Tools 10.3.10 or higher or any VST / VST3 / AU-compatible host running on a supported operating system
---
Description: The Plugin Alliance announced the availability of the Lindell 80 Series, an enhanced emulation of the original 1073 and 1084 (Mic Pre / EQ) and 2254 (Mono Limiter / Compressor) Channel Modules, and the Neve 8028 1272 Bus Module (Line Amplifier).
Lindell Audio plug-in aims to bring the sound of one of the latest 80-series mixing consoles created by Neve Electronics, through collaboration with Brainworx Audio TMT (Tolerance Modeling Technology) and THD (Total Harmonic Distortion) for added authenticity
This is a truly magical mixing table that has collected countless original world recordings over the past 30 years: Queen, David Bowie, Nirvana, Red Hot Chilli Peppers and Slipknot. In the Lindell 80 Series you will find aggression and power to make your recordings sound as analogous as possible. Known for their breathtaking depth, sandy top, and rich expansion, the remotes have stood the test of time. Unsurprisingly, institutions like Sound City Studios, OscilloscopeLabs, ElectricLadyStudios, and Sphere Studios rely on sound and function.
New in version
Version 1.0.3 (Mar 11, 2020)
– CHANNEL, BUS – Crash in ProTools when automating Bypass, using small buffer size and oversampling.
Version 1.0.2 (Feb 3, 2020)
– CHANNEL, BUS – Removed read-only meters parameters.
Version 1.0.1 (Dec 18, 2019)
– CHANNEL, BUS – THD knob was noisy
– CHANNEL, BUS – Plugin settings were overwritten by the loading of the "current preset" in some VST2 hosts (Cubase, Studio One)
– CHANNEL, BUS – There was an undefined behavior and potential crash when using TMT.
– CHANNEL, BUS – Some filters didn't work correctly with a sample rate lower than 44100.
– CHANNEL – Fixed potential origin of a crash when bypassed
– BUS – There was still noise when the fader was at the lower position
– CHANNEL, BUS – Added label units (dB, Hz, …) to parameters in VST / VST3 formats
---