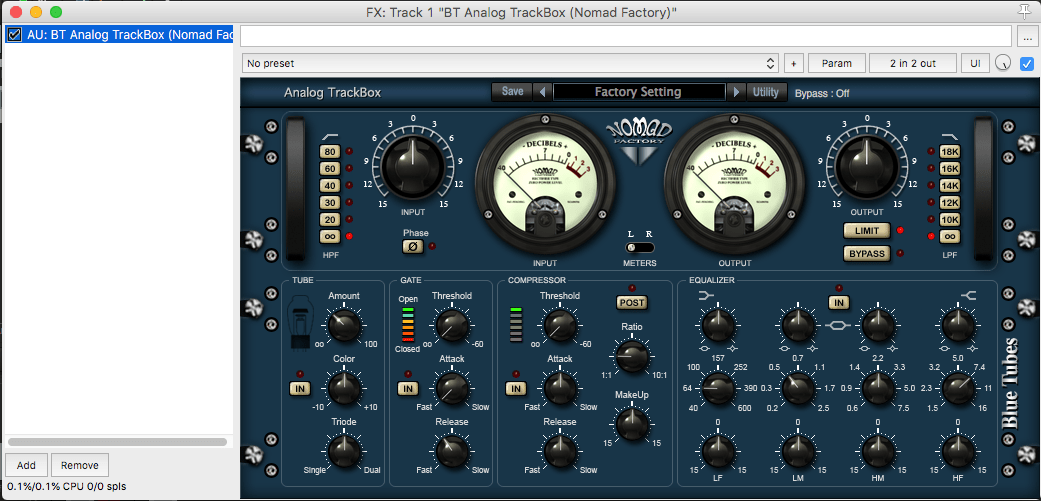 Release Year: 2020
Version: 5.12
Developer: Nomad Factory
Developer's site: nomadfactory
Platform: Intel only
Interface language: English
Tablet: The program has been treated (does not require data entry / enter any data)
System Requirements: OS X 10.8.5 or above
Intel Core i3 / i5 / i7 / Xeon
4 GB RAM (recommended)
---
Description: Blue Tubes Analog TrackBox is not an improvement or replacement of the very popular Blue Tubes series, but an additional unit that combines various combinations of elements. The Blue Tubes Analog TrackBox is a universal unit designed to deliver the highest quality sound and features to enhance the flexibility of music sound.
The lamp emulation section is a unique option that allows you to switch between two lamp modes – a triode and a double triode. Independent control of power and color allows you to add both overloading and warm harmonic components to the original signal.
The Gate / Expander section presses the noise threshold, so you will hear exactly the sound that you wanted to receive. A fully customizable gate mutes or cuts off the signal if the level becomes too low (the threshold is set by the sensitivity control). This cuts off unwanted noise in the track. Like the compressor, the attack and recession parameters mean how quickly the gate will work and stop working.
The compressor section inherited from our popular Blue Tubes Compressor CP2S, emulating analog compressors in all their beauty, sound and functionality. Its warm analog sound, similar to the sound of vintage compressors. All of these unique features are now available in the Blue Tubes Analog TrackBox.
The equalizer section inherited from Blue Tubes PEQ322 is designed to meet the highest studio requirements and is a two-band parametric equalizer with the ability to select the center frequency, bandwidth from it and gain as well as low-pass and high-pass shelving filters. The section presents the controls in the style of a classic analog equalizer and allows you to achieve the same amazing results.
Thus, the new Blue Tubes Analog TrackBox with the latest additions in the form of plug-ins and combining the best features of the Tube Emulator, CP2S compressor, PEQ332 parametric equalizer, is a flexible solution for processing sound in any audio system.
Characteristics :
Lamp influence adjustment (12AX7) from 0 to 100%
Adjusts the color of the sound from 0 to 1
Lamp Mode Change – Triode / Dual Triode
Lamp activity switch
Gate Sensitivity 0 to -60db
Gate attack time – from 0.2 to 400 ms
Gate recession time – from 50 to 2000 ms
Gate activity switch
Compressor Sensitivity – 0 to -60dB
Compressor attack from 1 to 400 ms
Compressor Decay – 50 to 2000 ms
Compression ratio from 1: 1 to 10: 1
Compressor Activity Switchli> Pre-post EQ Switch
2-band shelf equalizer
2 band parametric equalizer
2 way bandpass filter
LF band from 40Hz to 600Hz
LFB band from 200Hz to 2.5kHz
HF band from 600Hz to 7.5kHz
HF band from 1.5kHz to 16kHz
Highpass filter from 20Hz to 80Hz
Lowpass from 10kHz to 18kHz
Each band allows 15dB gain and variable width
Reporting for 15dB input and output
Peak limiter
Simple interface with vintage voltmeters.
---