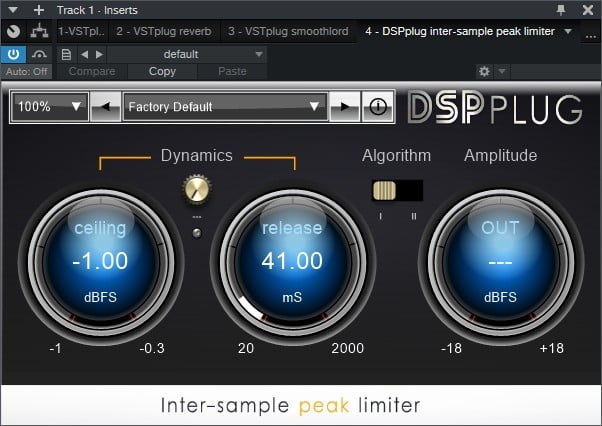 Year / Release Date: 12.2020
Version: 12/11/2020
Developer: King Oz & DSPplug
Manufacturer website: dspplug
Format: VST, VST3
Bit depth: 32bit, 64bit
Tabletka: not required | RETAiL
System requirements: Windows 7 – 10, VST2, VST3 windows plug-in
---
Description: Plugin-set from King Oz:
King OZ VSTplug Smoothlord v1.2
King OZ VSTplug reverb v1.3
King OZ VSTplug peak soft 79 v1.2
King OZ VSTplug mono to stereo v1.2
King OZ VSTplug Mini Boom Switch v1.2
King OZ DSPplug ZDF de-plosive v1.2
King OZ DSPplug vocal gate v1.3
King OZ DSPplug inter-sample peak limiter v1.7
Plugin Description :
King OZ VSTplug Smoothlord is a 14-band equalizer, stereo width modifier that uses very little processor resources.
King OZ VSTplug reverb is an old, very simple reverb algorithm. Often, developers use the same algorithm and supplement it, but I felt it would sound better in its simplest form.
King OZ VSTplug peak soft 79 – smooth down to the smallest peaks. This technology provides precision at any sample rate that flattens out any tiny peak. Thanks to the threshold control and the ability to select when the peak is rounded more, the soft peak will simulate the smooth sound of an expensive microphone with built-in expensive equipment.
King OZ VSTplug mono to stereo – This is a great plug-in for converting from mono to stereo and allows you to control phase compensation.
King OZ VSTplug Mini Boom Switch – adds clarity and makes vocals more distinct. It does this by adding muted bass for granted, with the right stereo width. If you do rap; you'll really enjoy how clear your words are, even after you've fucking mixed them up.
King OZ DSPplug ZDF de-plosive – adds filtering to the signal where low frequencies cross a certain frequency, reducing plosive sound.
King OZ DSPplug vocal gate is a surefire way to make sure your dialogue recorded for YouTube movies is near perfect.
King OZ DSPplug inter-sample peak limiter – A peak limiter from DSPplug that avoids true peaks in a way that is both restorative and non-destructive, using unique formulas to avoid signal damage typically caused by the limiter, especially with regard to low frequency exposure.
---