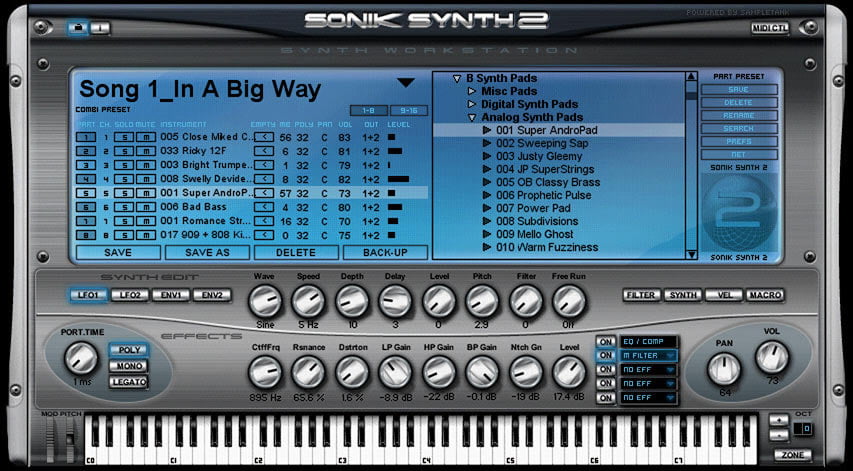 Sonik Synth sounds are created using multiple layers of up to 16 multitimbral parts with effects and a variety of synth engines combined together. Covering a wide range of ethereal soundscapes, moving bass tones, leads, orchestral textures, spectral and vocal formant pads and all of the workstation variety of keyboard sounds and drums in one package.
Sonik Synth gives the user fast access to more than 500 sounds designed with layering of more than 1,000 individual parts made up of multisampled instruments, waveforms and performance elements. Each of these parts can also be combined by the user to obtain millions of different sonic possibilities giving this synth workstation plug-in the flexibility of endless creativity.
At the heart of Sonik Synth is source material from Sonic Reality. Waves and textures ranging from original orchestral soundscapes to rich vocal layers to wine glasses to traditional instruments like pianos, organs, guitars, drums and ethnic instruments are the elements of Sonik Synth 2's massive sound set.
Beautiful true analog circuitry and a variety of flavors from different manufacturers and models makes the broad range of collectible vintage synths from around the world appealing in so many styles of music. Sonic Reality has compiled one of the most diverse sample collections of vintage synthesizers ever and incorporated a virtual synth museum inside of Sonik Synth 2. With the character of classic analog and digital hybrid synths ranging from the most popular sounds used on endless hit songs to the esoteric and unique flavors of rare keyboards, Sonik Synth 2 has it all. From the rich character of synth sounds to real instrument sounds and combinations used on popular recordings to new dynamic and inspiring explorations in sound, Sonik Synth 2 is vast and powerful for styles of music ranging from film soundtracks to classic rock to R&B or to the latest dance styles and beyond.
Sonik Synth offers a unique, state-of-the-art software design with many special features and sounds. 32-bit synth engine including IK's multisample playback and exclusive harmonic STRETCH synthesis. 5 global combi effects and 5 insert effects per part for a total of 85 different effects slots.
More than 30 DSP effects to choose from, developed using sophisticated analog modeling cover popular effect needs within this amazing synth-workstation. From Classic Analog Modeled Filters to Vintage Phasers, Flangers, BPM Sync Delays, Choruses, Tube Modeled Pre Amps, EQs, Compressors, Distortions and many more fully automatable effects, Sonik Synth 2 has everything you'll need to shape your sounds like never before.
Sonik Synth includes a virtual museum of vintage keyboards covering the widest palette of synth flavors ever assembled into one product. Experience the fat analog sound of Arps, Moogs, Obies, Jupiters, Gleeman, Voyetra, Serge, EMS Synthi, Prophets, Trons, Rhodes, Wurlies, B3s all in one mega plug-in and standalone app. And Sonik Synth is rock-solid in performance so you can use it live, or use multiple instances within your favorite sequencer with confidence. Nearly 6,000 sounds make it largest collection of modern and vintage instruments ever assembled in one workstation.
Sonik Synth Features:
16 part multitimbral sound module with layerable parts.
3 synth engines: STRETCH and Pitch-Shift/Time-Stretch (PS/TS) plus traditional Resampling.
Powerful Multi-Effects section that includes 5 insert effects per Part.
32 built-in DSP effects.
Part and Master Loop Sync.
Independent Part and Master Volume/Pan controls.
Works as a standalone application as well as a host sequencer plug-in in Mac OS (Universal Binary), and Windows (XP/Vista).
Supported plug-in formats: VST, RTAS, and AU.
Sounds can be read by SampleTank 2.5 and can be used to expand its world of sounds.
Specs
Works as a standalone application, as well as a plug-in.
Fully compatible with Mac OS X (Universal Binary), and Windows (XP / Vista).
Supported plug-in formats: VST, RTAS, and AU.
16 part multitimbral.
256 notes polyphony.
16 individual stereo outputs.
Mix view and full mix parameters control.
32 DSP-based multi-effects (see Effects List).
Range Control allows for creating complex splits and layers.
Total sound editing with full access to 50 Synth-Sampler engine controls.
Instrument browsing.
BPM syncable LFOs.
Portamento Time control.
Zone feature for single sample accurate editing.
Part Volume / Pan controls.
Expanded easy to use full MIDI control.
Part and Combi preset save features.
Convenient back-up function.
Search function.
3 Synth Engines
Newly enhanced STRETCH.
Pitch-Shift/Time-Stretch.
Traditional Resampling.
Effects list
Reverb, Spring Reverb, Reverb Delay, Ambience, Delay.
Filter, Envelope Filter, Multi Filter, Wah-Wah.
Chorus, Multi Chorus, Phaser, Flanger, Envelope Flanger.
AM Modulation, FM Modulation.
Auto Pan, Tremolo, Rotary Speaker.
Lo-Fi, Distortion, Phonograph, Crusher, Overdrive.
Pre Amp, Tone Control, Cabinet.
Parametric EQ, Channel Strip, Compressor, Limiter, Slicer.
3 Performance Modes
Sounds
Sample based sounds (parent): 2,282.
Preset sounds (child): 3,181.
Combi sounds (combi): 357.
Total sounds: 5,820.
Total size: 8.65 GB.