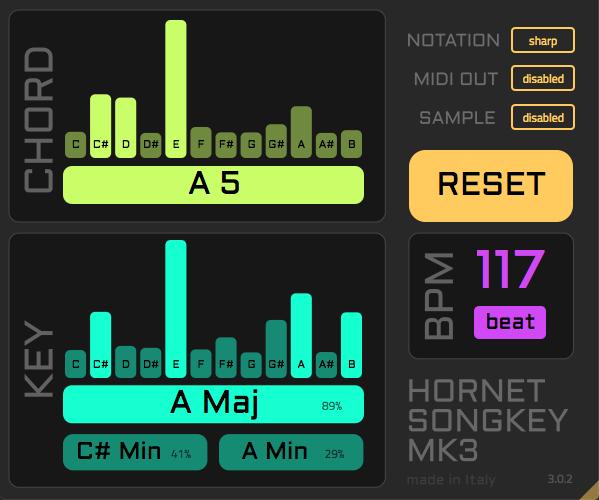 Year / Release Date: 05/28/2019
Version: v3.0.2
Developer: HoRNet
Developer website: www.hornetplugins.com/plugins/hornet-songkey-mk3/
Format: VST, VST3, AAX
Bit: 32bit, 64bit
Tabletka: cured
System requirements: Windows 64-32 bit compatibility, audio devices VST2.4, VST3 and AAX format.
---
Description: HoRNet SongKey MK3 is a completely new third version of our key search plugin, but it does not perform simple key recognition, it is also able to detect the chord and tempo of a song. We thought that it would be nice to add a MIDI input (so that you can detect chords and tonality of MIDI tracks) and a MIDI output for recognized chords so that you can record them and edit the track for your own needs.
SongKey is very useful in situations where you don't have the tool at hand to find out the key to the song you are working on, or if you are a DJ and want to mash it, but you don't know what key the song is written on. The chord detection function gives you an idea of ​​the sequence of chords in a song so you can better design your bass lines and pads.
Add. Information: Artificial intelligence-based keys that follow key changes
Real-time audio and MIDI chord detection
Reliability display for each key found
Chromatogram of keys and chords showing each note level
Typical mode for analyzing short sounds
Real-time tempo detection
MIDI output of detected chords
Sharp and flat designation
Changeable vector graphic
---