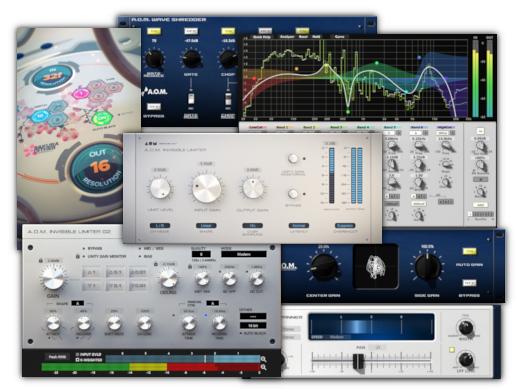 Year / Release Date: 07/31/2019
Version: Bundle v1.10.0
Developer: A.O.M. Audio plug-ins
Developer's site: aom-factory.jp
Format: VST, VST3, AAX
Bit: 32bit, 64bit
Tabletka: present
System requirements: Windows 7 – 10 (32 bit / 64 bit), Intel x86 / x64 compatible processor
Requires SSE3 extension.
---
Description: Total Bundle – A set of 8 plugins in the updated version.
The composition includes:
Cyclic Panner is a unique pan / width control tool based on axis transformation.
Invisible Limiter is a transparent brick wall limiter with automatic optimization of attack / release time.
Invisible Limiter G2 is a second-generation transparent mastering limiter with new features.
Stereo Imager D is a correlation-based stereo imaging processor.
tranQuilizr is an equalizer plugin that uses fully customizable eight bands.
Wave Shredder is a set of destructive processors: speed reducer, zero-time shutter, Waveform Cut & Fold, chopper and bit grinder
Sakura Dither is a dithering plugin. He works in the last slot of the mastering effects chain.
tranQuilizr G2 – (New plugin) is an equalizer plugin with transparent sound and intuitive operations.
---