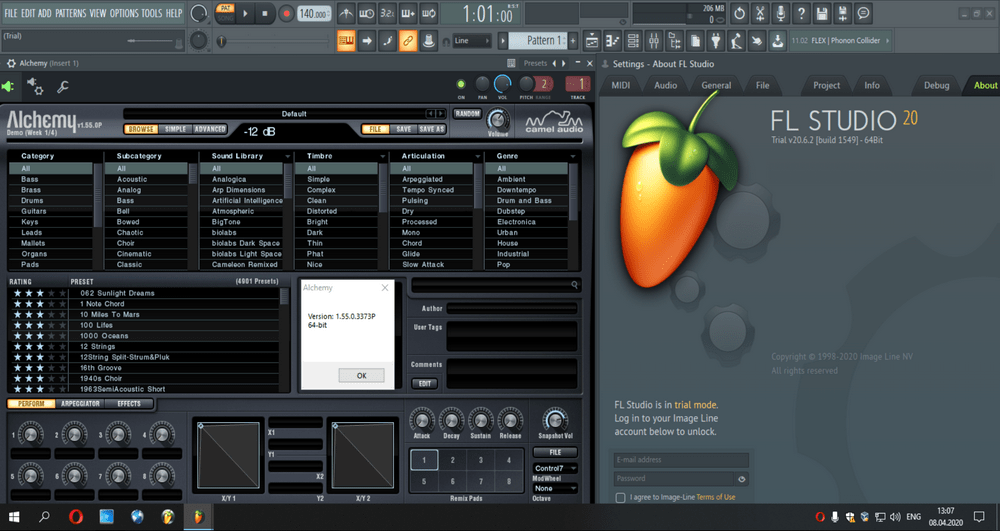 Release Date : 2017
Version : 1.55 (0P)
Developer website : apple.com
Format : VSTi, RTAS
Bit : 32bit, 64bit
Tabletka : Eternal Trial
Important: Before installing, make changes to the Registry by running the Alchemy Register.reg file
Install the plugin by running Setup-Alchemy-Player-Win-1-55-0.exe
Installation takes 15 minutes and takes up 19 GB of free disk space
It is also possible to install 19 GB of content on any disk that suits you, when installing the bottom item (Folder for data)
To prevent all presets from being scanned at the first start of Alchemy, delete the "InstalledPresets" folder along the path "Camel Audio \ Alchemy \ Libraries"

---
About Camel Audio Alchemy
Camel Audio Alchemy:
This is a synthesis power plant with its almost unlimited possibilities and ease of operation, thanks to the thoughtful interface of the tool.
A library of modern sounds explores new sound spaces ranging from cutting-edge pedals and sublime soundscapes to ultra-thick basses and synthesizers.
You can use the library as the main sound designer in your work, or you can create your own samples.
Camel Audio Alchemy lets you manipulate sound like no synthesizer or sampler.
It is equipped with the most powerful additive engine with very accurate resynthesis.
With Camel Audio Alchemy, spectral and granular synthesis methods are also possible along with sampling and taking advantage of the bold analog engine.
It's like five synthesizers in one.
You can import your samples in SFZ, WAV or AIFF formats.
In addition to the above, Alchemy implements a wide range of analog filters, flexible wreck, which includes well-known effects from CamelPhat and CamelSpace, as well as new ones.
Camel Audio Alchemy integrates a powerful arpeggiator with the ability to import MIDI files with immediate synchronization for your track.
Alchemy is marked by low CPU consumption.
.
System requirements:
Microsoft Windows XP or later
A host application that supports VST 2.4 plug-ins
2GHz Pentium IV or better
About Distribution :

The distribution contains the Original Alchemy Player + all factory presets starting from the first Alchemy and rolling over new presets + all auxiliary libraries are packed in original packers for convenience.
For those who need a full version, I'll post it separately, there you'll just need to replace Alchemy.dll, but I don't recommend using 64-bit one, it is crookedly broken.
And do not say that this is a repeat here, everything for you tried as in the original

…
Yes, and the player has an almost complete functional, and with this registration file, it will always work
---
Installation :
1. Uninstall previous Alchemy installation completely, and delete the folder entirely in C:\ProgramData\CamelAudio\Alchemy
2. Run setup and install normally all banks (or move the ones you don't want to another folder)
3. Run FL Studio (or other software) as Administrator for the first time and launch Alchemy to start the scan of presets.
Done!
Once the scan ends (which takes times) you can close everything and relaunch Alchemy normally.
Somehow starting FL as administrator and starting Alchemy makes switching presets so much faster, so keep that in mind.
---