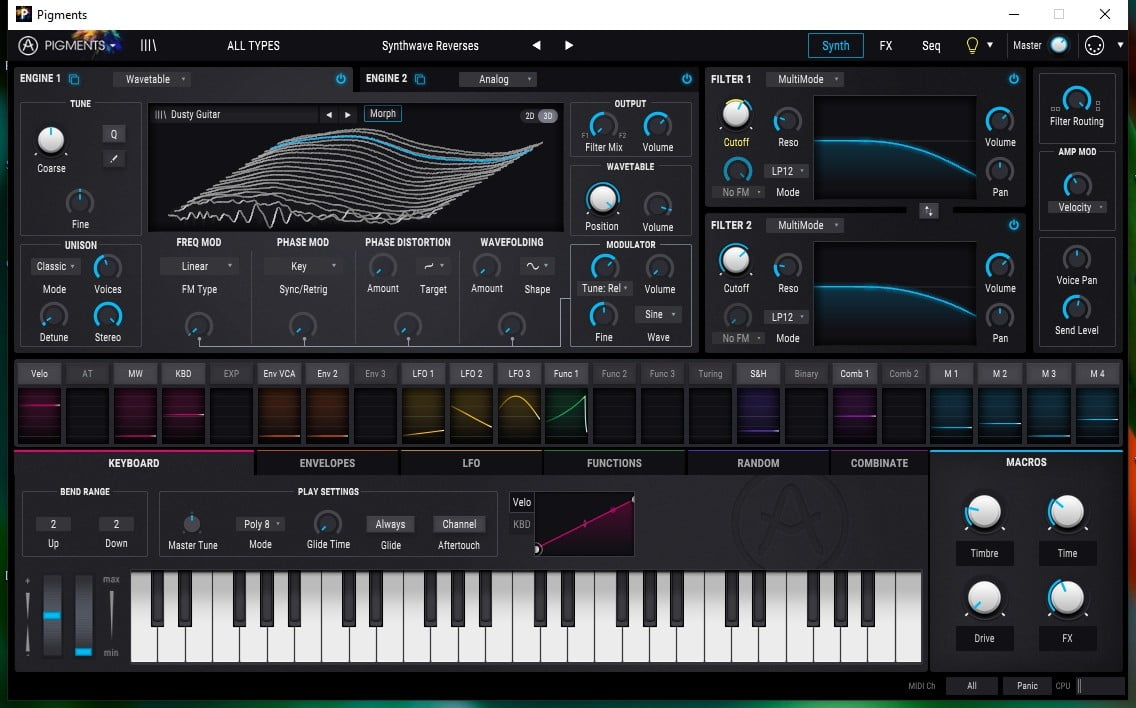 Year / Release Date : 03.2019
Version : 1.1.2
Developer : Arturia
Developer website : Arturia
Format : VSTi, VSTi3, AAX
Digit capacity : 32bit, 64bit
Tabletka : cured
System requirements : Win 7+ (64bit) PC: 4 GB RAM; 2.5 GHz CPU.
1GB free hard disk space
OpenGL 2.0 compatible GPU
Description : Multifaceted software synthesizer.
A very powerful wave-table virtual analog synthesizer is Pigments and it will change the way music is created. Turning a spark of imagination into sound is the most important, exciting part of creating music. Pigments makes this process natural, intuitive and bright.
Imagine a sound, then create it – Pigments offers the best elements ever found in a software tool, allowing you to create innovative, exciting and deep sounds. Pigments allows you to fully express your creativity in ways never before been in a software tool.
Pigments has a dual audio engine that allows you to mix virtual analog and wave table oscillators to create the perfect starting point for your patch. You can even modify the wave tables or import your own. What you get next is up to you. Experiment with 3 envelopes, 3 LFOs and 3 functional oscillators. Assign modulators to liven up your sound and breathe life into it. Add controlled or completely unexpected random changes to any parameter using the Turing probability generator. Pass a signal through 2 filters with any combination of cult analog filters or modern format filters. Process your patch with exciting modern effects such as a wavefolder and a multi-filter or vintage studio reverb effects, delays and equalizers.
Modulation – Thanks to its unique interface, Pigments not only simplifies complex modulations, but makes them extremely simple. This is a new approach to creating sounds.
Creating a masterpiece – For 20 years, we analyze, emulate and refine the most iconic synthesizers ever created. Working with Robert Moog, Cameron Jones and many other industry legends, we have earned our reputation by creating world-class tools. We turned the music industry upside down with the release of our first-class, affordable analog MiniBrute hardware synthesizer.
Pigments combines our passion for vintage FM and analog sound with modern table-wave synthesis, and we have created the best, as we believe, software synthesizer.