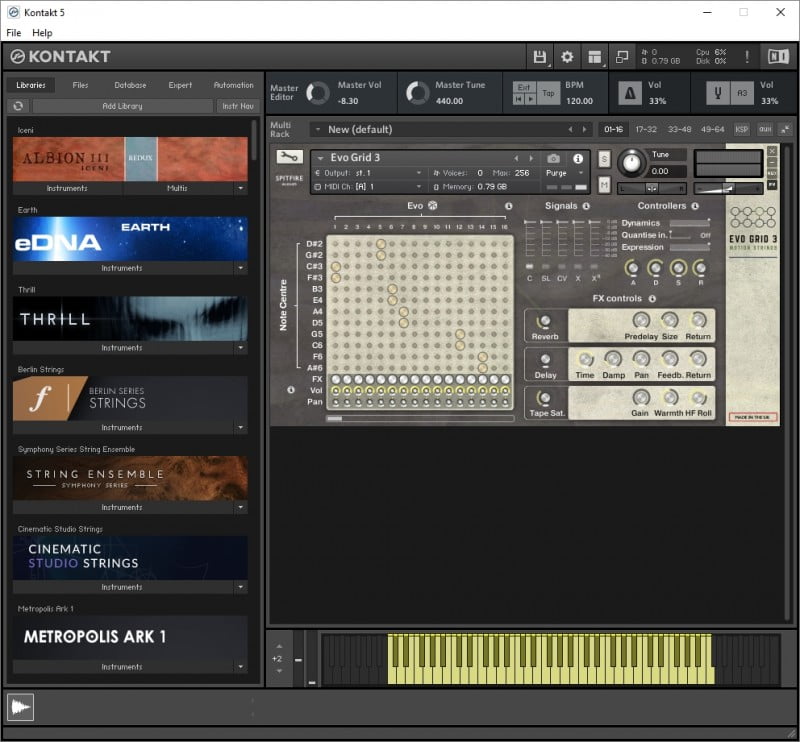 Publisher : Spitfire Audio
Website : Spitfire Audio
Format : KONTAKT 5.5.1 +
Quality : 24 bit 48 kHz stereo
---
Description : Sound Effects (Strings)
Strings in motion
Spitfire takes its Evo range of products into a new realm with a series of evolving strings "motions" that we're certain will revolutionize the way in which you write and realise your string compositions.
Orchestrated by Ben Foskett this product exudes class, and a cool organic sound that will bring fresh Steve Reich, Terry Riley, John Adams and Arvo Part style sophistication to any number of applications.
Overview
The newly initiated Evos are hyperlong articulations that change, sometimes subtly, sometimes radically over time before returning to their original state.
We have organized these on a grid so you can plot which evolution or 'Evo' sits on which key range.
In this day and age, composers are often asked to engage the listener by doing very little.
We're asked to rarely change a note, to do nothing, but 'really sort a scene out'!
Evo Grid is our means of providing composers with a solution to this conundrum!
Evo 3 takes this concept further by introducing tempo lockable "motions" to the Evo Grid project.
From simple shimmering textures, essential motoring evos that help to keep your simple compositions ticking along, to the most complex of polyrhythmic systems.
We have to limit our own time on Evo 3, once you start you can't stop!
Recorded in the dry but very warm environment of Air-Edel studios London with a small or "Chamber" sized string band Evo 3 is a sonically detailed and versatile set of recordings suitable for any number of applications.
Background
• Are you a media composer having to produce yards of sophisticated underscore for your TV scores?
• Are you a games composer looking for ways of generating hours of iterative material?
• Are you a producer looking for cool understated orchestral textures?
• Are you any kind of writer looking for inspiration?
That next great idea?
• Are you someone wanting to wile away hours playing one of our most addictive releases to date whilst your children fight each other in the garden?
Then Evo Grid 3 is your must have purchase of the Summer!
The genesis of Evo 3 is an evolutionary story in its own right.
From the original "Scary Strings" experiment (now available free in our LABS area), sampling players performing "evolutions" that change over time over a fixed number of registers to our original Strings Evo Grids 1 & 2 that designed an ingenious way of arranging these evolutions across your ranges with a die randomisation function that delivered a near infinite number of possible combinations.
We also produced Evo 4 for woodwinds and brass, giving a truly original set of sonic possibilities, then the ultra exclusive Mural Symphonic Evolutions recorded at Air studios.
And both Olafur Arnalds and Leo Abrahams bringing us their take on the Evo Grid.
With all these grids flying around no one noticed the missing "Evo 3"!
This volume is the biggest development for the Evo Grid concept by sampling evolving "motions" or movements and rhythms orchestrated exceptionally by Ben Foskett.
Initially the concept of 3 was to tackle one of the biggest sampling conundrums the re bow, repeated phrasing on the same note.
So we thought what better way of giving us all options of time syncable re-bowing patterns than to put them on an Evo Grid.
After two years of extended development and fiendish scripting, our alpha version arrived and it was immediately clear that Evo Grid 3 was going to be so so much more than we had originally hoped.
Spitfire Audio PP021 Evo Grid 3 KONTAKT screenshot
Features
• 37 unique evolutions across the whole range of the string band, grouped into 3 different categories.
• All sounds tempo-locked to your host DAW tempo
• Completely customizable evo grid, with randomise function.
• Four individual mic signals including Close, Sweet Loops, Completely Varped, and Stretched.
---