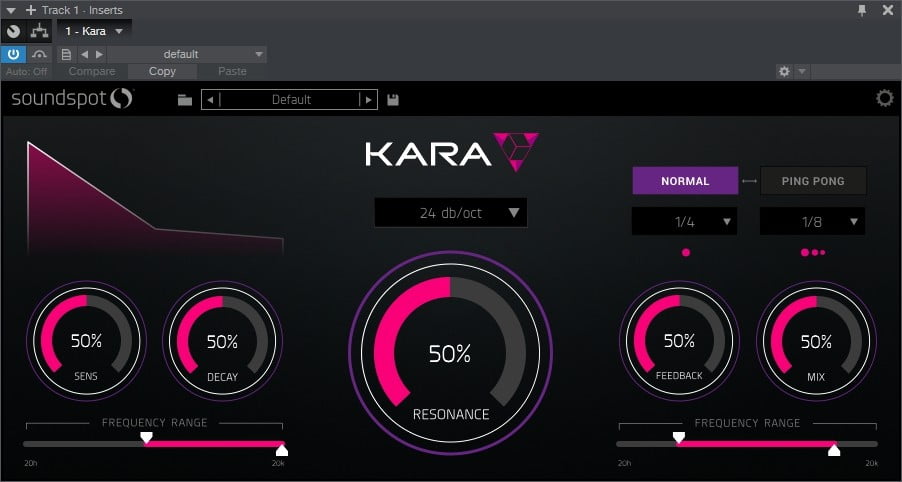 Year / Release Date : 12.2018
Version : 1.0.1
Developer : Soundspot
Developer site : pluginboutique
Format : VST, VST3, AAX
Digit capacity : 32bit, 64bit
Tabletka : cured
System Requirements : MAC
• OS X 10.7 – 10.13 (32 & 64-bit)
• Windows 7, 8 and 10 (32 & 64-bit)
Description : We like dense sounds .. but often, when you start to layering different sounds, you face a tedious task, using each synthesizer, and adjusting envelopes to make each sound coherent. We all wanted to have a plugin that could manage the envelope slice, so we decided to start working on a plugin that would do just that.
Introducing KARA, a bus processor designed to process several signals at once and glue them together into one connected sound.
Since KARA is an audio processor and does not receive MIDI information, the first task was to find a way in which the plug-in would work. We achieved this by creating an RMS trigger, which works much like a compressor, so when the signal reaches the user-defined threshold, which is set using the Sens parameter, the envelope and filter are triggered, creating a jerky sound.
We also added a delay to the end of the signal processing chain in the plugin, so you no longer need to have an extra delay unit after KARA and using more of your CPU resources.
We also suggest using Kara for individual sounds. Although the plugin was designed to be used as a group processor, it can also give fantastic results for single sounds in order to add more analog sound.
Please note that since Kara has a preset manager, we did not create any factory presets. Since the results achieved by the plugin are largely dependent on the original signal, we decided that creating presets would not give consistent results, and therefore the factory presets would not do any good for the user, and turning on the preset manager should allow the user to save their own presets.