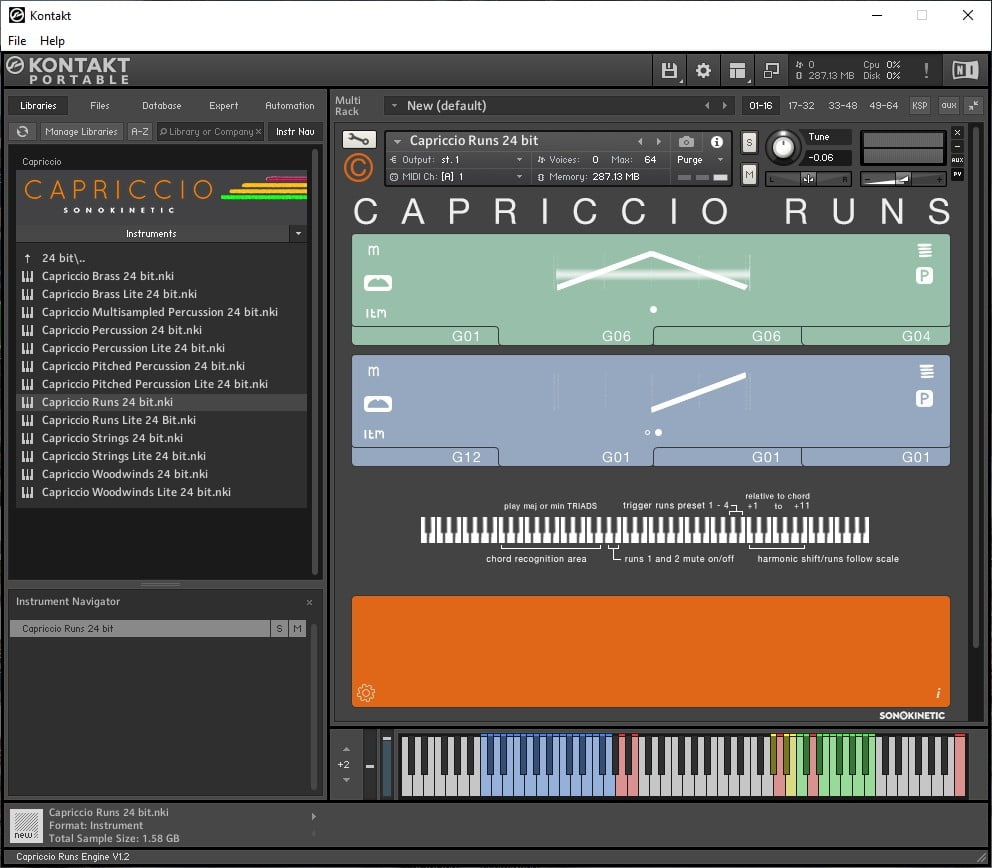 Publisher: Sonokinetic
Website: sonokinetic
Format: KONTAKT
Quality: 16 and 24 bit 44.1 kHz stereo
---
Description: An energetic library of cinematic samples based on orchestral phrases.
Capriccio is our largest orchestral collection, both in terms of physical size and sound, it's just … BIG!
We had conductor Petr Pololanik, who pushed himself to the limit with his orchestra for these recording sessions, and the energy, drive and power that is received is really evident in every sample. Each phrase has been carefully crafted from concept to production and embodied in the final tool to ensure it works as a whole and is used as widely as possible.
You can use Capriccio as the basis for your composition, or supplement an existing piece using only parts. The library can be very loud and awe inspiring or mildly mood-inspiring.
If you are familiar with our previous orchestral instrument "Grosso", Capriccio's user interface should look pretty familiar. The basic structure of the instrument is the same, using 4 presets, each divided into 3 layers, but Capriccio has a lot of innovations that will make working with this library even more intuitive and flexible. Highlights include a Phrase Shift slider, separate volume controls for release tails, and dragging and dropping MIDI files from the score window in the interface right into the DAW.
In Capriccio, we have updated the phrase sampling. Throw away your preconceptions about rigid one-shot samples and use the Capriccio interface to harmonize, sync, shift and blend each of the 38,000 samples. We squeezed the maximum creativity and flexibility out of these phrases and created a custom interface.
Despite advances in sampling technology, you simply cannot surpass the realism of live phrases and orchestral patterns, so our goal is to make them as playable as a real instrument as possible with a minimum of end-user programming. These tools are designed to spur your creativity, and judging by the feedback we receive, this is exactly what they do.
We also included a jogging instrument with strings and woodwind parts, a gorgeous and highly playable multisampled percussion patch, and a melodic percussion instrument containing a xylophone, glockenspiel, trumpet bells and piano phrases.
All phrases for Capriccio are in 4/4, with straight eighth and sixteenth notes.
Specifications :
44.1kHZ – 24 Bit and 16 Bit NCW format
16BIT – 38.000+ SAMPLES
24BIT – 38.000+ SAMPLES
16BIT – 18.4GB Uncompressed
24BIT – 34.8GB Uncompressed
6 instrument patches; Strings, Brass, Percussion, Woodwinds, Runs and Multisampled Percussion Ensemble.
Timestretching and Tempo Syncing using Native Instruments Time Machine Pro & Sonokinetic's Intelligent Tempo Mapping
52 Symphonic Strings:
Violins, Viola, Celli and Bassi
12 Symphonic Brass:
Tuba, Trombones, Horns and Trumpets
12 Woodwinds:
Bassoons, Clarinets, Oboes, Flutes and Piccolos
8 Percussionists:
Taiko, Symphonic Percussion, Xylophone, Tubular Bells, Glockenspiel, Piano.
---