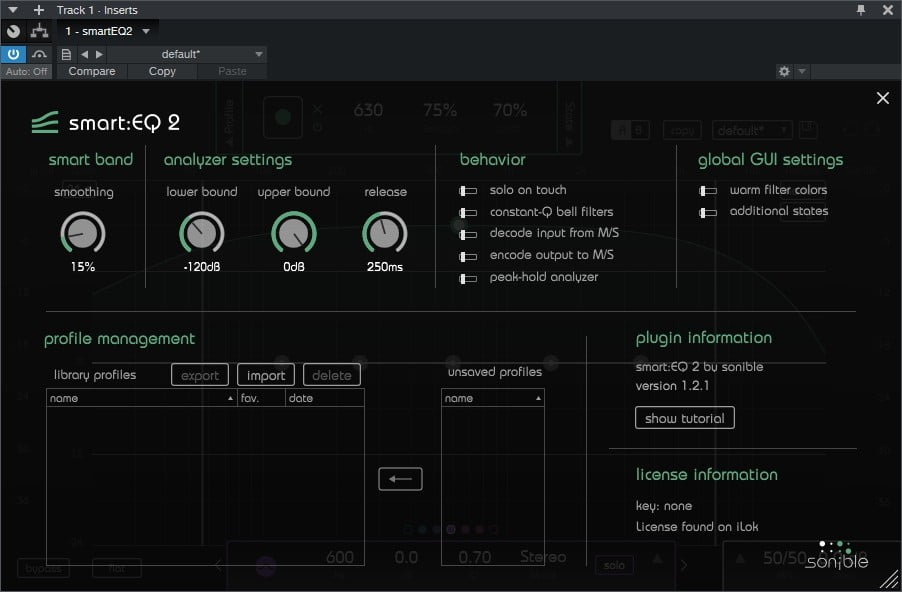 Year / Date of Issue: 09.2021
Version: 1.2.1
Developer: Sonible
Developer site: sonible
Format: VST, VST3, AAX * (* P.T from A.U.)
Bit depth: 64bit
Tabletka: cured (put and work) | RET
System requirements: Windows 10 (64 bit), 4GB RAM, Intel Core, i5 CPU, OpenGL Version 3.2+ GPU, Microsoft Visual C ++ 2019 Redistributable Package (x64)
---
Description: The intelligent EQ2 equalizer improves the detail, clarity and transparency of your mixes with just a few adjustments. Experience your mixing workflow faster than ever before.
EQ2 analyzes audio material and generates a filter curve to create natural sounding and tonal balance. Add clarity to your mixes, more punch for individual tracks, or cut out harsh parts of your vocal recordings – in seconds and with unprecedented precision.
Simultaneously process up to six tracks at a time with 24 filters, M / S processing, smart states and more. Sonible's latest AI-powered smart plug-in: EQ 3, marketed as "the world's first multi-track equalizer". It is capable of analyzing multiple audio tracks to create spectral balance and remove unwanted resonances.
New in version :
added peak-hold mode to analyzer
fixed stability issues with Ableton Live 10 (Windows)
fixed ambiguities when recalling profiles from presets
fixed automation issue when scaling a group of filter bands
various UI / UX bug fixes
---