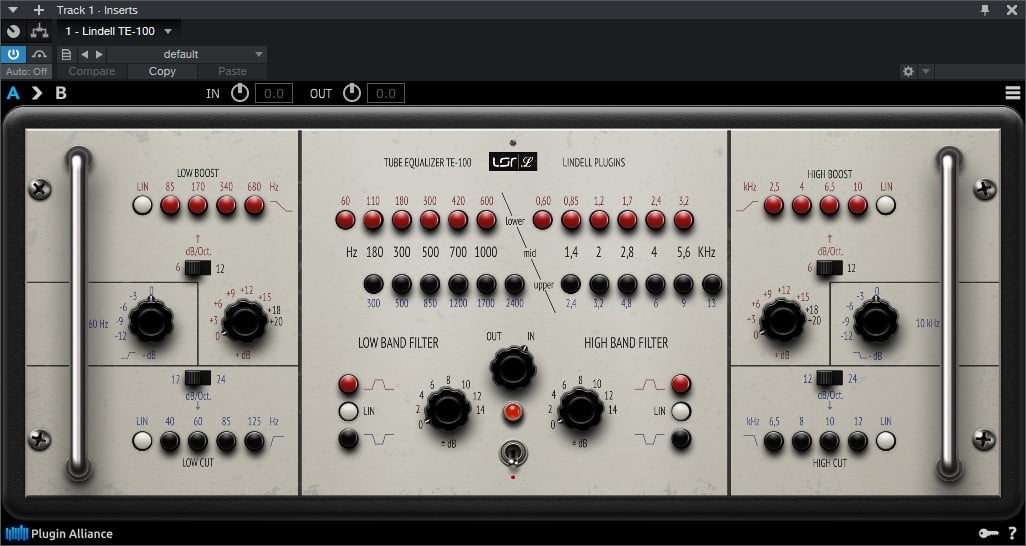 Year / Date of Issue: 08.2020
Version: 1.1.1
Developer: Plugin Alliance & Lindell Audio
Developer site: plugin-alliance
Format: VST, VST3, AAX
Bit depth: 32bit, 64bit
Tabletka: present | R2R
System requirements: Intel-compatible CPU with SSE2 instruction set (Pentium 4 compatible or higher; minimum 2 GHz recommended)
---
Description: Original KLEIN & HUMMEL UE-100® equalizers are extremely rare and expensive. But Rafa Sardina – winner of 12 Grammy awards and 35 nominations – owns 10 of them!
What is so special about this strange and wonderful device? For some time, each hardware equalizer had to be designed with a specific purpose in mind, requiring engineers to combine different types of equalizers into a single signal chain to achieve the desired frequency response. When processing sounds, they will have to accept the inevitable artifacts of the resulting phase and intermodulation distortion. When the Klein & Hummel UE-100 universal equalizer was released in 1961, that all changed.
This all-tube minimum phase EQ used six discrete filter modules to create a set of bandpass filters that could create dynamic curves for any application, from source mixing to vocals tracking and mastering. While some of the earlier UE-100s were used to transparently filter out unwanted low and high frequencies when printing to tape and vinyl, it quickly became common to take advantage of the unique frequency selection via a push button; this provided an easy way to not only call up settings, but also change them on the fly while recording a performance. The UE-100 has become renowned for its musically warm curves and precise response, offering many possibilities for processing frequencies by boosting and / or cutting across the entire spectrum to shape sounds "like Pultec on steroids."
This universal tube sound and innovative behavior from K&H is now available to you as a plug-in. The Lindell TE-100 is an accurate imitation of all the sweet and mouth-watering frequencies offered by the original hardware equalizer. The TE-100 recreates this piece of German sound history with impeccable realism, right down to the buttons on the interface and bypassing the tube filter.
---