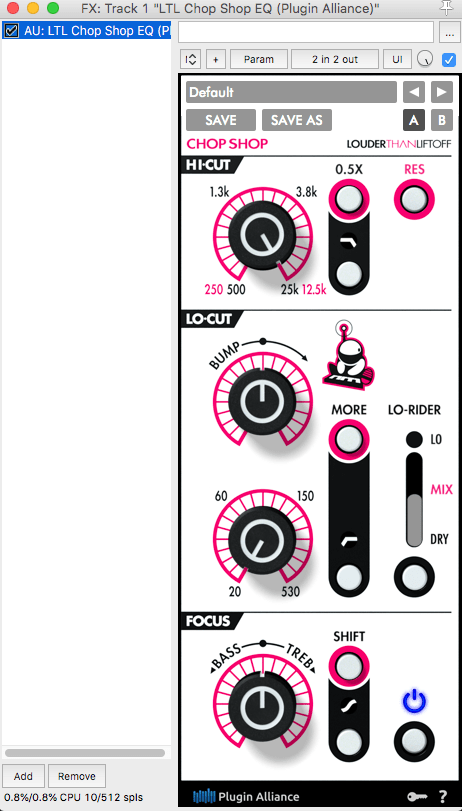 Year of release : 2018
Version : 1.0.0
Developer : Plugin Alliance
Developer site : plugin-alliance
Platform : iNTEL
Format : AU
Interface language : English
Tablet : Replacement Files
System requirements : Mac OS X 10.9 through 10.13 / Intel CPU only (minimum 2 GHz recommended)
Description : This is an accurate digital reproduction of the famous Louder Than Liftoff 500 Series Analog Equalizer.
This plugin not only perfectly reproduces the original sound of the original, but also offers additional features that extend the functionality of this already universal tool for the formation of tone.
Chop Shop plugin has a super intuitive interface that allows users of all levels and skills to quickly solve tonal problems in their audio and improve the original character of sounds, making the sound musical and transparent.
If you're looking for a way to make your synths stand out in a mix, Chop Shop is always at your service.
With the ability to quickly enhance clarity or low-frequency punch of any sound, Chop Shop's simple feature set makes it very powerful.
Chop Shop is the perfect tool to use throughout the session. The gentle processor usage combined with musical clarity make Chop Shop ideal for eliminating masking and improving legibility.
FOCUS: intuitive single-knob tilt-style
EQ.
Achieve the perfect tonal balance quickly.
LO-CUT: 12 dB / oct filter from low to low, variable from 20 to 530 Hz.
BUMP: variable resonance control for LO-CUT.
Adds a resonant 'bump' at the corner frequency.
MORE switch increases resonance dramatically.
LO-RIDER mode: (Plugin only feature) Transform LO-CUT section with variable resonance (BUMP).
Blend with the non-low.
HI-CUT: 6dB / oct filter that rolls off at high frequencies whilst simultaneously reducing apparent brightness.