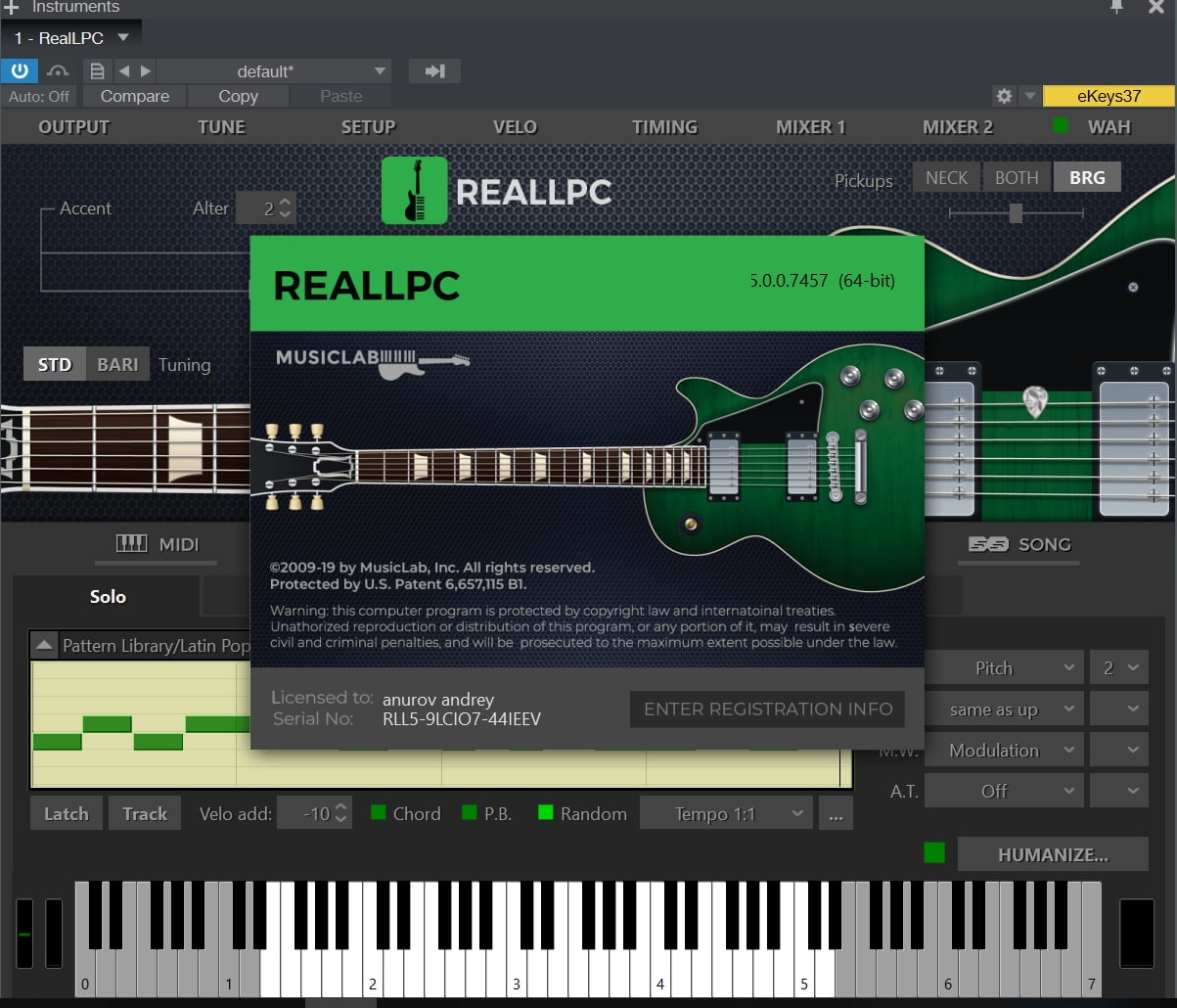 Year / Release Date : 10.2019
Version : 5.0.0.7457
Developer : MusicLab
Developer's site : MusicLab
Format : STANDALONE, VSTi, VSTi3, AAX, AUi
Bit : 32bit, 64bit
Tabletka : present
System requirements : 2GB + RAM, 5GB + free hard drive space
Windows 7 SP1 / 8.1 32bit or 64bit, OS X 10.6 / 10.7 / 10.8 / 10.9 / 10.10 / 10.11 / 10.12
---
Description : MusicLab – RealLPC is Les Paul Custom – a cult guitar from the American company Gibson, which is played by thousands of musicians around the world. Thus, the RealLPC program can be called an addition to RealStrat, covering both reference guitar sounds – stratocaster and Les Paul. Both of these programs are virtual vsti synthesizers that simulate the sound of the listed guitars and are based on the playback of pre-recorded samples.
The features of the program are not much different from MusicLab RealStrat. With it, you can get many different touches and tricks of the game, usually used by guitarists. The built-in library of patterns allows you to use 1250 various rhythmic figures. But the most interesting thing is that along with RealLPC, the well-known IK Multimedia Amplitube 2 DUO program, designed to emulate guitar amplifiers and effects, is also included.
New RealLPC guitar sample set
High quality 24-bit samples, recorded directly from Neck and Bridge pickups individually
3 real-time pickup selections giving you the exciting tonal options
Standard and Baritone guitar tunings
Backward compatible with previous versions of RealLPC
New multi performance mode
Combining various guitar techniques (strumming, soloing, string picking, etc.) in a single performance layout
25 new Key Switch FXs in chordal modes
Velocity controllable number of strings in strummed chords
Live control of solo and strum techniques
Live control of chord inversions / positions
Free voices leading in strummed chords
Hammer-ons and pull-offs in chords
Slider (Bottleneck) guitar emulation
Numerous performance options, effects, and their combinations
New usability features
Advanced velocity curve control
Resizable GUI (zoom 80/100/120/150/200%)
Internal loop in song mode
Drag and Drop Song events (chords and patterns) to DAW MIDI track
Use of DAW MIDI track to edit and playback Song events directly to Song mode window
Hold Pedal on virtual keyboard
Pitch Wheel and Mod.
Wheel MIDI activity indicators
---