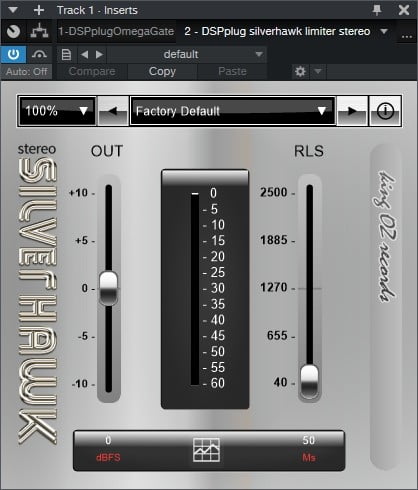 Year / Release Date: 11.2020
Version: 11/22/2020
Developer: King Oz & DSPplug
Manufacturer website: dspplug
Format: VST, VST3
Bit depth: 32bit, 64bit
Tabletka: not required | RETAiL
System requirements: Windows 7 – 10, VST2, VST3 windows plug-in
---
Description: Plugin-set from King Oz:
King OZ DSPplug boardstation v2.2
King OZ VSTplug compressor v1.6
King OZ VSTplug compressor2 v1.1
King OZ DSPplug freq3 v1.59
King OZ DSPplug omega gate v1.2
King OZ VSTplug phase cancel v1.2
King OZ DSPplug silverhawk v1.5
Plugin Description :
King OZ DSPplug boardstation is a great EQ for mastering without bulky controls. Just 40 bands that you can automate, which works quickly and will guide you in the easiest and most convenient way.
King OZ VSTplug compressor – A compressor designed to be your lightest in a processor. The algorithm was developed by Cytosonic, a highly reliable and innovative sound engineer and specialist.
King OZ VSTplug compressor2 – The compressor uses a little more CPU than compressor 1 VSTplug, but it allows for easy shaping and flexible control unlike anything you have tried.
King OZ DSPplug freq3 is the answer to the desire for a fast, reliable and well thought out equalizer that can work in the same way or in conjunction with a parametric EQ2. The EQ2's parametric equalizer has become a staple in the industry, delivering speed and reliability. This EQ is meant to match that versatility: but I've tried to suit the sound design for those thrill seekers who were hoping for Hollywood fluidity rather than firmness.
King OZ DSPplug omega gate – Many hours of research has led to a new innovation that, despite the plug-in's noise suppressor, is not designed for the task – instead it is intended for artists, singers or anyone who records vocals in noisy environments. Works pretty well with the CPU and you will be impressed with the character and speed.
Although the plugin has a noise canceler, you can instead rely on a real-time noise reduction algorithm to work more efficiently and quietly. The problem is that even the quietest environment isn't quiet enough. While there are other products that eliminate noise, this product is for DJs, radio announcers, and people looking to record their vocals.
King OZ DSPplug silverhawk is one of the fastest and most reliable equalizers on the market. It is designed to be beautiful and to mimic some of the most popular hardware ever developed. Often people overlook mono without realizing that most samples use a mono to stereo conversion technique that downright spoils the sound and causes the phase to get out of control. Silverhawk automatically eliminates this phenomenon, allowing a similar effect to be used responsibly.
---