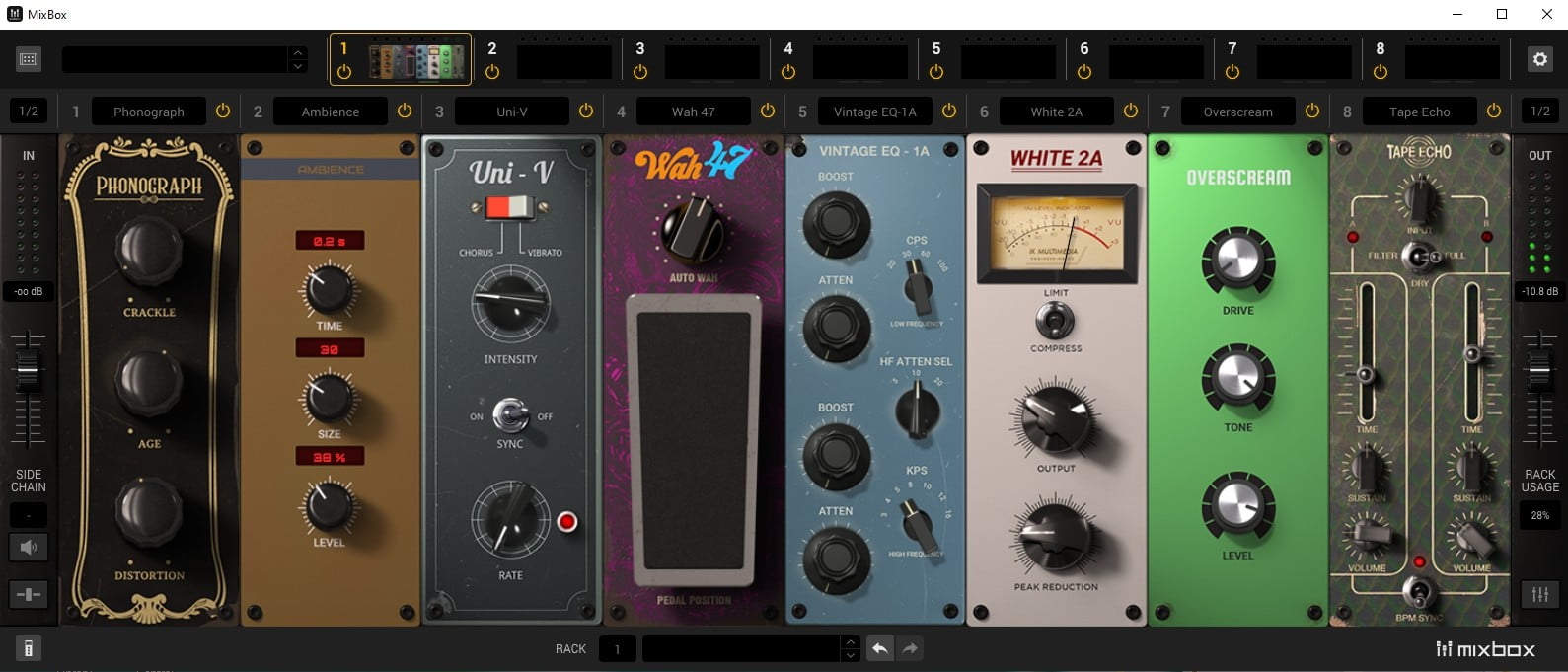 Year / Date of Issue: 07.2021
Version: 1.2.0
Developer: IK Multimedia
Developer site: ikmultimedia
Format: STANDALONE, VST, VST3, AAX, AU
Bit depth: 64bit
Tabletka: present | R2R
System requirements: Intel® Core ™ 2 Duo or AMD Athlon ™ 64 X2, 4 GB of RAM (8 GB suggested), Windows® 7, Windows® 8 or Windows® 10. Requires an ASIO compatible sound card.
Microsoft Visual C ++ 2015-2019 Redistributable Package (x64)
macOS 10.10 | Intel® Core ™ 2 Duo processor, 4 GB of RAM (8 GB suggested), macOS 10.10 or newer.
---
Description: A whole world of sounds right at your fingertips.
MixBox is the award-winning 70 best mixing processors and the most creative effects from T-RackS, AmpliTube and SampleTank combined in a 500-series style plugin. Create, compare and save your own custom channel strips or multi-effect chains, or browse 600 presets for the one you need for inspiration. MixBox works both as a standalone application and as part of the DAW. An incredible number of effects and incredible speed of the application will not leave you indifferent and will definitely pump your mixes.
Build your own custom processor chain – With MixBox, you have 70 completely different effects. Create custom processor chains in separate racks. 8 slots in each rack is more than enough to assemble the desired channel strip. Save it and return to the already created stripes at any time. It will not be difficult to assemble a chain by drag-and-drop processors. Write in one convenient workstation and do not think about hundreds of open windows.
70 completely different processors to choose from – The MixBox processors are based on award-winning plugins from T-RackS, AmpliTube and SampleTank. Each processor will deliver flawless sound. Choose from a wide variety of sounds, from powerful digital effects to warm, authentic, physically modeled analog equipment. In the reverb section, you will find 4 completely new algorithms such as concert hall, room, plate and reverse reverbs.
The Power of Modeling – The MixBox includes ultra-precise digital models of some of the most iconic mixing equipment in human history, such as the LA2A, 1176, 1073 equalizers, 4000-series channel strips, and other equipment such as amplifier, distortion, and even film saturation. A collection of dreams at your service – the best equipment and effects, as well as incredible control
Now even faster and more convenient – MixBox makes your workflow even faster and more convenient. You can instantly change every parameter within a compact, well thought out and easily editable program window. Forget about crashing plugins and hundreds of windows! A Dry / Wet slider is included on each module to ensure that the final sound is completely under your control. And with the ability to quickly save and restore custom channel strips, your creativity becomes even more enjoyable.
All the most needed effects – If you: record vocals, want to add warmth to virtual instruments, customize grooves, immerse yourself in sound design, then MixBox is exactly what you need. You will always find a suitable effect here. Among the already familiar dynamic EQ and channel band processors you will also find filters, modulation, saturation, reverb, delays, distortion and amps.
With presets like this, inspiration won't keep you waiting – Not sure where to start? MixBox already includes individual processors and full chain presets to suit a wide variety of styles and genres. Plus, you can create your own presets and save them for future use.
Accuracy is important in everything: gain and side-chain input – The MixBox has separate controllers for gain and dry / wet on each processor, allowing you to control the amount of gain incredibly precisely – just like on real physical gear. An additional side chain lets you trigger effects such as compression from a second signal and link them to kick, bass, or augment the master bus.
Characteristics :
Creating custom channel strips
70 effects from T-RackS, AmpliTube and SampleTank
Dynamics Processors, EQs, Filters, Modulation, Channel Bands, Saturation, Reverb, Delays, Distortion and Amplifiers
4 completely new algorithms for concert hall, room, plate reverb, reverse reverb
Connect up to 8 processors on a single chain in seconds
Incredible fast application performance under your full control
Instant chain saving and restoration
More than 600 presets for any situation, including individual processors and full chain presets
Standalone app allows up to 8 full mixing racks
Amplifier (9)
American Vintage T, British Tube Lead, Cabinet, Flexi Amp, Jazz Amp 120, Modern Tube Lead, Preamp, SVT Classic, Tone Control.
Duct strip (4)
Channel Strip, EQ 81, EQ Comp, EQ-PA.
Delay (3)
Digital Delay, Reverb Delay, Tape Echo.
Distortion (5)
Crusher, Distortion, Lo-Fi, Overdrive, Overscream.
Dynamics Processor (8)
Black 76, British Dynamics, Bus Compressor, Compressor, De-Esser, Limiter, Model 670, White 2A.
Equalizer (4)
British EQ, EQ PG, Parametric EQ, Vintage EQ-1A.
Filter (10)
Env Filter, Filter Formant, Filter Phaser, Filter-C, Filter-M, Filter-O, Filter-R, LFO Filter, Multi Filter, Wah 47.
Modulation (17)
AM Modulator, AutoPan, Chorus, Chorus C1, Electric Flanger, Ensemble, Env Flanger, Flanger, FM Modulator, Multi Chorus, Opto Tremolo, Phaser, Rotary Speaker, Slicer, Small Phazer, Tremolo, Uni-V.
Reverb (9)
Ambience, ConvoRoom, Digital Reverb, Hall Reverb, Inverse Reverb, Plate Reverb, Room Reverb, Spring Reverb, Stereo Imager.
Saturation (3)
Phonograph, Saturator-X, Tape Cassette.
New in version :
– Added EQ-PA: A channel strip EQ with phase invert, preamp, and band pass filter
– Added Rack master Wet / Dry FX Control
– Added Auto-Save feature, which preserves app state upon close
– Improved EQ-PG internal oversampling to prevent EQ cramping
– Fixed a bug where song presets would use display name "Rack Presets"
– General reliability improvements
---