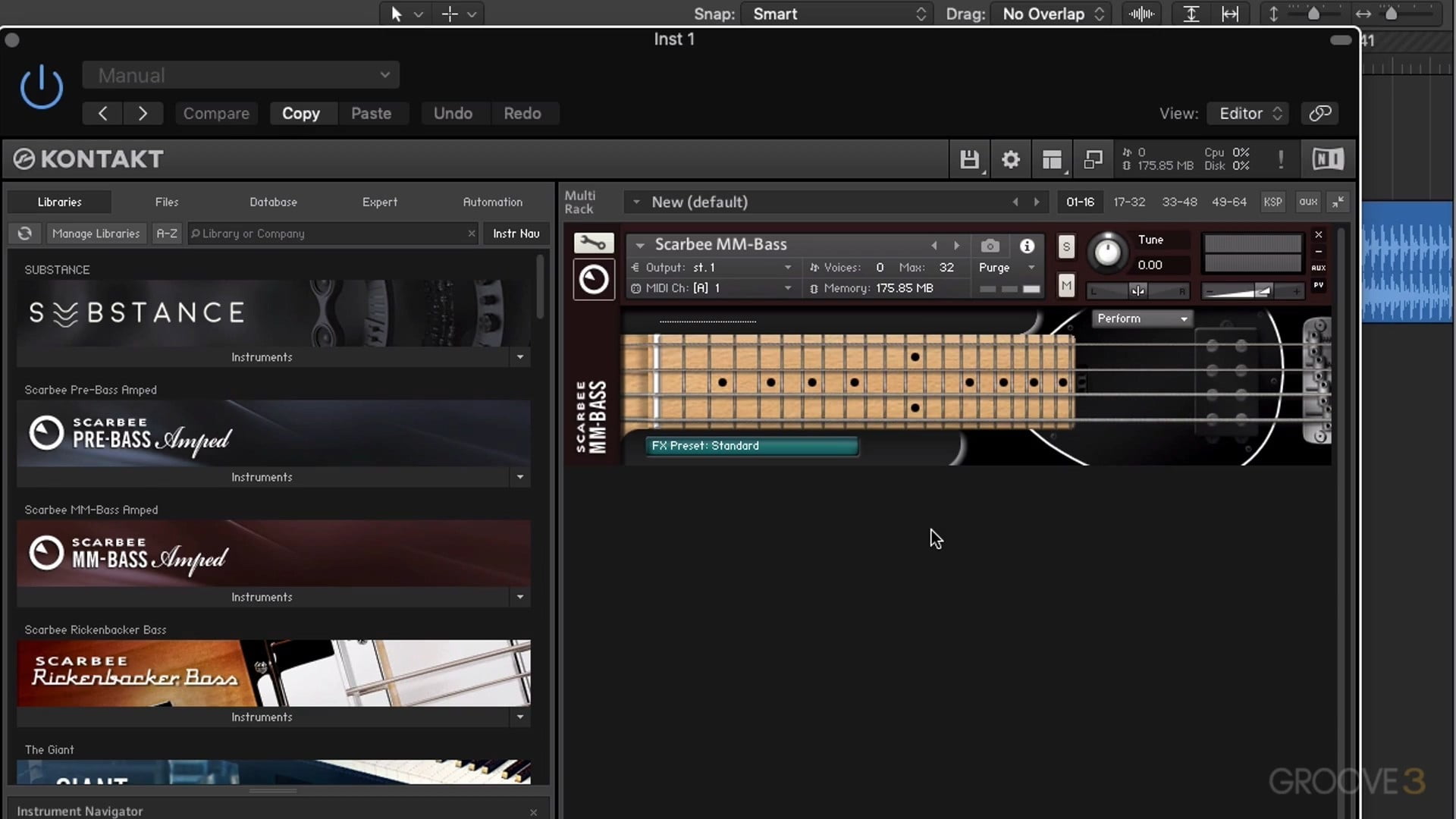 Year of issue: 2021
Manufacturer: Groove3
Manufacturer's website: Link
Author: Laurence Holcombe
Duration: 1h 52min
Handout Type: Video Tutorial
English language
---
Description: Larry Holcombe provides detailed video tutorials on Native Instruments Scarbee Basses! Learn all about the features and functions of Scarbee Basses and how to use them to create ultra realistic bass lines for your songs and productions. These video tutorials are for new Scarbee Bass users.
Larry greets you and then shows you how to load the MM-Bass plug-in and then explains how MM-Bass decides which fret and string to play when using the automatic script. You will also learn all about key switches that let you undo this process so you can create the perfect bass sound for your needs.
Throughout the rest of the video, Larry covers Key Layout, Sustains, Mutes & Harmonics, Hammer-Ons, Pull-Offs & Grace Notes, Slides, Buzz Trills, Trills & Pickup Claps, various options for Loose or Tight Playing using various Releases Samples, Index & Middle Finger Alternations, Extended Hammer-Ons, Cross Hammering Between Strings, Chords & Chord Slides, Creating Long Notes, How To Make Randomness Playback Identical Every Time A Project Is Played And Much, Much More.
Content :
01. Introduction
02. Automatic & Manual String Selection
03. Key Layout
04. Sustains, Mutes & Harmonics
05. Hammer-Ons, Pull-Offs & Grace Notes
06. Slides, Buzz Trills, Trills & Pickup Claps
07. Release Samples & Pickup Hits
08. Playing Styles
09. Sustain & Instrument Reset
10. Main Menu & Instrument Settings
11. Putting Articulations into Practice Pt. one
12. Putting Articulations into Practice Pt. 2
13. Scarbee Basses Compared
14. Scarbee Rickenbacker Pt. one
15. Scarbee Rickenbacker Pt. 2
Sample files: not provided
Video format: MP4
Video: AVC, 1920×1080, 16: 9, 30 fps, 500 kb / s
Audio: AAC, 48 kHz, 128 kb / s, 2 channels
---