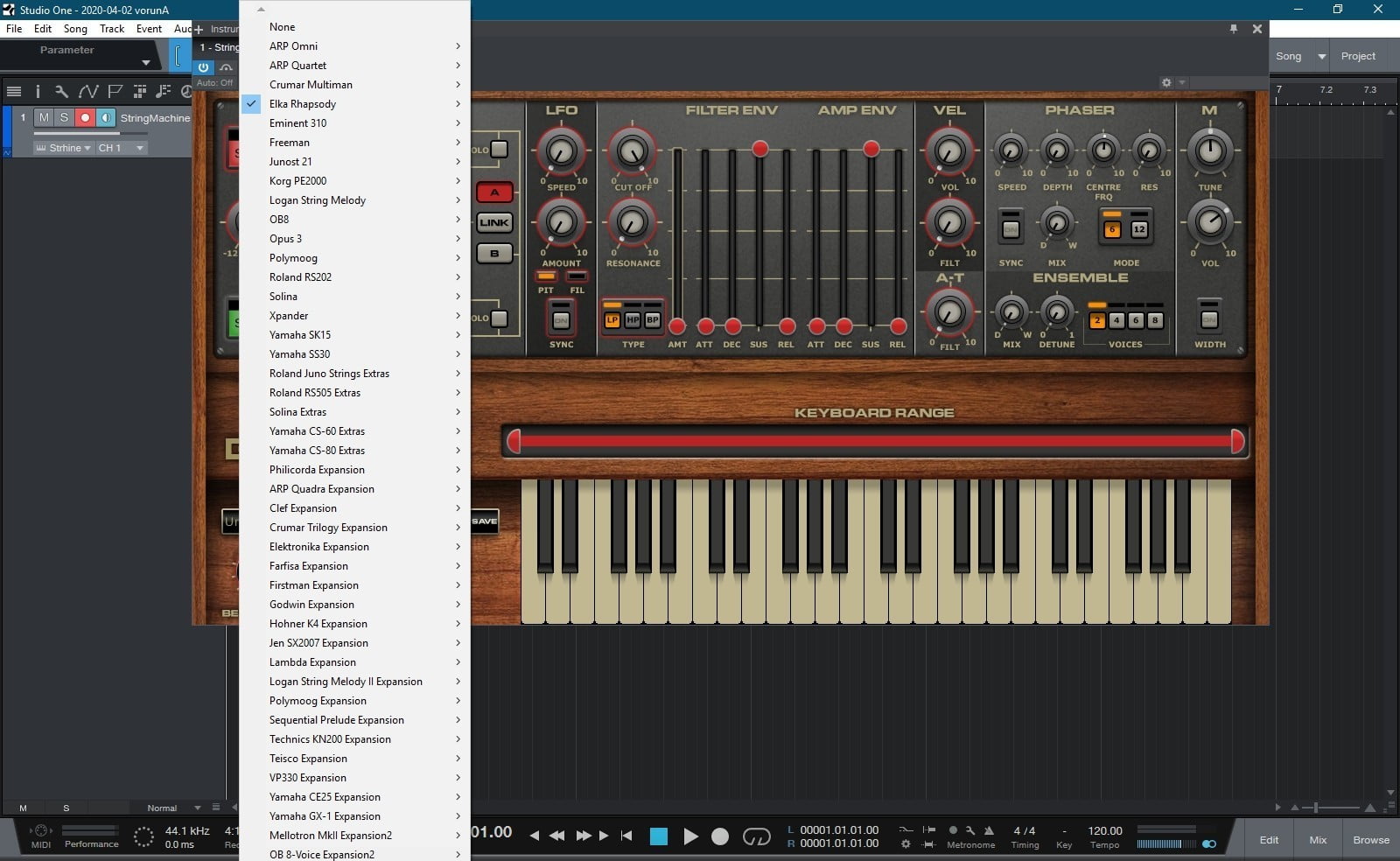 Year / Release Date: 01/15/2020
Version: 3.0.0
Developer: Gforce Software
Developer site: gforcesoftware
Format: STANDALONE, VSTi
Bit depth: 32bit, 64bit
Tabletka: Ne required
System requirements: Windows XP SP2 +
---
Description: VSM is a very special rompler. These are only sounds from old string machines, more precisely from 21 iconic instruments. The selection can be expanded to 47 different instruments with the VSM expansion pack. You can have so many string machine sounds that you never dreamed of it. VSM is a classic romper, your own samples cannot be loaded here, and it is not a replacement for Kontakt.
These legendary string machines (Elka Rhapsody, Solina …) have been sampled in detail here by individually recording and looping 49 notes. To ensure high quality material, sounds can only be played in the 49 note range, no ultra low or high note is possible. Only the selected notes are played.
Flexibility and Versatility – A Rompler that can only play string machines sounds like a very limited virtual instrument at first glance. On the one hand, yes, the VSM focuses on high quality string machine sounds, but some basses or pads are included as well. You should be aware of this when you buy this plugin. The dual engine is very versatile and flexible to use. Thanks to this, you can easily combine the sounds of two different string machines.
The process is very simple and you don't need to read the manual to do this. For example, the sound from the ARP quartet and another from the Logan String melody can be selected through the built-in sample browsers. The result is the sound of a new string machine that the hardware doesn't have. However, if you don't want to play sounds together, there is an option to split the sounds on the keyboard.
Iconic string machines – ARP Omni, ARP Quartet, Crumar Multiman, Elka Rhapsody, Eminent 310, Freeman String Symphonizer, Junost 21, Korg PE-2000, Logan String Melody, Oberheim OB-8, Oberheim Xpander, Moog Opus 3, Polymoog, Roland RS202, Solina, Yamaha SK-15, Yamaha SS-30, Roland Juno 106 Stereo, Roland RS505 Stereo, Solina Stereo, Yamaha CS-60 Stereo & Yamaha CS-80 Stereo.
If you're looking for more vintage string machine sounds that aren't included here, you should take a look at the nearly 5GB VSM Expansion Pack, which includes sounds from 26 classic instruments, 87 individual samples, and over 550 patches.
Includes: ARP Qudra, Clef Strings, Crumar Trilogy, Elektronika EM25, Elektronika EM25, Farfisa Soundmaker, Firstman FS-4V, Godwin String Concert, Hohner K4, Jen SM207 String Machine, Korg Lambda, Logan String Melody II, Polymoog Vox Humana , Sequential Prelude, Technics SX-K200, Teisco SX 400, Roland VP330, Yamaha CE-25, Yamaha GX-1, Mellotron ® MkII, OB-8 Voice Stereo, OB-12 Stereo, Orchestron, Roland JP-6 Stereo, Roland JP-8000 Stereo, Roland VP-330 Stereo, Yamaha CS-60 Stereo & Yamaha SY-2 Stereo.
Create your own instrument – Sample sets can be processed separately (A / B) or together (link) with various parameters: tune, tune, pan, level, multimode filter (LP / HP / BP), and multiple effects (phaser, ensemble, stereo width). The filter and amp can also be modulated to produce sound movements, either alone or in conjunction with the filter and amp envelope. In addition, each layer has a syncronized LFO that can modulate the filter and pitch. It's nice that here you have dynamic controls that each filter on keystrokes offers. In addition to numerous additional sounds, VSM now offers true stereo playback for some sample sets, which is a very nice addition. The GUI has also been revised to include two interface sizes (small and medium). It would be better to use a vector based GUI, but it would be nice to have at least two sizes.
The sound quality of the sampled machines is excellent. They've been sampled and edited in such a way that they still sound super authentic in the plugin. If you compare the sound to plugins based on synthesis or physics modeling (Arturia Solina V…), VSM sounds much more authentic in my opinion. No wonder: it is based on samples of content from the original machines, others mimic it. The built-in effects are perfect for content too. They do not distort the fundamental tone of the sampled string machines and make the patches sound even better.
Characteristics :
Sounds from over 20 classic and rare string machines
Stereo playback
100 individual sets of samples
A range of 49 notes, each note individually sampled and looped.
Ability to use two layers and split keyboard.
Vintage ensemble and phaser effects.
Section for Lowpass, Bandpass and Highpass filters.
Two envelope generators.
Pitch and Filter LFO.
Dynamic controls including aftertouch filter.
800+ presets.
---