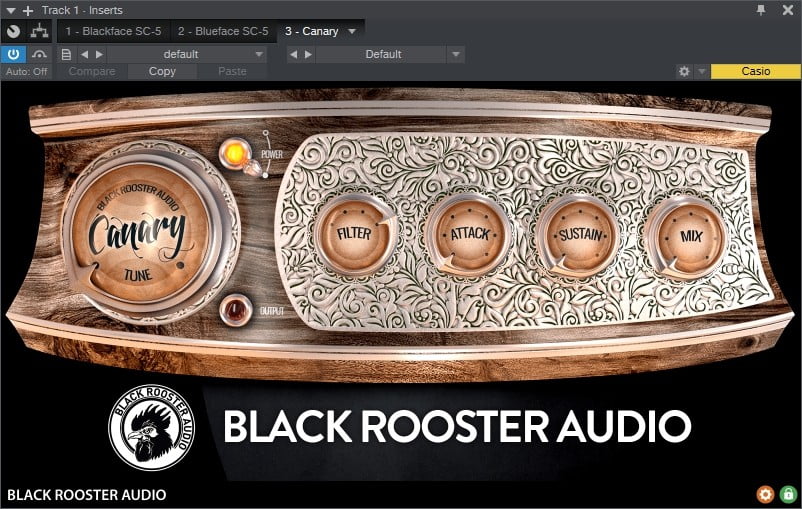 Year / Release Date: 06.2020
Version: 2.5.0
Developer: Black Rooster
Developer site: BlackRoosterAudio
Format: VST, AAX
Bit depth: 32bit, 64bit
Tabletka: cured
System requirements: Intel processor (Intel Core CPU recommended)
1GB of RAM
Windows 7 or newer
VST host
---
Description: The light touch of vintage classic studio gear combined with modern, easy-to-use digital processing make this set the perfect instrument chain for everyday mixing. This amazing kit includes everything you need:
BLACKFACE SC-5: Accurately modeled classic super soft compressor.
BLUEFACE SC-5: Emulation of the classic Ashly SC-50 Blueface Compressor from 1980.
CANARY: Transient processor. May come in handy when recording or mixing drums.
Cypress TT-15: Guitar amp.
Edelweiss72: Check out our highly dynamic mixing toolbox and start creating sound now. Our mixing toolkit is designed to improve your signal step by step and give it the finishing touch you need to achieve dynamic and sonic excellence. Edelweiss '72, specially designed for demanding professionals, is a top-level plugin that easily competes with established plug-ins
Magnetite: This is our homage to the sound of tape recorders. Just dial in the amount of richness and warmth you want with the Record Gain Knob, and Magnetite will add the analog tape recorder you're looking for to your mixes.
VEQ-1P: A virtual simulator of the vintage VEQ1P equalizer that allows you to manipulate the low and high end of the spectrum without compromising the midrange.
VEQ-5: Analogue of the vintage Pultec MEQ-5 equalizer.
VHL-2A – World's finest optoelectronic compressor emulation of the late 1960s.
VHL-3C: Analogous to 1950's HLF-3C processor.
VLA-2A: Emulation of the 1962 LA-2A optoelectronic compressor.
VLA-3A: Emulation of the classic 1969 LA-3A compressor.
VLA-FET
VPRE-73: Inspired by one of the classic studio preamps.
---