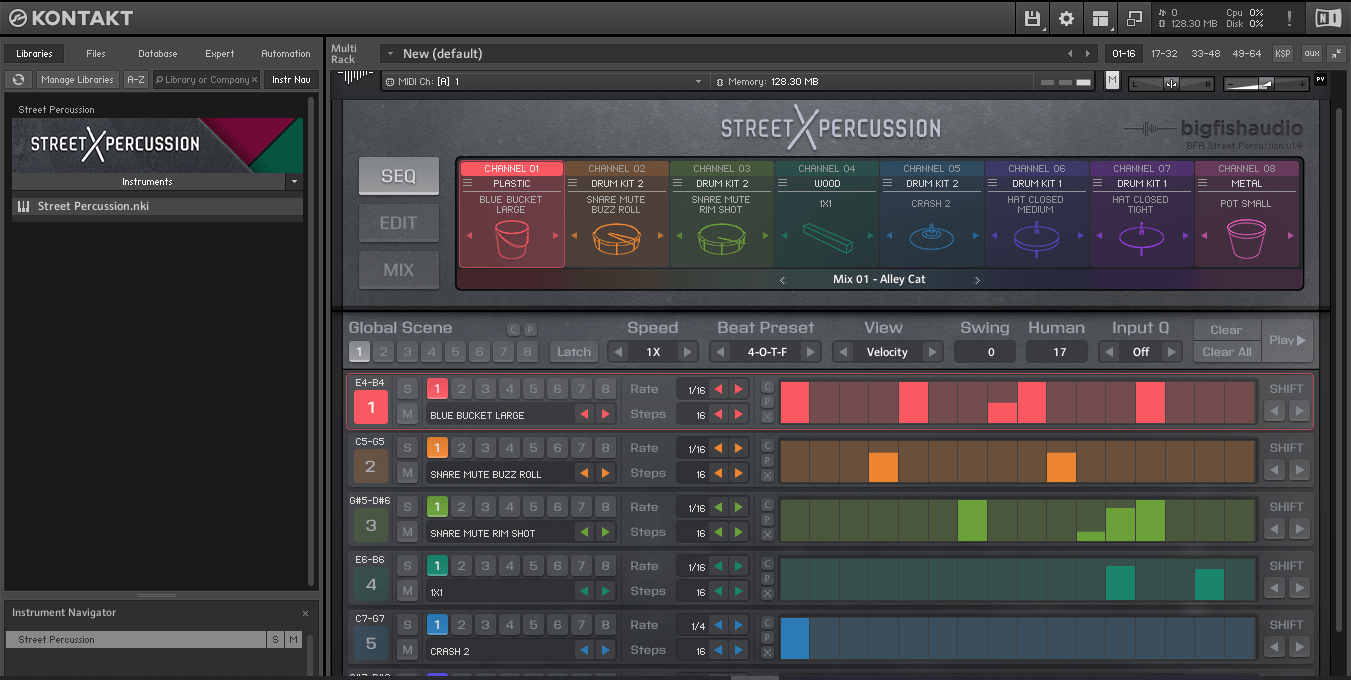 Publisher: Big Fish Audio
Website: Big Fish Audio
Format: KONTAKT
Quality: 24 bit 48 kHz stereo
---
Description: Big Fish Audio's Street Percussion is a powerful library of step sequences with over 100 unique and deeply sampled instruments from a variety of metal, head, wood, ethnic drums and custom drum kits, providing the perfect sounds to create those classic street percussion grooves.
Requires NI Kontakt Player or Kontakt FULL v5.8.1 and higher!
Additional Information :
This library goes way beyond your standard percussion sequencer, giving you full control and allowing you to create any beat or groove imaginable. While this library is extremely powerful, it's also simple to use with an innovative and seamless interface. No need to spend tons of time drawing in your beats from scratch; with over 130 unique presets you can have a fully fleshed-out percussion section in seconds! Get started today.
INSTRUMENTS
With the help of two incredible street performers, Steven Bartashev and Cyzon Griffin, we captured the sound of a huge array of instruments with seven velocity layers and seven round robins per instrument. Creating authentic street percussion music has never been easier than with this comprehensive collection of surfaces including: metal, plastic, wood, ethnic drums, and two custom drum kits.
SEQUENCER
Street Percussion features an incredibly powerful step-sequencer with eight channels. Each channel has independent control over the rate and steps and can even be triggered separately for some truly incredible percussion sections. With step-based control over velocity, length, pan, pitch, reverse, reverb, and delay, the percussive possibilities are endless.
MIXER / EFFECTS
Each channel has its own close and room mic mixers so you can dial in the exact sound you're looking for. We've also hand-picked seven of Kontakt's powerful effects which can be applied on a per-channel basis or globally.
PRESETS
Never let a lack of inspiration stop you from creating your percussion sections quickly. With over 130 customized presets you can be up and running with killer grooves and fresh sounds just by the click of a button.
– 102 deeply-sampled instruments
– 54 Customized and filterable Groove Presets
– 50 fully fleshed-out Beat Presets
– 30 curated collections of instruments (Kit Presets)
– Powerful eight-channel step sequencer with independent control of rate and steps
– Step-assignable velocity, length, pan, pitch, reverse, reverb, and delay
– Intuitive and seamless interface
– Close and room mic per channel
– 11,000+ samples
– 7 velocity layers and round robins per instrument
– MIDI drag and drop for easy DAW workflow
– NKS compatible
---