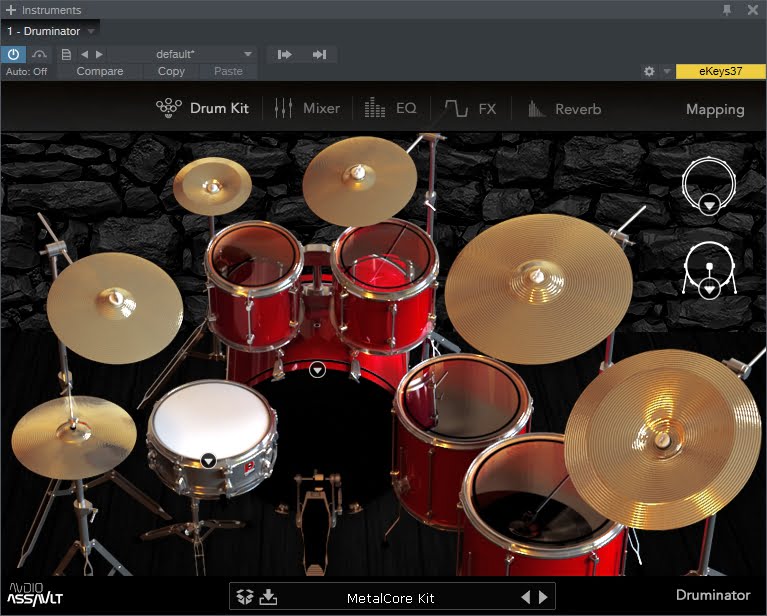 Year / Release Date: 2019 – 06.2020
Developer: Audio Assault
Developer's site: audio-assault.com
Format: VST, VST3, AAX
Bit: 64bit
Tabletka: Ne required
System Requirements: Windows 7 +
---
Description: Dirt Machine from Audio Assault – your new favorite distortion pedal plugin!
Built on the same engine as our famous "Grind Machine II", "Dirt Machine" gives you all the controls you would like to have on your favorite drive boxes!
The built-in 3-band equalizer allows you to polish your tone to perfection, and the built-in squelch helps eliminate noise problems before they happen!
Layout: The streamlined graphical interface of Dirt Machine puts all the controls conveniently at hand on one screen. This allows you to focus on the formation of the desired tone and helps not to get lost in the sea of ​​options. The intuitive layout mimics the familiar workflow of most pedals, while remaining intuitive enough to work in a DAW environment.
Druminator is the latest plug-in from Audio Assault, a drum instrument that offers you a natural-sounding drum kit with all the tools you need to create sound. Druminator includes a full range of instruments for mixing on each channel, customize how microphones affect the signal, compress, control transients and shape drums as you wish. The instrument includes a compressor, limiter, saturator, transient designer and reverb, as well as a Punch module on each channel.
Audio Assault Grind Machine II is the reincarnation of our legendary metal monster "Grind Machine"! Redesigned from the ground up, Grind Machine II delivers streamlined workflow and enhanced realism! Our own IMPACT engine emulates the microdynamic movements of real speakers, adding a sense of realism that is not usually found in amplifier models. The range of brutal amplifiers included in the kit can be combined with a collection of cabinets, which allows you to quickly hone your perfect tone!
Composition :
Audio Assault – Sigma 1.0.2
Audio Assault – T-Comp 1.0.0
Audio Assault – HQ-2 v1.0
Audio Assault – Emperor 1.2
Audio Assault – Dominator 1.3
Audio Assault – HellBeast.v1.0.0
Audio Assault – Transient Plus 1.2
Audio Assault – RM-2 Analog Channel v1.0
Audio Assault – Multi Transient v1.7
Audio Assault – Grind Machine.II v1.2
Audio Assault – FreakQ 305 2.0.1
Audio Assault – Westwood Drums 1.0.0
Audio Assault – Dirt Machine v1.0
Audio Assault – Druminator 1.0
Audio Assault – XCTR
Audio Assault – Verbstation 1.0
Audio Assault – Head Crusher 1.6
Audio Assault – Bulldozer 1.2
Audio Assault – BassGrinder 1.04
Audio Assault – The Punch
Audio Assault – KlipFreak
Audio Assault – Defacer
Audio Assault – BassAmp CM
---