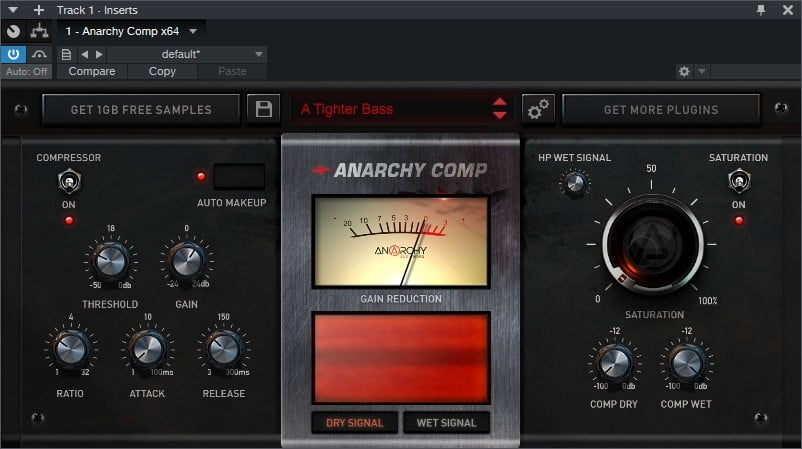 Year / Date of Issue: 08.2021
Developer: Anarchy Audioworx
Version: 1.0.0
Developer site: Anarchy Audioworx
Format: VST, AU
Bit depth: 64bit
Tabletka: present (serial number) | P2P
System requirements: macOS 10.9.5 Mavericks or above, Windows 7 64-bit or above
Intel I3 2ghz / AMD * Athlon 64 X2 or above (* WIN)
4 GB RAM
---
Description: The Anarchy Comp is a versatile compressor suitable for use with any type of single track or master bus sound.
Its powerful library of 55 presets has the perfect starting point for taking control of your sounds in any situation.
Along with all the usual compression features, with its two separate dry and wet controls, the plug-in can also be used as a parallel compressor.
It's perfect for handling any sound, be it electronic, acoustic or live sound, and has great presets for every instrument and situation.
With built-in screens, you have a visual representation of how your audio is being processed in real time as you tune, comparing live animated waveforms for both dry and processed signal, giving you accurate information feedback as well as overall gain reduction level, making it easier to control levels than ever before.
The built-in saturator adds a warm analog character, and can also be used to soften harsh transients on snares, toms, or any other thing, giving your mix a punch and foundation while maintaining solidity.
It also has an EQ (low frequency) cutoff for the processed signal, which is ideal for use on overhead or room mics, removing low-frequency dirt from the mix.
Specifications :
Warm Analog Character
Both Regular and Parallel Compression
Full Control Over All Compression Settings:
Threshold, Attack, Release, Ratio, Gain
Auto Makeup Gain
Gain Reduction Meter
Live visual waveform representations of both the input and output signals so you can see exactly how your sound is being affected in real time
Built in Saturation Module
55 Presets for Any Sound
Low Cut EQ for the Wet Signal
Intuitive layout and easy to use controls
Resizable user interface
Super low CPU usage perfect for using multiple instances
---