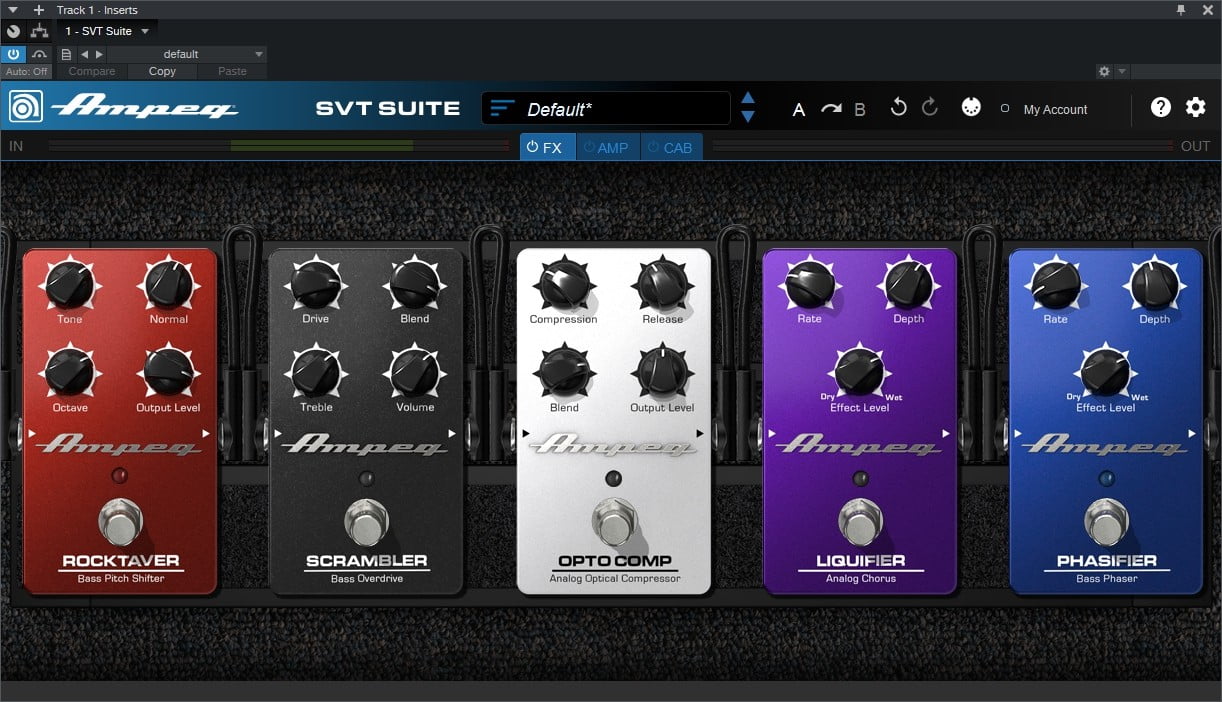 Year / Date of Issue: 05.2021
Version: 1.0 & 3.10
Developer: Ampeg & Line 6
Developers site: Ampeg; Line 6
Format: VST, VST3, AAX * (* MOD.)
Bit depth: 64bit
Tabletka: cured
System requirements: AU / AAX / VST plugin formats
---
Description: Ampeg SVT Suite: the first bass cabinet emulator from Ampeg itself Official copies of the legendary bass equipment.
Ampeg has released its first proprietary plug-in – the Ampeg SVT Suite bass cabinet and amplifier emulator. The development offers emulations of bass cabinets, heads and Ampeg effects.
Ampeg amps and cabinets are some of the most popular bass equipment emulations. Virtual versions of American equipment are present in most emulators: copies of Ampeg are found in the AmpliTube, TH-U and Logic Pro databases, a separate version was also released by the Plugin Alliance. Now the equipment has received an official virtual version, created by the programmers of Ampeg itself.
Ampeg SVT Suite is a collection of the most famous bass equipment of the American company. The plug-in catalog contains emulations of Heritage SVT-CL, Heritage 50th Anniversary SVT and SVT-4PRO amplifiers, as well as SVT cabinets of various configurations. All emulations are recorded with six microphones: Neumann U47, Sennheiser MD421, AKG D112, Coles 4038, Electro-Voice RE20 and Royer R121.
The plugin allows you to freely change equipment settings and select the position of microphones in space. So, for example, you can select the degree of lamp heating with the BIAS regulator, select the amount of noise and response. Additionally, the emulator is equipped with the Dual Cab / Dual IR operating mode, which allows combining two devices and different microphones.
In addition, SVT Suite is equipped with a set of five effects pedals previously released by Ampeg: Scrambler, Opto Comp, Liquifier, Phasifier, Rocktaver. The developers note that the emulator is also equipped with a built-in virtual di-box and noise gate. The plugin also includes 50 presets to get you started.
Helix Native is an award-winning guitar effects processor in plug-in format.
Helix® Native: Implements the powerful and tonal authentic award-winning HX Modeling technology in the plugin. Like the hardware members of the Helix family of guitar processors – Helix Floor, Helix Rack and Helix LT, the Helix Native plug-in provides accurate reproduction of vintage and modern amps, cabinets, mics and effects, as well as signal routing and an intuitive user interface. The Helix Native plugin is intended not only for guitarists, but also for producers and sound engineers, film / TV / game composers, electronic musicians, and anyone else who wants to create exciting new sounds and special effects. And preset compatibility across the entire Helix family allows Helix hardware users to stream sounds created in the studio by simply transferring presets from their plugins to their Helix Floor, Helix Rack, or Helix LT processors.
Designed to Inspire: The most popular amp and effects models. The Helix Native plugin provides an unlimited creative palette for inspiring tone creation, with over 60 amps, over 30 cabinets, and a wide range of effects (over 100 effects). The interface provides a fast and intuitive tone editing workflow, so you can instantly access the entire waveform and quickly create your settings.
Helix Native also supports third party impulses (IRs), offering even more flexibility.
Take Your Sounds to the Stage: Seamless Workflow and Wide Compatibility. Helix Native plugin supports wide compatibility with popular DAWs, offering powerful 64-bit performance on AAX, VST / VST3 platforms. It also integrates tightly with Helix hardware, so you can transfer your presets between them.
---