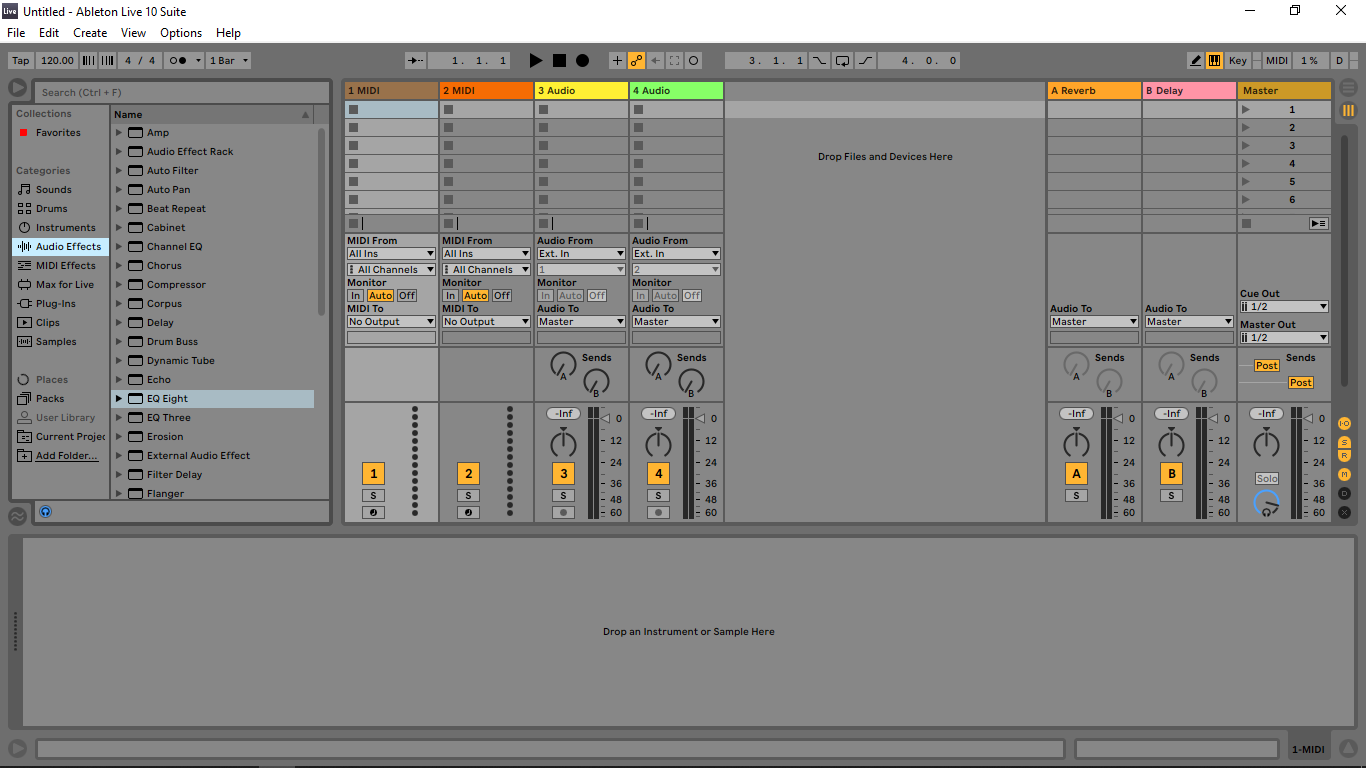 Year / Release Date : 12/18/2019
 Version : 10.1.6
 Developer : Ableton
 Developer's site : Ableton
 Bit : 64bit
 Interface language : English
 Tabletka : Present
 Windows 7 (SP1), Windows 8 or Windows 10 (64-bit)
64-bit Intel® Core ™ processor or AMD multi-core processor (Intel® Core ™ processor or faster recommended)
4 GB RAM (8 GB or more recommended)
1366×768 display resolution
---

Ableton Live allows you to easily create, produce, and play music in one intuitive interface.
Live synchronizes everything and works in real time, so you can play and change your musical ideas without interrupting the creative process.
But Live also has a revolutionary Session View: a unique notebook for improvisation, playing and playing with musical ideas, without time limits. Start and stop any number of audio or MIDI loops freely and independently – everything remains synchronized. Almost everything in Live works in real time – add, reorder or delete devices, play with flexible routing of Live tracks and much more – all without interrupting the creative process. Create bolder sounds with new Live devices. Stay on stream with many workflow enhancements. Get farther away from your computer with Push. Create your own sound using a curatorial library. And get the unlimited potential of Max for Live, built in without problems.
---
10.1.6

New features and improvements

Group Tracks can now be collapsed and expanded by holding down the corresponding select button on the Akai Force MPC.
MIDI Remote Scripts that utilize the SessionOverviewComponent will now enable navigating to tracks that exist outside of the current bank.
Devices that are not explicitly defined in _Generic / Devices.py will still be controllable with control surfaces that rely on the previous method of device control, such as the Novation Launchkey Mini MK3.
On the Novation Launchpad X, while in Note Mode, the Record button will now flash to indicate that recording has been triggered to stop.
On the Novation Launchkey Mini MK3, the correct device parameters will now be assigned to the knobs in Device Mode.
On the Launchpad Mini MK3 and Launchpad X, it is now possible to access session overview functionality via a quick double tap on the Session button.
Bugfixes

Fixed a bug which prevented the Novation Launchpad MK2 from being automatically detected on Windows.
Also fixed a bug where the Launchpad MK2 would not work or would partially crash if the Live Set contained no sends or all of its sends were deleted.
Fixed a bug where pressing the Record button on the Novation Launchpad X while a return track or the Master Track was selected could result in an error.
Also fixed a bug where Button Faders on the Launchpad X that were assigned to an unavailable Send would be erroneously illuminated.
Previously on the Launchkey Mini MK3, MIDI messages from the Pots in Device Mode that had no parameter to control could leak into armed MIDI tracks.
On the Novation SL MkII, track names and other text will now appear on the display after pressing the Options button while in "InControl" mode.
---
How to install and activate:
Installation and activation instructions from the old version were slightly redone for this distribution.
The actions are almost the same.
The difference is only in the name of the files and the replacement exe
You can not turn off the Internet.
It was needed in 9 versions
---
1

.
Remove or turn off antivirus
---
2 . Turn off Windows Defender

---
3 . Download Ableton torrent

---
4 . Extract archive to the same folder
---
5 . Extract the ISO archive
---
6 . Run installation from admin
If the Next-Install button is not pressed, then you need to remove the shortcut from the start menu
 wait
Finish
---
7 . Right-click on the shortcut. Open file location. From the distribution from the Crack folder, move Ableton Live 10 Suite.exe to the folder where the program shortcut is located and agree to a replacement. Close all
---
8 . Launch the program.Press : no Internet on this computer

---
8 . Press save


Will offer to save, save it to your desktop, for example
---
9 . A text document will open immediately and you copy it.
---
10 . Launch keygen on behalf of the Admin. Insert code
---
11 . Click generate


It will offer to save the license file. You save it at least on the desktop
---
12 . Activate like this. Move the license file to the Ableton activation window and release the button (drag and drop)

---
13 . Disable auto-update


14 . Done
---
(Skip scanning plugins each time you start) _ (Copy, transfer program settings) _ (Disable Max) _ (Reset Max settings)
---
Skip plugin scan every time you start
To create

Options.txt,

enter the value without brackets (

-NoVstStartupScan

) or (

-_NoVstStartupScan

) and drop it into

WIN

c: \ Users \ USERNAME \ AppData \ Roaming \ Ableton \ Live xxx \ Preferences \ .
For

OSX

/ Users / [username] / Library / Preferences / Ableton / Live xxx / .
If you need a scan, then before starting the program, you need to remove it from there and throw it back after completion.
---
Copying, transferring program settings
To save the settings, manually copy the Library.cfg file (where collection labels are stored), Preferences.cfg , Template.als and Options.txt (if used) from the Live 10 settings folder (for example, Live 10.0.1). ) to the Live 10 settings folder (for example, Live 10.0.2) or to another folder. For example, after reinstalling the system, you can return the files to their place.
Note. Live 10 must be run at least once to create the Settings folder .
The Preferences folder is here:
Windows
\ Users \ [username] \ AppData \ Roaming \ Ableton \ Live 10.xx \ Preferences \
Mac
/ Users / [username] / Library / Preferences / Ableton / Live 10.xx /
---
Disable Max
Write this in Options.txt without parentheses ( -DontLoadMaxForLiveAtStartup ). If it doesn't help, then like this ( -_DontLoadMaxForLiveAtStartup ). Win Location c: \ Users \ USERNAME \ AppData \ Roaming \ Ableton \ Live 10.0.6 \ Preferences \ . For Mac / Users / [username] / Library / Preferences / Ableton / Live xxx / .
---
Reset Max
1.Close Live
2. Delete the entire Cycling folder in this place:
Windows: C: \ Users \ Your username \ AppData \ Roaming \ Cycling '74
Mac: MacHD: / Users / [Username] / Library / Application Support / Cycling '74
Restart Live
---